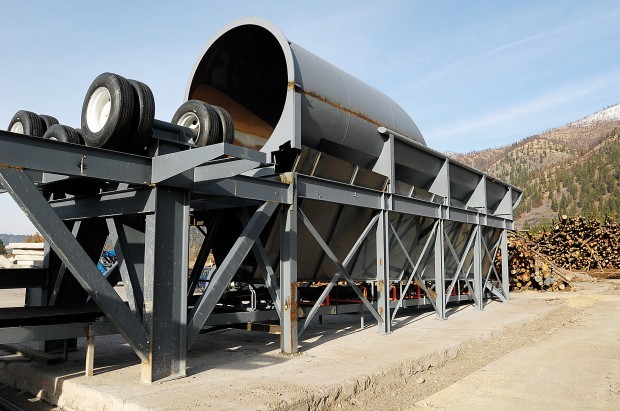 Britt Fred moved his Northwest Paint Inc. and Northwest Factory Finishes businesses to the old Stimson mill site almost three years ago.
The contract painting and building material prefinishing companies were ready to expand and there was room to stretch on the mostly vacant 200-acre property.
"It was interesting when we moved out here there was zero activity. There was someone taking care of ground for (Stimson Lumber Co.)" but not much else, Fred said.
Nonetheless, Northwest remodeled 90,000 square feet of the 12-acre plywood building and has seen "dynamic growth" since 2010, mostly in its prefinishing business.
In fact, Fred purchased the space and Northwest just finished what he called the second tier of the remodel phase that included expanding again to 30,000 more square feet inside the plywood building.
And, soon, Northwest will have neighbors. The lonely atmosphere has been replaced by a feeling of optimism around the property during the past year, Fred said.
"That's generated I think from all the business that are out here or are planning to be out here. I think that gives other people hope that our market and our economy will recover. That's what we're all banking on, the strength of small business ... It's something none of us out here have given up and in fact we're investing in," Fred said.
Fred gave much credit to the work of local developers Mike Boehme and Steve Nelson, who purchased the property from Stimson a year ago. The same day they signed the closing papers they announced the Willis Enterprises and Boise Inc. had an agreement start a chipping operation at the site.
Willis has since expanded its operations as well and began in October constructing a permanent chipper on land its purchased from Bonner Property Development LLC.
In November, the Aluminum Co. of Maine Inc. signed a leased to establish a 70,000-square-foot aluminum trailer manufacturing facility inside the plywood building on the site. The operation is slated to bring at least 60 jobs to the area by early 2013.
Other new tenants include Hellgate Forge and MontanaGrow, a startup natural fertilizer company.
It's been a whirlwind year for Boehme and Nelson, who formed Bonner Property Development LLC to buy the property and have devoted most of their time working on the site since they bought it.
"It's exciting," Boehme said. "I wake up every day excited to come to work." 
They estimate about $5 million has been invested back into the property in the past year.
Along with tenant improvements, Bonner Development is working to insulate and install high efficiency lighting in buildings. Miscellaneous cleanup and repair jobs are going on all across the property. Stimson is continuing to work on remediation work at the site.
They're slowly remodeling 27 mill houses along Montana Highway 200. Many are already leased.
"It's almost come full circle. It used to be a company that supported a town, now it's a town that supports companies," Boehme said.
Filling a large portion of the land is 61,000 tons of beetle-killed or fuel reduction logs perfect for pulping.
Boise Inc. is contracting with area logging companies that are shipping truck loads of logs to the mill each day. Chipping company Willis Enterprises has an agreement with Boise to run a chipping operation. Willis is set to complete the construction of a permanent chipper on the mill's west side in early February and has built two new rail lines across the property to ensure Montana Rail Link's cars can get to the new chipper.
Once the giant chipper is running, it has the potential to triple the amount of chips being shipped to eastern Washington each day, said Rob McKay, site manager for Willis.
"We want to make a long-term investment here to match long-term needs," McKay said. "We have to build it how we want it to make it work. It's all taken off out here."
Boehme and Nelson attribute the development success to being local and being flexible.
"You can't believe the people who come in here and say, 'We want to this, or that.' We never turn anyone down," Boehme said.
Nelson compared the tenant vetting and negotiation process to a game show like "The Price is Right" or "Let's Make a Deal."
"We understand we have to be flexible. We get questions like, 'What's your business plan?' The plan is to see what people want to rent," Nelson said.
Nelson and Boehme have 45 days to get the almost 74,000 square feet of ALCOM -leased space ready. The building is being refurbished and insulated. New shipping doors are being put into the building's east end so finished trailers can roll out the doors and into a storage area.
ALCOM is moving Logan Feeney to Missoula to oversee what it hopes becomes a West Coast distribution center. The company makes a wide range of different aluminum trailers and could hire as many as 200 workers in the next two years.
ALCOM is hoping to hire around 60 welders initially and plans to begin production in early 2013. Feeney did not return calls for comment, but did visit Missoula last week to start the hiring process.
Northwest's Fred said things like the recently approved industrial tax increment financing district in Bonner will help a "dying dinosaur" continue to find new life.
"(Nelson and Boehme) invested a lot of their wisdom from past business experiences into generating a place where, like my business, Willis and ALCOM can feel like they have a good future," Fred said. "It's valuable because it's only going to enhance what is a great space for small business and small manufacturing. You don't find a lot of parcels of property suitable to heavy industrial and that's what beginning the growth."
Nelson called the tax district a "great tool" to keep development at the property moving forward.
Bonner Development will continue to work with what Nelson called a skilled team around the Missoula community, from their contractor to their bankers, to keep progress moving forward.
They're actively contacting companies they think would be good-fit tenants – there's still 500,000 square feet of building space to be leased.
Bonner Development also recently got the OK from Missoula County commissioners to subdivide the plywood building – where Fred has bought his space – and a dozen adjacent acres into 13 industrial condominiums.
It's another step that will help businesses be able to settle in for the long term at the site, Nelson and Boehme said.
Willis site manager McKay, who thinks he'll have a crew of around 10 by the time the permanent chipper gets going, is glad parking lots at Stimson are little more full these days.
"People are excited," he said, "about this place taking off and making jobs."