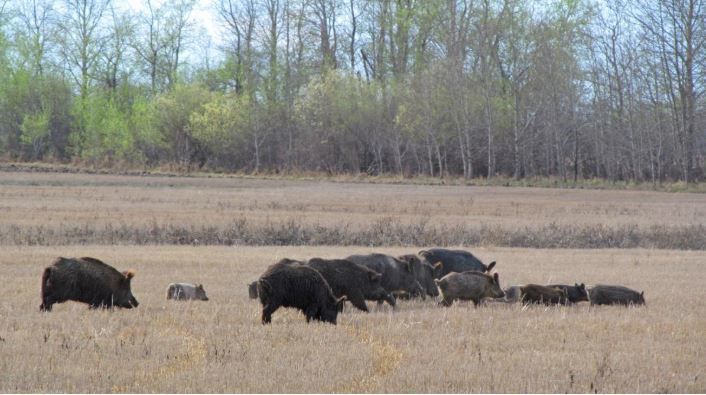 The number of tourists in Montana jumped in 2019 but the visitors spent a little bit less than the previous year, according to preliminary estimates from researchers at the University of Montana. And one expert says the possibility of feral pigs coming across the border is a threat to the natural resources that draw those tourists and the jobs they support.
About 12.6 million nonresidents visited Montana in 2019 and spent around $3.6 billion combined, according to the Institute for Tourism and Recreation Research at the University of Montana.
Compared to 2018, the number of travelers visiting Montana appears to have increased 2%. But despite the higher numbers of tourists, there looks to have been a 2% total decrease in spending. The figures will be updated this spring to include fourth-quarter data.
"We weren't really expecting that," said Kara Grau, the assistant director of economic analysis with the Institute.
Based on the data, it appears that the average length of stay was down last year compared to 2018.
Montana had great weather and a relatively mild wildfire season last summer, she said, so it's a bit perplexing why people would stay for shorter periods of time.
"With the increase in the number of people coming, the spending on average per day was up," she said. "But it seems that they maybe stayed just a little bit less time."
And when that's multiplied by 12.6 million, it doesn't take even a slight decrease in the average length of stay to translate into decrease of about $100 million dollars. Based on the estimates, visitor spending dropped from $3.7 billion to $3.6 billion from 2018 to 2019.
Grau said she can't speculate as to why the length of stay dropped.
"When the final data trickles in the picture may change slightly," Grau explained. "We're having a meeting with travel industry representatives in Helena next week and maybe we'll start to get a little bit of light shed on that piece."
The Institute reports that visitor spending last year supported an estimated 40,700 jobs directly and more than 56,000 jobs in total. Those jobs supported over $1.08 billion worth of labor income.
You have free articles remaining.
Combined with the $602 million worth of labor income indirectly supported by nonresident travel spending, tourist money contributes more than $222 million in state and local taxes in 2019.
The spending is concentrated in just two areas of Montana, near Glacier National Park and near Yellowstone National Park's entrance. A total of 64% of all nonresident spending occurs in those regions.
Norma Nickerson, the director of the Institute, gave a presentation on tourism for the Bureau of Business and Economic Research's annual economic update series in Missoula last week. 
"Feral pigs are coming," Nickerson said. "Canadian wild pigs are amassing at our northern border. It's only a matter of time before they wander south and begin their destructive assault on everything from wildlife to agricultural fields and even archaeological sites."
Photos taken last year show feral hogs only 5 miles north of the U.S. border.
Many in the crowd laughed, but Nickerson said the concern level should be high.
If allowed to proliferate in Montana, Nickerson warned that the invasive species could hurt the environment and have a negative impact on tourism, recreation and the economy.
"Wild pigs are ecological train wrecks," Nickerson said. "They are prolific breeders, making them an extremely successful invasive species."
She said they can cause soil erosion, degrade water quality, destroy crops and prey on small mammals, amphibians and birds.
"I know it seems strange, but these pigs have cost other states millions of dollars and even changed the make-up of their state's economy," she said, referring to southern U.S. states where wild pigs have invaded.