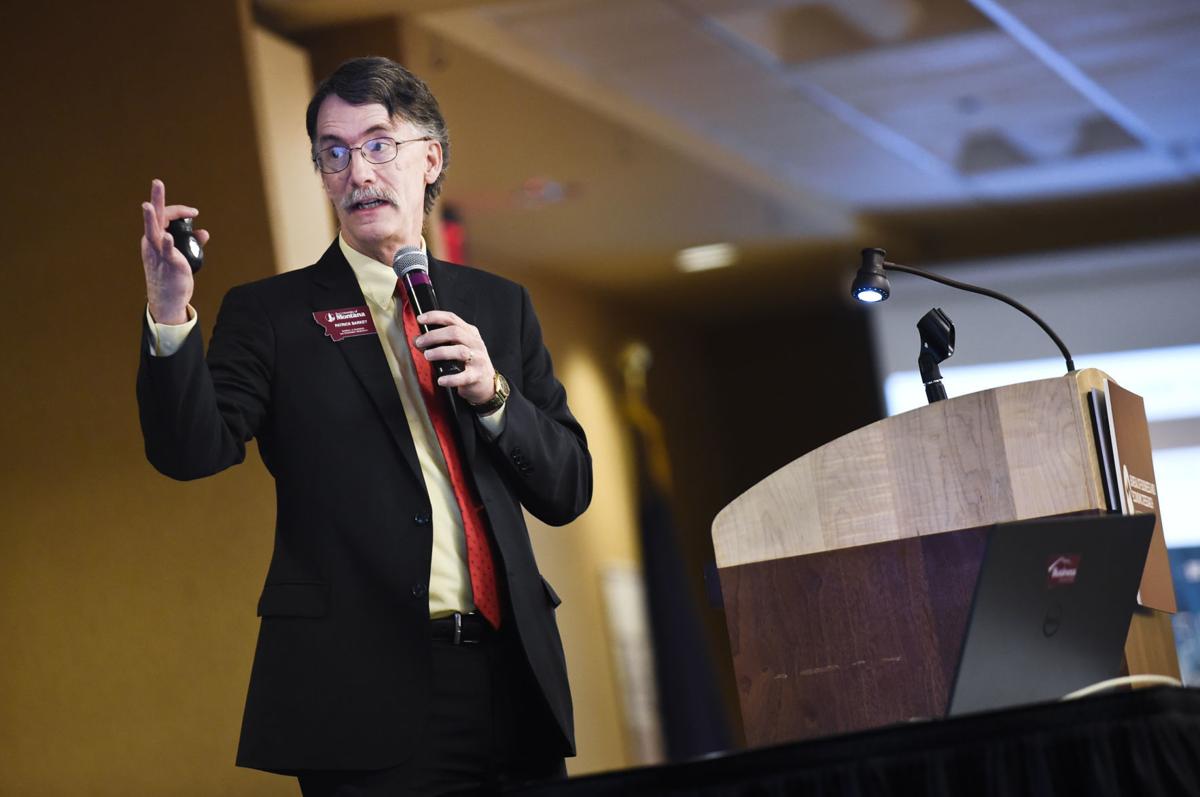 Patrick Barkey has made economic projections through multiple recessions, but he said doing the work during a pandemic feels different.
On March 11, the World Health Organization declared COVID-19 to be a pandemic, and on March 13, the United States declared a national emergency from the novel coronavirus outbreak. Many economies including that of the state of Montana were temporarily shut down, and recent reopenings around the country have led to another surge in cases of the respiratory illness that has killed some 130,000 in the United States and more than half a million worldwide. In Montana, 23 people had died as this publication went to print, and cases have been climbing again in recent weeks after a plateau.
In May, economists from the Bureau revised economic projections for Montana from the previous month as more data showed a tougher economic forecast for the state across industries. An updated report predicted a steeper drop in personal income — a hit of $6.4 billon instead of $3.9 billion, or an 11.7% drop, compared to 2018 — and they forecast higher job losses and a slower economic recovery that would extend beyond 2022.
In a recent interview, Barkey, head of the Bureau since 2008, said the economy continues to change quickly, and July would bring significantly distressing projections for assessments of GDP, or gross domestic product, in 2020. He said with the first quarter of the year seeing the economy falling 8% to 9%, the projection this month for the annualized growth rate may look like a drop of 30% to 40%, although that estimate may not hold and does not account for more recent upticks in economic activity.
"It's going to stun people who don't deal with these numbers all the time," said Barkey, involved with forecasting and economic research policy for more than 30 years.
On the cusp of more increases in COVID-19 cases around the country, he said the pandemic has created new opportunities for entrepreneurs and spurred technological adaptations, yet created pain for many individuals and businesses. He said the evidence shows the worst is probably in the rearview mirror, but businesses and households still will suffer.
"I think the big question is, 'How much permanent harm is being done to the economy?'" Barkey said.
The novel coronavirus has dealt a blow to Montana's economy, but Barkey said the recovery — at least recently — has looked better than expected.
"The reopening of the economy did bring consumer spending back pretty strongly, surprisingly strongly, actually, so that took economists by surprise, and it was on the upside," Barkey said.
In the spring, he said economists could see a direct connection between infection rates and the economy, with the number of cases going up as the economy sank. Going forward, however, Barkey said he believes that relationship will change.
"There's certainly going to be a lot of impacts of higher COVID rates, morbidity and deaths, and there's clearly impact from the steps we're taking to mitigate the spread of the virus," he said. "But there will not be, going forward, I believe, as close of a connection between infection rates and economic activity."
He also noted that governments can shut things down, but that doesn't mean consumers and the public will stop their activities. Regardless, he said evaluating the "roller coaster" of infection rates and making projections has been challenging, and it's the nature of the forecasting business.
"Obviously, predicting infections has been very difficult and very humbling. A lot of very smart people have been humbled by that," Barkey said.
This July, the additional federal $600-a-week unemployment benefit is expected to end, an amount Barkey described as a finger in the dike that isn't even covering the hole.
"Having that expire is going to hurt, but it's hurting already," Barkey said.
He said plenty of households didn't get the extra benefit and needed it, but many households also received it and didn't need it. At the same time, Barkey said Congress acted quickly, and it would have been "far worse to design something more efficient that would have taken longer to roll out."
"It took a little courage because there will be some very ugly stories about individual businesses," he said.
Lawmakers bolstered the economy with "head-spinning amounts of money," he said, but even those aren't enough because "the economy is just too big."
"The resources would never be there to really plug the hole. It's been a great help, though," Barkey said.
The most recent report from the Bureau predicts the economy in Montana won't get back to pre-pandemic levels until 2024. He said the hit is significant because Montana is an income tax state, and income from the corporate and individual sides will be affected.
"Reasonable people can disagree, but it does look pretty harsh, and I hope I'm wrong," Barkey said.
Lawmakers and business leaders said they appreciate Barkey's work for Montana and look to his projections to better understand the state of the economy.
Rep. Nancy Ballance, R-Hamilton, chair of the appropriations committee for the Montana Legislature for six years, said lawmakers get information from the legislative finance division, but it's helpful to have different economic perspectives as well as Barkey's insights.
"I think he's very thorough," said Ballance, a Hamilton Republican who also served on the legislative revenue committee her first interim session and finance committee the last three interim sessions.
She said national economic projections aren't hard to come by, but Barkey dives into information that is specific to Montana and focused in on Treasure State industries, and his deep understanding of the state helps inform people in her position. In January, before the pandemic, he presented a report on workforce shortages and development, a topic important to the state at the time, to Ravalli County, and to the Legislature.
"It was very well aligned with what we were doing," Ballance said. "Housing was part of it. He really covered the full spectrum of workforce issues."
Kim Latrielle, president and CEO of the Missoula Area Chamber of Commerce, said it's always helpful to learn from Barkey the outlook for specific industries, such as tourism and wood products and agriculture. She said the information helps people in her job know which sectors of the economy are doing well and which ones will expect hurdles.
"Those are big picture things that aren't membership focused, but help me understand the big picture," Latrielle said.
As the effects of COVID-19 pulse through the Montana economy this year, Latrielle is especially interested in the assessment Barkey will make looking back. ("The shoes are still dropping.") She said she's grateful the University of Montana provides the resource.
"In this time more than ever, I think we're going to be probably more interested in just exactly what happened … how did it impact us," Latrielle said.
Economists are social scientists, people who love it when things change and like to measure relationships between things, Barkey said. As such, he anticipates much analysis of the way people have been adapting, how families get along, how distance learning works, how people learned to cook in the shutdowns.
"There's probably going to be 5,000 doctoral dissertations written about this time in our life," he said.
That's interesting to people in his field, but he said economists feel the effects just as others do: "Where it gets bad is your job, employer, community, neighborhood, when those things are affected. I watched my retirement vanish when the stock market went down just like everybody else. It is kind of scary."
But he said the pandemic also spurred some positive changes in society and proved some developments were equipped to handle stress. In the peak of the crisis, for instance, he said technology largely performed, such as with Zoom meetings and Amazon deliveries.
Some of the developments that are taking place have implications for public health, such as the ramp up of telemedicine. Also, he said in the face of the crisis, authorities relaxed regulations in order to expedite a vaccine.
"Will they be enough?" Barkey said. "We all hope so."
Please sign up on Missoulian.com to subscribe to Under the M, the weekly email about the University of Montana and higher education news in Montana.
Concerned about COVID-19?
Sign up now to get the most recent coronavirus headlines and other important local and national news sent to your email inbox daily.