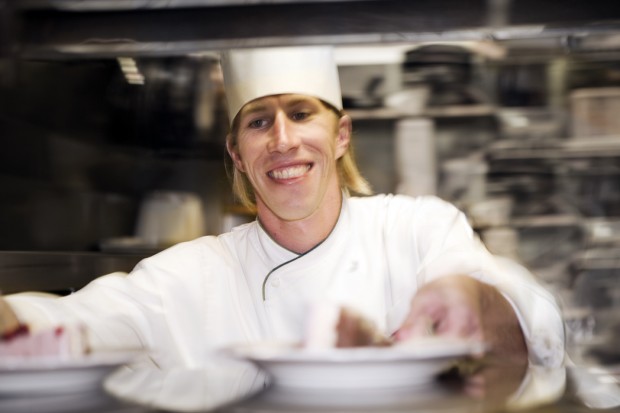 WHITEFISH – Andy Blanton's rise through the culinary world could have been mapped out by providence, but a more plausible explanation is that the 35-year-old executive chef at Café Kandahar has the ambition and panache to match his cooking chops.
In classic Dickensian form, Blanton advanced from teenage dishwasher to line cook before attending the Culinary Arts Institute of Louisiana in Baton Rouge. With a brand-new culinary degree in hand, he then vaulted himself into the world of gourmet cooking while working at some of the finest restaurants in New Orleans.
In 1999, at the age of 23, Blanton arrived in Whitefish in search of a lifestyle change, one in which powder skiing and fly-fishing helped counteract the intrinsic stress of working in a kitchen.
Soon, his cooking talents were recognized and in 2000 he became executive chef of Café Kandahar. Six years later, he purchased the restaurant and has continued to steer it in a brave new direction ever since, his traditional Louisiana roots accenting the taste and texture of classic Montana fare with a bold and innovative flair.
The cloistered restaurant at Whitefish Mountain Resort on Big Mountain is tucked into the quarter-century old Kandahar Lodge, a European-style inn where Blanton has been creating some of the finest and most pioneering food in Montana and the Pacific Northwest.
The quality of his work has been recognized by the James Beard Foundation – regarded as the Oscars of the culinary world – which in 2010 and 2011 named Blanton a Northwest's Best Chef semifinalist. The coveted title eluded Blanton, but a similarly high honor awaits him next month.
On May 24, Blanton will prepare a seven-course meal at the auspicious James Beard House in New York City's Greenwich Village, an invitation-only performance space for visiting chefs to showcase their creations and draw broad recognition from critics, peers and foodies from the most renowned corners of the culinary world.
Cooking at the James Beard House is a rite of passage for distinguished chefs, and Blanton is the first Montana chef ever to receive an invitation or attend. The honor is particularly felicitous to Blanton because it is a longtime goal for the young chef, who trained under two of Louisiana's premier cooks, both of whom were recognized by the James Beard Foundation.
"This is a lifelong culinary dream of mine, and it is a chance to showcase my talents on the big stage," Blanton said. "It's very fulfilling for me to get this recognition, especially because it has always been a goal that I set out to accomplish. As the first Montana chef to visit the Beard House, I have the opportunity to show the food world what we are doing here. It is a tremendous honor and I am elated to have this opportunity."
Before Blanton came to Montana, he worked for two award-winning restaurants in New Orleans. Commanders Palace in the Garden District won a James Beard Award for Most Outstanding Restaurant in 1996. While working at Brigtsen's two years later, executive chef Frank Brigtsen won a James Beard Award for Best Chef in the Southeast.
"I remember hearing about Frank traveling to New York and cooking at the Beard House, and what it meant for him and the staff he brought with," Blanton said. "I knew then that one day, a dream of mine would be to cook at the Beard House. Not only that, I wanted to eventually win the same award, specifically, the regional Best Chef award."
Blanton will realize half of that dream next month, and although the honor of visiting the James Beard House is independent of the awards, it augurs well for the young chef.
Apart from his own ambitions, Blanton looks forward to visiting New York as an ambassador for Montana's culinary world, which Blanton says often doesn't receive the credit it is due. At Kandahar, Blanton takes care to accent Montana's unique offerings by sourcing local ingredients, and at the James Beard House his menu will feature locally raised elk, buffalo and pork, as well as Flathead cherries and huckleberries.
"The menu will represent Montana and the ties and seasonal connections that we have with local producers," he said.
Promoting a farm-to-table philosophy is a challenging endeavor for an executive chef in Montana, where the growing season is short. But Blanton is committed to flavors and ingredients that are local to Montana or distinctive of the region.
At Café Kandahar, which closed for the spring season on March 31, Blanton's Chef's Tasting Menu recently featured offerings such as Montana kobe beef cheeks with a cherry glace de viande; a pork belly confit with a candy ginger sauce; and a sautee of Louisiana shrimp with a New Orleans barbecue sauce, parsnip puree and crisped chives.
In the winter months, Blanton seeks out fresh produce from Washington, and the May 24 dinner in New York will feature the acclaimed wines of the Figgins family, including Figgins Estate, Leonetti and Doubleback, all of Walla Walla, Wash.
Blanton and his small staff selected the suite of wines to complement earthy appetizers like buffalo carpaccio and a sauté of forest mushrooms with Montana chevre, and a dinner session that includes elk tenderloin with huckleberries, Foie Fras cappuccino with Flathead cherries and an Alaksan halibut.
"My intent with the dinner is to share that we chefs here in Montana are actually conscientious people, cooking thoughtfully constructed plates, with well-executed technique and refined palates," Blanton said. "When most people think of Montana cuisine they imagine campfires and steak and potatoes, so our goal is to represent Montana with the ingredients we have on hand and, more importantly, to show New York that we are serious about matching the quality of our food to the quality of our life."
Café Kandahar is closed for the spring, but will reopen for the summer on June 15. Go to the restaurant's website at www.cafekandahar.com.
Flathead Valley Bureau reporter Tristan Scott can be reached at (406) 730-1067 or at tscott@missoulian.com.
The business news you need
With a weekly newsletter looking back at local history.