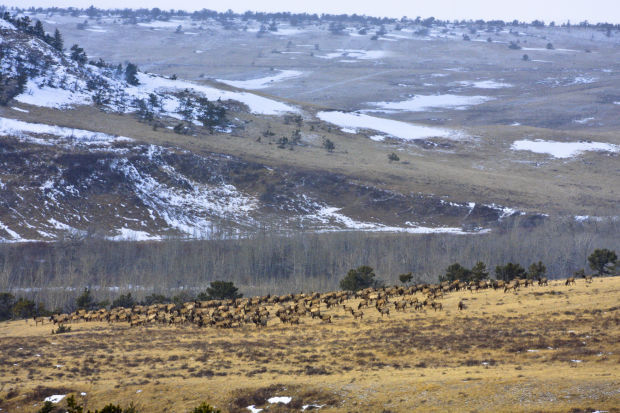 The U.S. Senate approved its annual National Defense Authorization Act on Friday, and with it sent Montana's first wilderness additions in 33 years to President Barack Obama's desk.
The vote wound up at 3 p.m. after several attempts to add amendments and return it to committee. The final tally was 89-11, with both Montana Democratic senators Jon Tester and John Walsh voting in favor. Walsh held the gavel as Senate chairman at the start of the vote.
The National Defense Authorization Act allows $585 billion in Pentagon discretionary spending and $63.7 billion in overseas contingency operations. Those dollars go to things like developing the F-35 fighter jet, maintaining nuclear weapons, operating aircraft carriers and paying military personnel.
It also includes a package of 70 public land management bills, the biggest collection since the Omnibus Public Land Management Act of 2009. They create about 250,000 acres of new wilderness designations and protection of other lands from energy development.
Other measures open thousands of acres to logging in Alaska and swap federal lands for new mining operations.
Eight Montana bills are in the package.
They include the North Fork Preservation Act, which protects about 430,000 acres west of Glacier National Park from energy exploration.
The Rocky Mountain Front Heritage Act would add about 67,000 acres to the Bob Marshall Wilderness Complex, along with 208,000 acres of conservation management areas and a new noxious weed control program – while releasing or reassessing about 29,000 acres of wilderness study areas in eastern Montana.
"I am proud of this historic agreement, and I am particularly proud today to be a Montanan," Tester said. "Montana is home to sky-touching mountains and beautiful plains. It's home to hard-working men and women and to Native Americans with deep connections to the land. But it's The Last Best Place because we are all of these things and because we are willing to work together to preserve and strengthen them."
"Montana's congressional delegation was able to put aside political differences by following the example set by our fellow citizens," Walsh said. "Passage of the North Fork withdrawal caps 40 years of Montanans working together to protect our outdoor heritage and strengthen the economy of the Flathead."
The Northern Cheyenne Lands Act restores mineral rights to 5,000 acres on the Northern Cheyenne Indian Reservation and opens up 112 million tons of coal for mining.
The Cabin Fee Act stabilizes cabin rental pricing for about 700 buildings on federal lands.
The Bureau of Reclamation conduit Hydropower Development Equity and Jobs Act allows creation of hydropower facilities on canals and irrigation projects. The East Bench Irrigation District Act extends the project's water contract for six years.
Wilderness study areas to be reclassified for multiple use include two Bureau of Land Management parcels at Zook Creek and Buffalo Creek near the Northern Cheyenne Reservation.
Two more BLM parcels will be reassessed for oil and gas potential, involving about 15,000 acres at Mussellshell Breaks and Bridge Coulee, both just south of the U-L Bend portion of the C.M. Russell Wildlife Refuge. Those reviews must take place within five years, after which Congress could be asked to remove their wilderness study area status if energy potential is discovered.
"The Senate passage of the National Defense Authorization Act is good news for Montana," Rep. Steve Daines said after the vote. "It secures our state's role in maintaining a strong national defense, protects some of our greatest treasures, promotes responsible development of Montana's energy resources and expands access to our public lands for generations to come. Strong bipartisan majorities in both the House and Senate passed this legislation, a reflection of how it addresses concerns of Montanans from all corners of our state. President Obama should quickly sign it into law."
The measure passed the House of Representatives last week on a vote of 300-199. Daines had co-sponsored a version of the North Fork Protection Act and Cabin Fee Act, and introduced the Bureau of Reclamation hydropower, East Bench Irrigation, and Northern Cheyenne acts in that chamber.
The Rocky Mountain Front Heritage Act provides the first new wilderness acreage in Montana since 1981. However, some wilderness advocates criticized its last-minute change to release or reassess the four BLM wilderness study areas.
Tester and Daines said that was the compromise needed to win Republican support for the bill originally drafted by former Democratic Sen. Max Baucus.
"While this legislation includes two dozen bills that protect iconic places both in our history and in our landscapes, we also recognize that it includes provisions that could harm our natural resources," said Theresa Pierno, chief operating officer, National Parks Conservation Association. "And it is those provisions that are of concern to us, both as park advocates and as conservationists. However, the gains we make for our parks, their communities and their visitors will have lasting benefits for our nation."
The North Fork Protection Act was also a legacy of Baucus, and one he'd been working on for almost 40 years. It completes a transboundary agreement with British Columbia and the Canadian government to protect the entire drainage of the Flathead River from energy development.
"We're thrilled to see this make it through Congress, and credit should go to our Montana delegation for seeing it pass," said Chris Schustrom of the Flathead Valley Chapter Trout Unlimited. "The value of protecting such a key watershed resonates far beyond the obvious benefit of land protection."
The legislation creates seven new national park sites and expands nine more. It also authorizes 15 new National Heritage Areas.
The Manhattan Project National Historic Park is a multi-site designation, including former nuclear facilities in Washington as well as New Mexico and Tennessee.
African American history was honored in the approval of a Harriet Tubman National Historic Park in New York, along with a study for inclusion of Buffalo Soldier history at Yosemite, Sequoia and Kings Canyon national parks. Those infantry units were also active at Fort Missoula