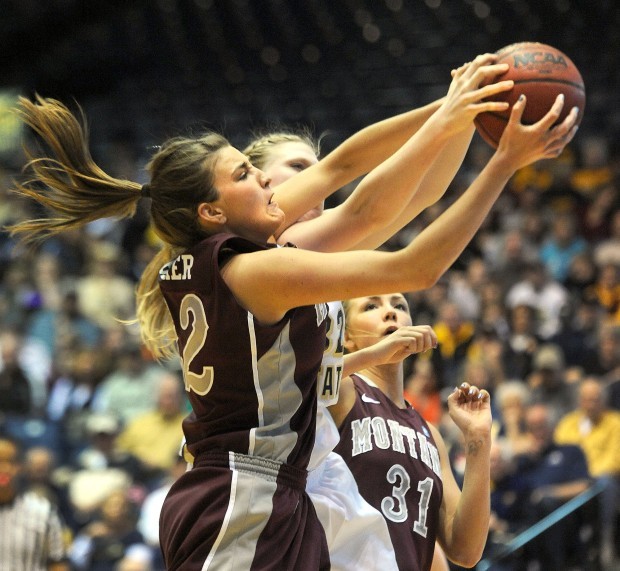 She's broken some hearts at Dahlberg Arena.
She also knows what it's like to have hers broken by the team that plays there.
When the Montana women's basketball team battles archrival Montana State for the 91st time Saturday afternoon in Missoula, a spotlight will be on Cats senior guard Katie Bussey. Say all you want about schemes and strategies, the outcome might just hinge on how well she shoots.
Because Bussey shoots a lot – her 398 attempts are 77 more than another other player that will take the floor – and she ranks second in the Big Sky Conference in scoring (17.6 ppg). Plus she's the league's all-time leader in made 3-pointers (242), with 185 attempts this season alone.
Two years ago the Colorado native rallied her team for its first win ever at Dahlberg behind six treys, including two in the final 2:24 that defined the game. Three weeks ago she hit just 3 of 17 shots against Montana's diligent defense and the result was a humbling home loss.
She'll be out for revenge in her final visit to Dahlberg, a place where the Bobcats have won the past two seasons.
"They have so many offensive weapons it's tough, but you have to key on Bussey somewhat," Montana coach Robin Selvig said. "What you want to keep her from is a huge night. You know she's a good enough player she's going to score some because she can create her own shots. It has to be the whole team being aware of her."
Bussey's oncourt persona – her face is often expressionless – belies her fiery competitiveness. To truly understand her mindset you have to listen in during a timeout.
"I'll be yelling something and then as soon as I pause, she'll be screaming, 'Come on guys!'" Montana State coach Tricia Binford said. "Then I'll say something else and she'll do it again.
"She's a high-energy kid and she's the heart and soul. She's got a passion for this game that is very unique. I think she's had some of her best performances on the road. She has the ability to silence a crowd. Not a lot of kids have that."
For all of Bussey's credentials – she tied a conference record with 41 points in a win at Idaho State on Feb. 2 – she's no more important to her team than Montana's Katie. That'd be junior forward Katie Baker, who scored a career-high 26 points in her team's most recent win at Weber State.
Baker gave the Bobcats fits earlier this month in Bozeman. She hit 9 of 18 shots from the field and just missed a double-double with 19 points and nine rebounds.
Her frontcourt teammate, Jordy Sullivan, is also peaking in time for the Cats. She tallied a career-high 15 points and grabbed nine boards in last week's win at Weber.
"I think they're playing well together," Selvig said. "Katie (Baker) has really become solid all through league shooting the ball.
"Jordy the last two games shot the ball well, which really helps us. She seems to have developed some confidence and it's a big plus."
Round One of Lady Griz-Cat on Feb. 4 saw both teams settle into a 2-3 zone. Montana State went almost eight minutes without scoring in the second half and still led by three with six minutes left.
Then Montana caught fire, hitting seven of its last nine shots for a 61-54 win. Lady Griz junior forward Alyssa Smith emerged as a surprising hero, hitting three treys in the final 3:36.
"That last three and a half minute stretch where they hit the big shots when it was important, it's kind of what our games have come down to the last couple years," Binford said. "It comes down to making the plays down the stretch."
The Lady Griz (8-5 conference, 15-11 overall) and Bobcats (9-5, 17-9) are each assured a spot in the league tournament. Both will likely be required to win three games at that event to earn the automatic NCAA tourney bid, although there is still a chance MSU or UM could snare the No. 2 seed and garner a first-round bye.
A win by Montana would give it a season sweep of the Cats for the first time in three years. The Bobcats are hoping to become the first Big Sky team to win at Dahlberg Arena three seasons in a row.
"I told myself before I came here that they weren't going to win when they played here," said Montana forward Carly Selvig, a redshirt freshman who will face the Cats in Missoula for the first time.
"We need to really stay focused, know where their shooters are, just keep talking on defense. It's sometimes hard when you get tired, but we need to keep it up."
Carly's perspective as a Glendive product sheds light on what the game means to both sides.
"I get really nervous," she confided. "When we were in Bozeman I felt sick, and usually I never feel sick before games. I think it's that rivalry that gets you going."
Notes: The Lady Griz have eight Montanans on their roster and the Bobcats six, including Hamilton native Ashley Albert ... Saturday is senior day and coach Selvig will insert his only senior, guard Tianna Ware, in the starting lineup for the first time in her Lady Griz career ... Coach Selvig boasts a 67-15 record against MSU ... Montana forward Maggie Rickman broke her nose in practice and will wear a mask ... MSU has the best road record in the Big Sky at 7-2. Montana's record in Missoula is 10-4.