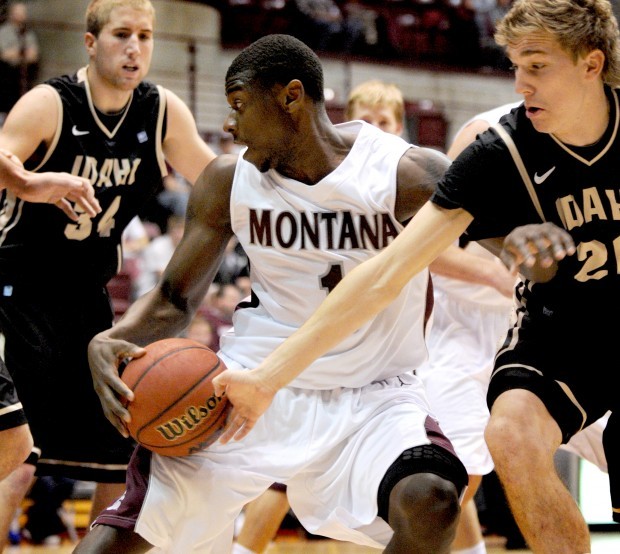 Mention his son Merryk's name and Art Steward's eyes light up as he flashes that 100-watt grin.
"That's his pride and joy right there," Montana Grizzly basketball teammate Will Cherry said of Steward's 18-month-old son.
"You can see when Merryk shows up Art's eyes just get huge," Montana coach Wayne Tinkle said. "They're dancing in the lobbies, hugging, rolling around."
It obviously pains Steward to be away from Merryk, who lives with his mother Kristin in Laramie, Wyo., but playing basketball for the Grizzlies has afforded Steward an opportunity to make a better life for himself and his son.
Merryk was born in August of 2010, not long before Steward had to begin his first year of classes in Missoula.
"I got to spend about a full two weeks with him before I had to come up here," the Casper, Wyo., native said. "It was hard, it was tough. I didn't feel like leaving, but I knew for the big picture, for the long run in the future, it would be good for him, for me, for our situation in the future."
And as it turns out, it's been good for the Grizzlies, too.
Steward, a muscular 6-foot-3 wing, took something of a scenic route to get to Missoula. He wasn't recruited out of high school, but played in the Montana-Wyoming all-star series, an opportunity that would pay dividends down the road.
First, though, Steward accepted a late offer to play basketball at Wallace State Community College in Hanceville, Ala., about 30 minutes north of Birmingham.
"It was a last-minute decision, like a week before school started," Steward said. "The school's about 6,000 (students) and that's pretty much the whole town. There was one street that went through it; it's small. It was different, but it was cool."
Eight games into his freshman season Steward broke a foot and missed the rest of the season after surgery.
A little bit of good fortune brought Steward home to Casper Community College the next season. Joel Davidson, who coached Steward in the Montana-Wyoming all-star series when he was at Sheridan (Wyo.) Community College, had taken the job at Casper.
"I liked his style," Steward said. "I watched him coach at Sheridan. It wasn't that hard of a decision when I found out he was going to coach there."
But just a week into practice at Casper, Steward's foot gave way again. Another surgery to place a screw in the foot caused him to miss the entire season. Steward shined in his second year at Casper, averaging 14.8 points and 4.0 rebounds while being named the Region 9 Defensive Player of the Year.
He took visits to Utah State and Weber State, but Montana assistants Andy Hill and Bill Evans steered Steward toward the Griz.
"I feel like I made a great decision," Steward said, "with how Montana fit my game and the people I surrounded myself with by being a Grizzly. And the coaching style up here was perfect for me. My game is mostly defense and I feel like when you get a good defense going you get a good offense going. That's what the Grizzlies build their program on, so that's No. 1, and we kind of play fast speed, getting up and down the floor. We can pull it out and play halfcourt, but I like the run and gun."
Steward started 18 games as a junior at Montana, averaging 8.6 points and 3.6 rebounds. He's putting up similar numbers this season (9.1 ppg, 4.0 rpg) as a full-time starter, but has upped his scoring to 11.4 ppg since league play began.
Steward's efficiency, though, borders on remarkable. He's shooting 63.6 percent from the field in league games, the fourth-best mark in the Big Sky Conference. And at just 6-3, he gets most of his work done within a couple of feet of the rim.
"He's quick off his feet and he's very strong in his upper body," Tinkle said. "Where he gets in trouble is sometimes he tries to score too quickly and he's not on balance and misses easy ones. When he slows down and takes his time, he's quick off the floor, he's strong and can finish."
"He's a strong dude," said Cherry, one of Steward's roommates. "That's pretty much it, he's a strong dude. You get him on the low post and he has a nice frame on him. He's one of the strongest guys on the team. He uses that to perfection.
"And there's times where he has a bigger defender on him and he's still going to post up. Once he catches it, he can pivot and face that defender up and go right around him. That's a complement to him being strong. If it's a smaller dude, he'll muscle and power over him. If it's a guy about the same size or physical and stronger, he'll go around him. That's tough to guard on the blocks."
How outgoing Steward is depends on who you ask.
Around the media, Steward is a man of few words and chooses them carefully.
Cherry sees a different side.
"Loud as hell," said Cherry, quite a talker himself. "He's the loudest person in our house - the craziest."
Tinkle, though, likes to tell a story that illustrates the side of Steward he sees.
"During a game a ref said, 'Hey, you need to tell No. 1 to be quiet or I'll have to handle it,' " Tinkle said. "I said, 'Who? No. 1? He doesn't even talk to me, I know he's not talking to them.' The ref got a chuckle and Art kind of looked at me.
"That night I texted Art and told him he was doing the TV show. He said, 'But Coach, I thought I don't talk, how am I going to do an interview?' We got a nice little laugh out of it. He does have a neat sense of humor, but I think his teammates see it more than the coaches do."
So who is the real Art Steward?
"The real Art Steward? I'm an outgoing guy," he said. "I like to be around people, have fun. I know when to be serious, when to have fun. I'm just a normal college student."
Steward will graduate with a degree in psychology this spring. That's about as far ahead as he's planned.
"If there's an opportunity for me to play overseas then I'll definitely take it, but if not I won't be too disappointed, I'll just start the real world, maybe get into coaching a little bit," Steward said.
There's bound to be more time for Merryk then. When his son is old enough to understand, Steward would love to tell him his dad once played in the NCAA tournament, something that's within reach of the first-place Griz as they prepare for rival Montana State on Saturday.
"Most definitely, I would like to tell him some stories about that, but we have to get there first," Steward said.
Perhaps Steward will be coaching Merryk sometime down the road.
"I want him to understand what my sacrifices did for him," Steward said of what he wants for his son. "I was gone for parts of his early life, but I feel like in the long run I'll be with him most of the time. I just want him to dream on and whatever he wants to do I'm going to be there to support him."
"I definitely want him to play basketball," Steward added with a laugh, "but if he wants to play football, he can do that too."