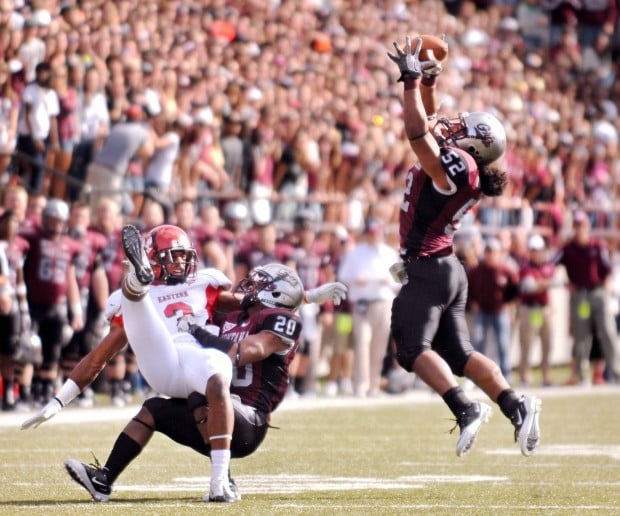 Montana linebacker John Kanongata'a has been named the Big Sky Conference defensive player of the week.
The sophomore from Bellevue, Wash., tallied a career-high 12 tackles and had a game-clinching interception with 25 seconds remaining in Montana's 17-14 win over defending FCS national champion Eastern Washington. Kanongata'a, who was also named College Sporting News National All-Star, posted a key fourth-quarter sack that pushed the Eagles out of field goal range.
Idaho State quarterback Kevin Yost and Portland State running back Cory McCaffrey shared the award on offense, while PSU's Myles Wade was honored on special teams.
Yost passed for 508 yards and four touchdowns in ISU's 50-20 win over Northern Colorado, which snapped an 11-game losing streak to Division I teams.
McCaffrey rushed for 222 yards and scored four touchdowns in Portland State's 31-29 win over Northern Arizona, which snapped PSU's seven-game league losing streak.
Wade blocked Northern Arizona's potentially game-winning field goal with seven seconds to play.
Montana moved up two notches to No. 10 in this week's FCS poll by the Sports Network.
The top three teams remained the same with Georgia Southern holding down No. 1, followed by Northern Iowa and Appalachian State.
Montana State moved up to No. 4 after William & Mary's narrow victory over New Haven dropped the Tribe to No. 6. Richmond is ranked fifth.
Eastern Washington dropped from No. 10 to No. 21 following the Eagles' 17-14 loss to Montana, their third straight defeat to start the season.
Grizzly Athletics will be taking a booster bus to Bozeman for the Griz-Cat football game on Nov. 19. The bus will leave from the Adams Center on Saturday at approximately 7 a.m. The buses will return to Missoula immediately following the game.
The cost is $150 per person, which covers transportation, snacks and beverages, pregame tailgate, games on the bus, pizza on the ride home and a seat in the Grizzly section.
Seats are limited to 30 and will be sold on a first-come, first-served basis. Reservations for the trip can be made by calling Brent Reser at 243-2250 or by email at brent.reser@mso.umt.edu.