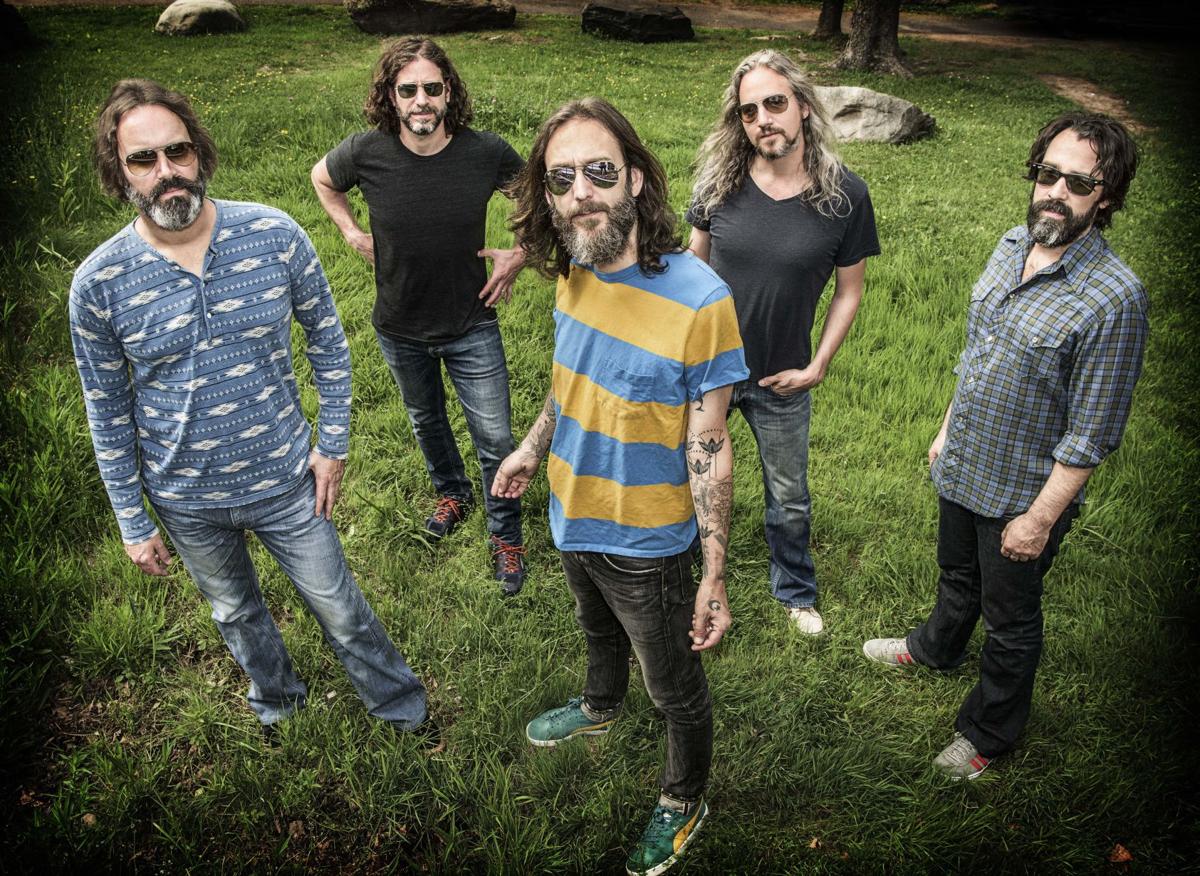 Chris Robinson views music as experiment. The more experiments he makes – the healthier and purer. He knows his own motivations, making decisions that link specifically to his goals: work hard, create and share.
"I came from a typical middle-class background and I guess I could have joined a fraternity or become good old boy in Georgia," said Robinson. "But I left home and I tried to find my way on my creative wit. And I think that's where the idea of experimentation comes from. The music (of the Chris Robinson Brotherhood) is whole and it combines all sorts of different modes of expression and different times gone by. I recognized that as a kid, and even now, at close to 50, the vantage point is the same. I know what motivates me.
"The current stuff has been a reflection of just who I am now. It's more so about that than to prostrate myself in popularity and other people's nostalgia trips. You've got to be present as a bandmate, a husband, and a father. And this was the choice of the pursuit I got into during my dyslexic upbringing in the Deep South, and even back then, music made everything a little less bleak."
Since committing to a rebellious life of art, Robinson's life has rarely veered from music. While he has achieved success as a member of the Black Crowes and other pairings, he doesn't like the labels that come with being independent. His philosophy is paradoxically to close himself off from the world as a bold way to engage with it. In 2012, the Chris Robinson Brotherhood emerged with the revelatory "Big Moon Ritual," an earthy, transcendent vehicle for Robinson to indulge his flavor for boogiefied California sound. A couple of months later, "The Magic Door," enhanced the heartiest elements of American classic rock.
In 2014, the Chris Robinson Brotherhood released "Phosphorescent Harvest," a vintage rock throwback that's straight away eccentric, soulful, uncanny, and categorically magnetic. This summer the band released "Anyway You Love, We Know How You Feel," a spontaneous combustion of sound breaking away from the often brutal stereotype of preconceived sounds and dovetailed recordings. The sessions were recorded in northern California on a misty foothill overlooking the Pacific Ocean; Robinson said he and the band "channeled the natural dignity and weather" of their environs. In the studio, Robinson submitted the group with unfinished verses and melodies and idiosyncratic chord progressions and encouraged the band to follow its communal muse to bring the music to fruition.
"California is still representative of a dream, "said Robinson, who has lived in California for approximately 25 years and now calls Marin County home. "There are the right reverberations and attitudes and music still a part of people's lives, and there are not a lot of places where you can dance for hours, like outside of Santa Cruz. It's the stuff of legends. We recorded right over the beach and it's equally a part of the atmosphere as anywhere."
Magic is a word that falls lifeless on the page when you drearily attempt to describe it. Yet, one can feel magic deep in their chest when they hear it. When Robinson says magic, he means a desire to turn an arena into a lively form of expression.
"I think magic is about the nights where you are free enough to let the music completely overtake you and you've got the focus and ability to do it. Think about, say, Steppenwolf, right? The line about the entrance is not for everyone. That's magic. This door opens up to another place and thing and to me that's the magic. It's when you have a group of people, or a cult energy – and that's not anything negative – and everyone is focused and sees that space open and fits in there, and that happens at a dinner, or a restaurant, or when a thousand strangers are at a place where everyone enters together. I think the magic is when you can recognize and take advantage of these moments."
Indeed, the Chris Robinson Brotherhood is an experience relishing magic, the magic of soulful Americana, the magic of the meditative, and the magic of keeping the torch of the mind-altering, mood-altering church of the Grateful Dead lit.
"I think sometimes I can better explain my music through seeing the ways of other people who do what I do. Music is ground zero and why did I choose this medium to express myself and be a part of it? Music and other forms of art – literary, cinema, the fine arts – all have someone's emotional expression and that appeals to me. It's something to be initiated into the real from a sincere place, whether it's beautiful, ugly, weird, or twisted, and if it hasn't been manipulated too much. Who wants to go to the same salad bar over and over again and expect one more visit of the same?"
Music impresses on us at strange, secreted levels we can't always comprehend. Robinson's approach is oddly organic, a cagily crafted throwback to the classic American rock and roll and jam music, with shades of Bob Dylan's "Blonde on Blonde" mixed with the acid-tinge of the Grateful Dead and bluesy longing of The Yardbirds; the treasure trove of influences advances the band's kaleidoscopic sound.
"Everyone plays exactly what they want and at the exact tempo that they want," said Robinson. "We all want to make this better. What you hear is a real collaboration. Between now and the next 5 or 6 years, we will be really productive and there will be progression and something that's hopeful and dynamic.
"Between all of us, we have written hundreds and hundreds of songs, and between all of us, we've been playing for well over 100 years, and we've all been musicians, and we've been out there finding our way, and that's a big part of it. I come from the folky country-rock side. (Lead guitarist) Neal (Casal) comes from a singer-songwriter place. Now I'm playing guitar. (Keyboardist) Adam (MacDougall) comes from a more urban, more funk and rhythm and blues, and his humor comes out in the music. Drummer Tony (Leone) is a jazz guy and a drummer and most committed to jazz. But he also loves rock and roll. There is (bassist) Jeff (Hill) who loves all music. So, the amalgamation should be fluid and something like language. You should be able to quote French in a novel if you want to, right? We are all part of the same song, anyway. Music is one great ocean and we are swimming around in it."
The trance-like quality of the Chris Robinson Brotherhood's spell can balance a negative emotion by instilling a positive one. Nearing age 50, Robinson – who, admittedly, has had his fair share of troubles in the past – figures that if he can be well, happy and peaceful, and his brotherhood the same, then their music will be met with satisfaction.
"The music is harmonic resonance," said Robinson. "There is nothing destructive or distorted in the music, in our business, or in our world view."
Robinson said that the freedom of the musician is the opportunity to see things as they are in his or her own universe and to be able to develop them without fear.
"At this point, no one can say yes for me and we as a band have free range to say no. As good as it all is, all the fulfillment and the joy, if you look around, you see that we live in a time of great anxiety. So, likewise, there is seriousness still to the music and a melancholy slant to the music. But I've never written a song that didn't have a light at the end of the tunnel. A lot of times all the shit we think is cool, well, people would just laugh at. It's not what is hip or cool. But we don't have to pull the cart for someone else. We are a connoisseur band. We are not a tourist band. Anyone can get a twelve pack of Coors Light, right?
"What is the radio? No one cares about rock and roll and the guitar and lyrics on television anymore. A lot of other bands, things are uptight and people are trying to make money or to fit in, or to be noticed, and they forget who they are on a primal level. It's lacking authenticity, freedom."
The band's inexorable touring pace brings their iridescent, trippy Americana around the world, and the Chris Robinson Brotherhood has no objections holding firm as the new standard-bearers of the psychedelic roots movement.
"Look at it this way: I'm gone from my family nine months out of the year. We are living on the bus and everyone's getting older. But we all respect it and understand it and you have to be completely committed and making sacrifices. We know the mindset of 118 gigs and the mental focus. All of us have committed our lives to put forward the best work. So, if that's the case, you bet your ass we are going to get down and bring everything every night, and I'm going to sing my best every night."
Brian D'Ambrosio lives in Helena, Montana. His newest book, "Shot in Montana: A History of Big Sky Cinema," is available through Riverbend Publishing. He may be reached at dambrosiobrian@hotmail.com.