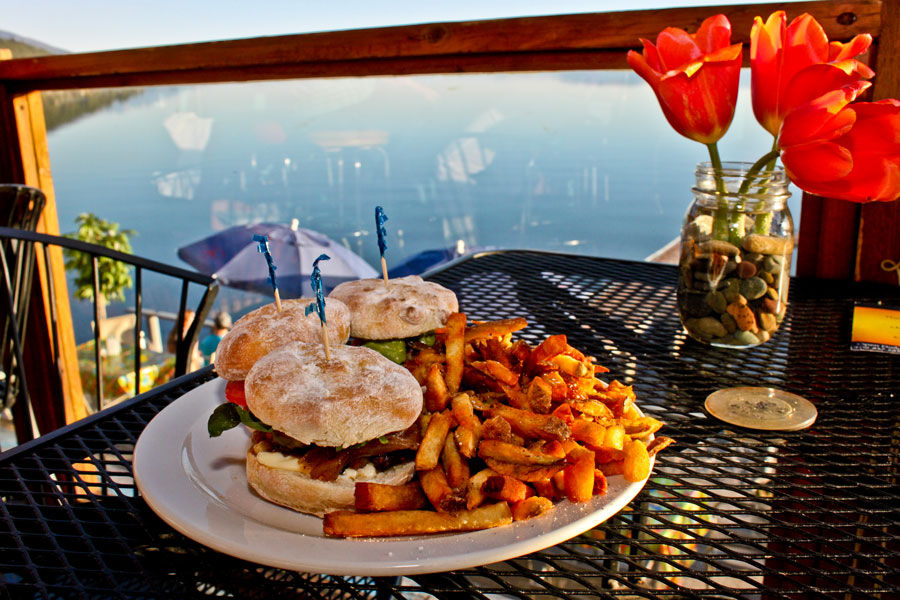 Lisa Cloutier opened The Raven 20 years ago on the shores of Flathead Lake as part of her dream to bring a little Caribbean vibe to the Northwest.
Her husband (and business partner) Brian Anderson helped transform a sleepy little bar and restaurant on the East Shore of Flathead into a well-known destination.
For more than two decades, the Raven has been the lakeside place where patrons can come and have some food, try some great specialty drinks, enjoy some music and escape in the beautiful views looking out over Flathead Lake.
Located in Woods Bay, the Raven is 4.5 miles south of Bigfork on Montana Highway 35.
Cloutier created a menu that uses local specialty cheeses, meats and produce when in season.
The Raven serves lunch and dinner throughout the year.  The menu is a reflection of the couple's travels around the world but with a little twist - in that they use as much local produce, meat, cheese, beer and spirits, as possible.
The Raven has an ever-changing eight-tap system with beers from its favorite brewers across Montana. The drink list features local spirits as well as specialty spirits from small distilleries the two have visited. They have an array of local artists and musicians that perform at the bar on a regular basis. 
Overall, the couple's vision for the Raven has always been to create a place where everyone is welcome.
Lisa and Brian have also spent years building not only the Raven, but The Islander Inn, a hip little boutique hotel across the street from The Raven, and a very successful catering business.     
 The Raven has a reputation for creating fun and unique events ranging from the ever popular Margarita Monday, Dim Sum Sunday's, Izakaya Dinners, The Annual Polar Bear Plunge and Full Moon Parties  
The Raven is also known as the perfect spot to launch a kayak, standup paddle board or just take a dip in the cool waters of Flathead Lake.