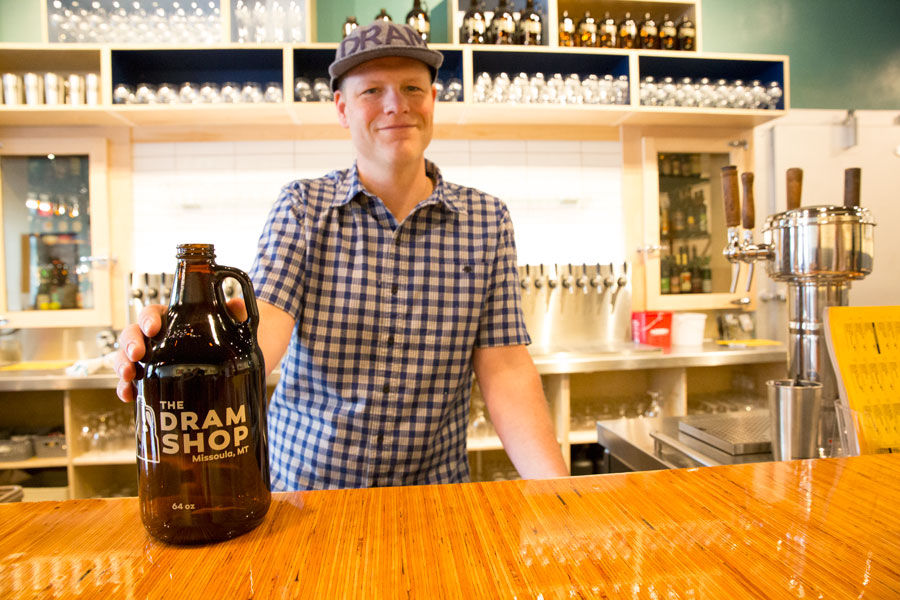 Ask Zach Millar for his opinion on what will be key drivers for the next wave of the craft beer movement and you'll get a simple answer.
"People want variety," Millar said.
With that in mind, Millar, along with his wife Sarah, opened a growler fill station and taproom called The Dram Shop in late March on East Front Street, between The Trail Head and The Pearl Cafe restaurant in downtown Missoula.
The growler fill station model, he said, has become very popular on the West Coast, and he thinks it will prove to be a success here as well.
"There's a new group of more sophisticated beer drinkers and they are starting to be choosey about what they want to drink, just like wine drinkers," Millar said.
The Dram Shop's focus, Millar said, is on providing a variety of beers from microbreweries across the state and country that customers might not be able to find other places, and be the spot where people fill up their growlers when they find a new favorite.
"We're probably, I think, the only other place to get Blackfoot IPA growler fills apart from the brewery in Helena, and that's a popular beer here in Missoula," Millar said.
With more than 30 beers on tap, the number of choices can be a little daunting, but Millar said the staff is always ready to talk with patrons about the types of beer they like and make a suggestion of what to try next, with a simple recommendation or even a small sample.
"We always will make it so they're not flying blind," he said.
In May, Millar said someone came in and filled 10 growlers at once, one of the biggest orders since he opened.
"They were having a party for Memorial Day. So instead of getting a keg of one beer, their family and friends can get to try 10 different beers," he said.
In addition to its beer offerings, The Dram Shop sells draught wine, cider, soda and nonalcoholic brews. Millar said he's received a lot of positive feedback since he opened from people thanking him for providing some variety.
"There are a lot of people who are saying, 'I don't drink beer, but I hang out with a lot of people who do.' They can come in here and find something to try," he said.
Prior to owning The Dram Shop, Millar worked at Missoula's Big Sky Brewing Co. for more than 11 years as its distribution manager.
For his new venture, he said distributors let him know what beers they have available, and send samples to help him select which breweries he wants to stock and sell. Rather than adding more tap heads, Millar said his plan is to rotate new beers in over time.
"I get more of their specialty stuff, even if there's only a limited amount there," he said.
In the evening, The Dram Shop also offers food from Market on Front and The Pearl Cafe.
"They can take a look at menus on the bar, then call and order and they make the food fresh and deliver it to the shop," Millar said.
Both restaurants have a special set of food just for the taproom's customers.
Market on Front's is a selection of flatbreads, while the Pearl's is a "pub grub" menu including dishes like beef chimichurri or fried oysters.
Millar said they also welcome people bringing their own food to the taproom, and kids and families are always welcome.
Before he started the work to open The Dram Shop, Millar said he conducted a lot of market research to find out what market was being underserved in the area, and if Missoula could support another place to go for microbrew beer.
Millar, who graduated from the University of Montana in the late 1990s, also sought the assistance of the school's new Blackstone LaunchPad, which helps entrepreneurs develop their businesses, with the assistance coming free of charge for students and graduates.
"It was really nuts and bolts stuff. They helped guide me through all of the steps, all of the things that the people doing the financing wanted to see," Millar said.
Because of differences in Montana law, The Dram Shop is slightly different than other growler fill stations he's been too.
For example, instead of being able to sell bottled beer in publically available coolers, it can only be sold out of a refrigerated room behind the bar.
This summer, Millar is planning on putting in outdoor seating, and eventually installing large doors in the front wall of the shop that can be opened during business hours.
The Dram Shop is open Tuesday through Thursday and on Sunday from noon to 9 p.m., Friday from noon to 10 p.m. and Saturday from 10 a.m. to 10 p.m.
For more information about The Dram Shop, including a list of the beers currently on tap, visit www.dramshopmt.com.