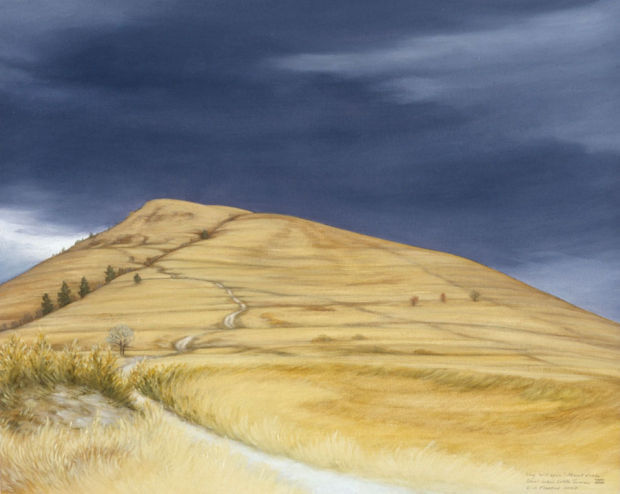 Missoula artist Stephanie Frostad didn't set out to create an exhibit when she sat down in front of Mount Jumbo for the first time in October 2001 to paint her favorite Missoula mountain.
Jumbo was a place Frostad had found solace and focus as she transitioned into life as a full-time artist.
Her yearly Oct. 18 visits to the spot below Jumbo in the lower Rattlensake with painting supplies in tow were meant to be a personal growth exercise.
"I just wanted to go spend the day on the mountain, if a painting came home with me fine," she said. "It was only after a few years I realized there's this series emerging."
Thirteen years and 13 paintings later, Frostad is celebrating the opening of her exhibit "Beloved Mountain: Paintings of Mount Jumbo 2001-2013."
It's on display through July 30 at the Montana Natural History Center, 120 Hickory Street.
Each painting – except for the last which depicts Mount Jumbo from Water Works Hill - represents a different year on Mount Jumbo from Frostad's perspective near a the bench near the Cherry Street trailhead.
Frostad found through the years that Oct. 18 on Mount Jumbo is a "curious" day.
"I'd get sunburned one year. The next year have I'd have to wear two layers of long underwear because it's starting to snow," she said.
In 2002, an herbicide treatment on Mount Jumbo left discolored bands across the mountain.
"It struck me as ugly," Frostad said. "I just painted it with as much frankness as I could. (Through the years) you see the mountain heal. You see the bands fade with time. Hopefully what we're also seeing in that is the restoration of more native flora."
 However sweeping or tiny, the ever-changing details Frostad observed during her time painting revealed the mountain's dynamic character, and reaffirmed the specialness of Mount Jumbo for Frostad.
That's something most Missoulians can relate to, even if they call another local mountain or open space "beloved," she said.
"It was confirmation of that sense that we as Missoulians enjoy these public spaces as an extension of the home," Frostad said.
The exhibit is fittingly hung inside the MNHC, which shares a building with Five Valleys Land Trust. A portion of the proceeds from exhibit sales will go to the organizations as recognition of "essential work in nurturing environmental stewardship," Frostad said.
The gallery is open during MNHC's regular hours, Tuesday – Friday from 9 a.m. to 5 p.m. and Saturday from noon to 4 p.m.