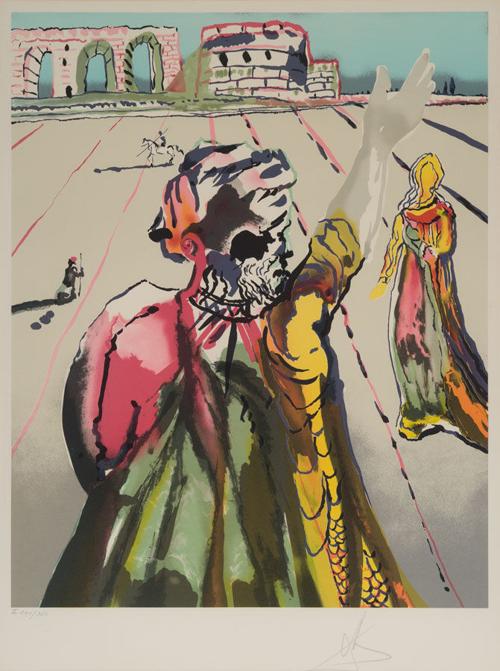 When Montana Museum of Arts and Culture Curator Brandon Reintjes was  investigating the story behind the Salvador Dali piece, "The Hand," something didn't sit right with him.
"I knew we had a signed Dali lithograph, but despite Dali being one of the world's most famous artists, I couldn't find the information I expected," he said.
As it turned out, the piece had two titles, and is more commonly known as "The Poet Advises the Maiden (The Hand)."
"Apparently it has always had dual titles," Reintjes said, "I think it's one of his Surrealistic pranks."
 "The Hand" is part of the MMAC's permanent collection and can be viewed, along with 119 other pieces with equally fascinating stories, at the Paxson and Meloy galleries on the University of Montana Campus. MMAC's exhibit "Art of the State: Celebrating 120 Years of the MMAC Permanent Collection" runs Jan. 22 through May 23.
Spanish Surrealist artist Salvador Dali, known for his distinctive mustache and wild imagination, frequently described his own pieces as "hand-painted dream photographs."
And to see any of his more famous works, "The Persistence of Memory" (think melting clocks) or "Soft Construction with Boiled Beans: A Premonition of Civil War" (think monstrous fragments of humans and a convulsed and screaming head), you can tell what he's talking about. 
"The Hand," is no exception, with a juxtaposition of incongruous, seemingly unrelated characters against a desolate landscape. Stuff that dreams are made of, indeed.
When examining Dali's childhood, it's easy to see where he might have found fodder for the eventual style he chose. Dali's older brother, also named Salvador, died as a young boy. Dali told the story that when he was 5 years old, his parents took him to the grave of his brother and told him he was his brother's reincarnation.
Dali recalled, "[we] resembled each other like two drops of water, but we had different reflections." 
But wacky childhoods can lead to great things. Some turn to therapy, some to art, in this case the art world is lucky that Dali in a way turned to both, as he and his art were thoroughly influenced by Sigmund Freud's "Theory of the Unconscious" and his book, "The Interpretation of Dreams."
Dali also had somewhat of a colorful academic career. He was enrolled in school in Madrid, Spain, only to get suspended for allegedly starting a riot.  Then, he was imprisoned for supporting the Catalan separatist movement. He was expelled again after declaring the faculty incompetent. After his abrupt departure from academia, he went to Paris where he met painters including Pablo Picasso and Joan Miro, who influenced Dali's adoption of Surrealism.
Later in the United States he was commissioned to create portraits for celebrities such as Helena Rubinstein and Jack Warner, he also storyboarded a Walt Disney short film, designed jewelry for Coco Chanel, and created a dream sequence for the Alfred Hitchcock film, "Spellbound." 
A celebrity of his time, he could be recognized around town by his flamboyant appearance, including a long cloak, walking stick, and upturned wax mustache. He was a dreamlike character himself.
Genius can take many forms, and Dali's eccentric and provocative style inspired, astonished and fascinated the world in his generation and still today.  
Corridor will be featuring pieces of art each month from the Montana Museum of Art and Culture's exhibit "Art of the State: Celebrating 120 Years of the MMAC Permanent Collection." Established in 1895, the museum's Permanent Collection encompasses an astounding 11,000 pieces, from Picasso to Warhol to Dali.