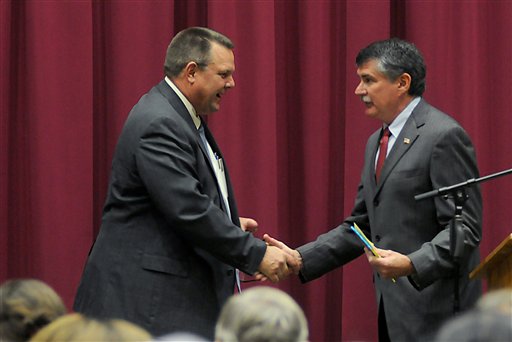 HELENA – If you're among the Montana voters marching to the polls Tuesday, you've just finished a perverse sort of media marathon, navigating more than 100,000 TV ads and thousands of mailers, newspaper ads, phone calls, polls and canvassers, costing close to $50 million.
And that's for only one race: The U.S. Senate, which has seen political groups pour money into Montana like never before, to persuade voters to choose Democratic U.S. Sen. Jon Tester, Republican challenger Rep. Denny Rehberg or Libertarian Dan Cox.
The candidates themselves have spent about $18 million in this race, on broadcast ads, mailers, signs, fundraising events and their campaign staff.
But even bigger this year is the torrent of so-called "outside money," spent primarily by interest groups with names like Crossroads GPS (grassroots policy strategy), Americans for Prosperity, Citizens for Strength and Security, or Workers Voice.
This money can be difficult to track, but a variety of sources indicate it is approaching $30 million in Montana's U.S. Senate race.
Everyone knew the Senate contest would attract big money, because it's a possible swing seat, where Republicans could pick up a seat by knocking off an incumbent Democrat.
Rehberg, a sitting congressman, was a viable challenger to Democrat Tester from the beginning and has run a disciplined, well-financed campaign.
"Rehberg wouldn't have all this dough (on his side) if he weren't already in the U.S. House," said Craig Wilson, a political science professor at Montana State University-Billings. "That's attracted millions of dollars."
Yet it appears the amount of outside money is surpassing earlier expectations.
"I think 2010 was kind of a test case for a lot of these groups, and now they've rolled out the carpet big-time," said David Parker, a Montana State University political scientist following the race. "This could be the new normal."
Tester has been the beneficiary of plenty of outside cash, and his campaign has outspent Rehberg's by $10.7 million to $7.2 million, as of two weeks ago.
But it appears the outside money has favored Rehberg, by about a $16.5 million to $12.5 million margin, based on conversations with the campaigns and academics tracking the outside cash.
In all, at least 26 political party and interest groups have bought ads, paid for mailers and made other expenditures in Montana on behalf of Tester, Rehberg or, in some cases, Cox.
The Wesleyan Media Project, an academic group tracking TV campaign ads nationwide, says 89,000 separate TV ads on Montana's Senate race appeared from June through late October – more than any other Senate contest in the country.
One of the biggest spenders on the race has been Crossroads GPS, founded by Karl Rove, the strategist and top staffer for former President George W. Bush. Crossroads has been running TV ads attacking Tester for most of the summer and fall.
The U.S. Chamber of Commerce and the National Republican Senatorial Committee also have bought many ads going after Tester.
On the other side, big spenders include the League of Conservation Voters, Patriot Majority, Montana Hunters & Anglers Action and Workers Voice, a labor group.
They're not buying only TV ads, either. Some are spending money on mailers or hiring canvassers to identify specific, sympathetic voters and get them to the polls on Election Day.
"The mailers are better able to target specific voters, whereas TV ads are broad-brush strokes," Parker says. "The ads create the strategic playing field upon which the game is played, but the mailers, the get-out-the-vote are tactical decisions to convince one individual voter to vote."
Much of this cash is being spent in Montana by what's known as "dark money" groups, which do not have to report their donors.
Organized as nonprofits, they run ads attacking a candidate, but don't expressly ask voters to vote for or against any candidate. This distinction allows groups to call themselves "social welfare" organizations, who are merely "educating" the public about candidates.
Such groups don't have to reveal their donors, and must report campaign-related spending made only within 60 days of the election.
Parker and the Sunlight Foundation, a group that tracks outside spending, estimate that about $14 million in "dark money" has been spent on the Montana U.S. Senate race. The remainder of outside spending has come from political party groups and other groups with stiffer requirements for reporting.
Tester's campaign manager, Preston Elliott, said the huge level of outside spending in Montana's race "is directly related to the Citizens United decision, which Jon Tester has been fighting against."
"Like most Montanans, Jon believes we need more accountability – not more money – in our elections," Elliott said.
Citizens United is the 2010 decision by the U.S. Supreme Court that said corporations and unions can spend directly from their treasury on advertising to promote or oppose a candidate.
Citizens United didn't change the rules for "dark money" nonprofit groups, which could accept corporate money before the decision and still do – and not report its source.
However, most experts on campaign finance issues believe Citizens United may have emboldened the nonprofit groups and their use of corporate money, because it removed any chance that they could be penalized for using corporate funds to influence an election.
"I think some of this behavior was here before (Citizens United)," said Parker. "But Citizens United (and other court decisions) have allowed people to engage in bad behavior and vandalize the public square with their bad behavior. The attacks from outside groups are harsher."
Rehberg campaign spokesman Chris Bond said there's obviously been a lot of outside money flowing into the race, and that it's "because of the national importance of this election when it comes to the path that we take as a country: the Romney-Rehberg path or the Obama-Tester path."
Missoulian State Bureau reporter Mike Dennison can be reached at 1-800-525-4920 or at mike.dennison@lee.net.