PATRICK REILLY patrick.reilly@missoulian.com​ ​ ​
Ah, Christmas, when the world comes to a pause — but still expects a full paper on the doorstep and the iPad.
It's always a challenge to keep the news cycle spinning for the last 10 days or so of December. The Montana education system nonetheless provided. Cameron Evans went to eastern Montana for a look at the promise and pitfalls of dual enrollment, which lets students earn college credit while in high school — if their teachers have the right credentials.
Dr. Connie Haan teaches a course in medical terminology at the Billings Career Center recently. The class is a dual enrollment course offered to high school students in Billings.
TOM BAUER, Missoulian
Also east of the divide, Nicholas Balcken is celebrating his own new credential. Last week, the Helena-based Blackfoot River Brewing Company employee received the first Professional Brewer Certificate through the Montana Registered Apprenticeship Program. While post-secondary education introduces many students to alcohol, it's become a way for Balcken to advance in the industry. With this credential, he said, "I hope to be able to develop better beers and improve my recipe development."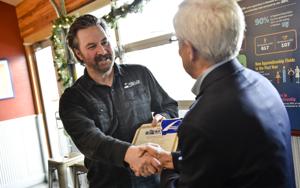 Blackfoot River Brewing Co.'s Nicholas Balcken receives his certified national brewing credential from Lt. Gov. Mike Cooney Friday at the Helena brewery. Balcken is the first in Montana to complete the Professional Brewer Apprenticeship through the Montana Department of Labor and Industry.
THOM BRIDGE, Independent Record
The University of Montana, meanwhile, is facing some churn as the decade ends. Tom DeLuca, dean of the W.A. Franke College of Forestry and Conservation, plans to leave at the end of the school year to take on a new role at Oregon State University. His departure leaves four UM colleges now in search of a dean.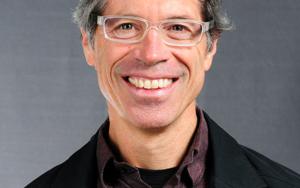 Provided by the University of Montana
South of the main campus, a group of Ravalli County citizens aims to separate Bitterroot College from UM and establish it as an independent community college, supported in part by a new taxing district. They predict it would enable them to tailor the curricula and degree offerings to the Bitterroot's workforce needs. But Ravalli County Commissioners remain skeptical of its financing. UM, meanwhile, is taking a wait-and-see approach.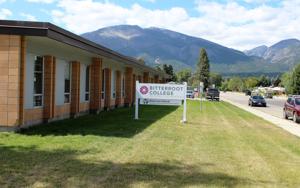 A petition is circulating about adding a measure to the May ballot that would allow voters to decided to create Bitterroot Valley Community College, no longer Bitterroot College University of Montana but a state-recognized, locally-controlled community college.
MICHELLE MCCONNAHA - Ravalli Republic
UM delivered a Christmas gift to history lovers by making "K. Ross Toole's Montana" free for all online. This 1985 public television show presented, in 20 episodes, the longtime historian's lectures on Montana history.
"There are, I think, undeniably new winds sweeping across America," he opined at the start of each episode. "They are indeed gusty and changeable, but they are new and they will alter what happens in Montana, and whether for better or worse does depend on Montanans and how they or you read those winds."
With that, I'd like to sign off on the UM beat and hand it over to reporter Matt Neuman, who — as former editor-in-chief of the Montana Kaimin — will undoubtedly excel. (Click here to read five of his favorite stories from 2019). In the new year, I'll be stepping in as the Missoulian's natural resources reporter until Rob Chaney returns from his Nieman Fellowship. With so many UM scientists and policy experts keeping their fingers on the pulse of the environment here, I expect to still be on campus plenty in the months ahead.
- Patrick Reilly
Stay current on the University of Montana and higher education news in Montana with the Missoulian's weekly email, Under the M. This newsletter will land in your email box mostly on Tuesdays. Got a news tip? Want to hear more about something at UM? Missoula College? The Commissioner's Office? Shoot a note to patrick.reilly@missoulian.com. My colleague Matt Neuman has also started a newsletter on Missoula city and county government, which he entitled "Urban Scrawl" after much debate. Thank you for reading, and please sign up here if you'd like to subscribe.