KEILA SZPALLER keila.szpaller@missoulian.com​ ​ ​Updated
Don't like the state of affairs in Washington, D.C.? Go vote.
That's one directive from UM Professor Ramona Grey, who talked with me about teaching political science. I've had three people tell me they want to return to college to take her class.
"We bear responsibility for those who represent us and those who lead us — and for ourselves," Grey said in the story.
If you're reading this on Tuesday and you haven't voted yet, stop reading. Get to the polls. You can still register at the elections headquarters at the fairgrounds in Missoula. Instructions from Missoula County here.
Montanans will decide on whether to keep funding the 6-Mill Levy for higher education, a ballot issue here every 10 years. In a roundup of higher education issues across the country, the Chronicle of Higher Education notes "free college" has become a campaign issue for some gubernatorial candidates.
Also this from the Chronicle:
"In Seattle, voters will be asked if property-tax revenue should be allocated to a free-college program for graduates of the city's public schools."
Interesting. Be good to learn more about that one.
I'm going to keep this newsletter short on Election Day, but I did want to be sure to point you to reporter Cory Walsh's story today and reporter Eve Byron's story from Sunday. Cory writes about UM alum Sterling HolyWhite Mountain, a Blackfeet writer who just got an awesome award. I won't give it away here in case you haven't read it.
Eve looks at the increase in taxes in Missoula County and the City of Missoula over the last decade. She counts a 45 percent jump in the budgets for city police and fire. Good story.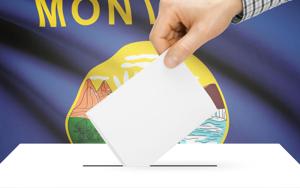 Thinkstock
OK, time to call some elections staff. In the meantime, here's the latest from UM:
All for now, except in case you're wondering, I'm wearing my "I Voted" sticker proudly. Get yours.
— Keila Szpaller
Stay current on the University of Montana and other higher education news in Montana with the Missoulian's weekly email, Under the M. This newsletter will land in your email box on Tuesdays. Got a news tip? Want to hear more about something at UM? Missoula College? The Commissioner's Office? Shoot a note to keila.szpaller@missoulian.com. Thank you for reading, and please sign up here if you'd like to subscribe.