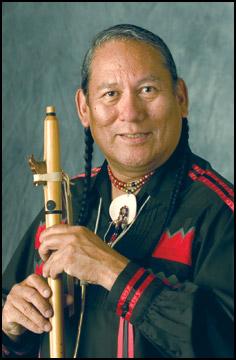 R. Carlos Nakai and Ken Light will perform a concert of Native American flute music Sunday at 2 p.m. in Caras Park. Students from the Renaissance of the Native American Flute Workshop, currently under way in Tarkio, will also perform. Admission is free. For more information, visit www.aoflutes.com/rnaf.htm.
---
In this world, there are few sounds more earthly and evocative than the haunting tones of the Native American flute. It is an instrument that demands to be heard in a place of peace and serenity, out in nature, perhaps beside a river under the Montana sun. A place like Caras Park.
Then again, with R. Carlos Nakai in town, the peace and serenity of our downtown riverside park will probably be broken by the hundreds of fans who are likely to show up when Nakai performs a free outdoor concert there, this Sunday afternoon.
Nakai, a Navajo-Ute performer from Arizona, is the world's premiere player of the Native American flute. Indeed, he is arguably the world's best-known Native American musician, period.
In 1983, Nakai recorded his first solo album of American Indian flute recordings, titled "Changes," which was released by tiny Arizona imprint Canyon Records. It was, at the time, one of the only American Indian music albums available widely. But on the strengths of the record, Nakai soon established himself both as a leading exponent of traditional American Indian music, and also as a talented composer who could take the instrument into new areas of emotional expressiveness.
In the two decades since that first release, Nakai has become an international star of sorts. He's sold more than 3.5 million records - quite a feat for a musician whose music is never played on the radio, and whose records continue to be released by a nonmajor label. He's been nominated for six Grammys - five in the new age and traditional folk music categories, and one for Best Native American Album (2003's "Sanctuary").
And to this day, he is the first and only musician to have earned a gold record in the American Indian music genre (he's actually earned two, for 1987's "Earth Spirit" and 1989's "Canyon Trilogy"). He's recorded and performed with orchestras around the world, and has also recorded numerous albums in collaboration with other individual performers, including flutist Paul Horn, Tibetan flutist/singer Nawang Khechog, pianist Peter Kater, and saxophonist AmoChip Dabney.
He has dabbled in jazz, and Japanese music, and scores for film and TV. And since 1995, he's performed as a member of the Wilde Boys Trio, a group that consciously aims to create music out of a world-spanning pallet of cultural influences. The trio, which includes ethnic percussionist Will Clipman and guitarist William Eaton, has worked together in various capacities for years, and recorded its first full-fledged, collaborative CD in 1995, titled "Feather, Stone & Light." That multicultural group serves as a portrait of Nakai's own beliefs regarding identity and human nature.
"While we all come from different cultural heritages, we're able to blend our ideas of what our culture is into some beautiful music," Nakai said in an interview with the Missoulian in 2004. "There are no more pure Native tribes, but that diversity also serves the greater intention of bringing people together rather than creating more walls of political or social obfuscation. We're all here together."
Nakai's concert this weekend comes as an outgrowth of an annual Native American flute workshop that Nakai has taught for 17 years, and which recently relocated from Helena to Tarkio. The workshop, which Nakai co-hosts with Arlee-based flute maker Ken Light (of Amon Olorin Flutes), brings together aspiring flutists from around the world for an intensive weeklong educational experience.
"We did the workshop in Tarkio for the first time last year, and it was a great success; but there was no public event associated with it," said Light. "So this year we decided we would present something, and a free outdoor concert just seemed like the easiest and best way to organize something."
Light hopes that this week's concert will spark a new tradition for Missoula.
"It's the beginning of what I hope will develop into a Native American flute festival that happens in Missoula," said Light. "I think it's the perfect place for it, and obviously Nakai is the guy who could make that happen."