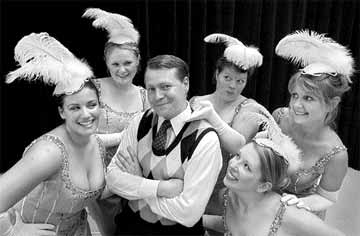 MCT doesn't miss a step while performing Gershwin musical
Review: "Crazy for You," directed by Jim Caron, part of the Missoula Children's Theater's "Broadway in the Rockies" series, runs through Sunday, Aug. 3 in the MCT Center for the Performing Arts., 200 N. Adams St. Evening performances begin at 8 p.m. and cost $25; Saturday and Sunday matinees begin at 2 p.m. and cost $20. Tickets are available at the box office, via phone at 728-7925, and online at www.mctinc.org.
Those appalled by the dearth of tap dancing in our daily lives will enjoy "Crazy for You: The New Gershwin Musical." The MCT production offers tap-dancing galore: tapping waiters, tapping showgirls, tapping junior bankers. A tapper performs in a suit and tie - always an appealing sight. There are also tap-dancing cowboys, sans taps. Still, it's nice to see western boots in a chorus line.
"Crazy for You" - based on the 1930s hit "Girl Crazy," but without the racist and sexist overtones - is pure melodrama: full of slapstick, farce, vaudevillean entertainment and sick puns, whose devices include a damsel in distress, a hero (of sorts), a villain, mortgage difficulties, a dominating mama, an old coot, a vamp. Show girls appear in all shapes and sizes, including the obligatory squeaky-voiced variety with a mobster-moll accent.
And, yes, cowboys abound: jug-jawed cowboys; swivel-hipped cowboys; Cisco Kid cowboys; cowboys so laconic they might be on Demerol; near-blind, astigmatic cowboys; cowboys who look like Rick Moranis; cowboys who look like Wallace Shawn, cowboys who reference Shakespeare and Stanislavski.
They are, above all, singing cowboys, an excellent choral backdrop for the Mermanesque belting of Betsi Morrison, who plays heroine-in-residence Polly Baker, the little gal who wants to save the theater where her sainted mother used to sing her heart out to a bunch of drunk miners. Bobby Child (Luke Walrath) is the New York guy in a suit, sent out West to repossess. He pretends to be Bela Zangler of the famed Zangler Follies. Polly falls for Bela, but doesn't like Bobby. That about does it for plot summary. The leads perform their goofy roles with charming vigor.
As for the songs, it takes the corniness of a cowboy to sing most of them. George Gershwin's scores are nothing short of sublime, but Ira was a nut! "Easterner" rhymes with "be sterner." "She is full of trickery" is coupled with "Life is full of chickory." And so on.
"Embraceable You," "Someone to Watch Over Me," "Slap that Bass," "I Got Rhythm," and "The Real American Folk Song (Is a Rag)," along with fifteen other Gershwin songs performed with gusto and ardor make the production a high-calorie treat from the yesteryear menu, the one specializing in delectable schmaltz.
There's skill in this silliness. Michael McGill's musical direction is solid, the singers in the chorus soar and the solos satisfy. Cowpoke Michael Lowney is a stand-out; watch for him in a future Broadway in the Rockies production.
But it's the choreography, by Lisa Jourdonnais and Luke Walrath, that carries the show. Tap-dancing by neophytes can be excruciating; here, dancers tap with seeming ease. Walrath's break-dancing-inspired moves are astonishing and worth performing twice, which he does.
The show's major flaw: It's 10 minutes too long. By the time we're told to put on our dancing shoes, we're a bit worn out. For the most part, though, this production of "Crazy for You" is pure pleasurable craziness, in control.