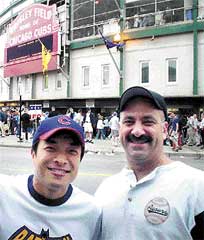 He's able to leap tall corporations in a single bound, able to create entire worlds with one hand tied behind his back. He was an alien raised in the Midwest who has become a hero to thousands of American youth.
No, he's not Superman. In fact, many would say he's the man who saved Superman.
He is Jim Lee, a South Korean-born comics artist who, over the past two decades, has emerged as the most influential mainstream comics artist in America.
"I can't think of anybody bigger in the comics world than Jim Lee," said Amanda Fisher, co-owner of Muse Comics (formerly the Splash Page) in Missoula. "There are a lot of wannabe Jim Lee imitators out there, and then there's Jim Lee. He has raised the standard of art in the comics world."
Employing a densely packed, bold, multilayered style of drawing, Lee has developed a style of visual storytelling all his own, often depicting entire scenes within a single comic panel. Memories, dreams and grudges swirl in the background of his drawings, while subtle gestures and compositional twists communicate volumes about his fantastical characters' motives, secrets and strategies.
Lee's entree into the world of superheroes came via a jokey independent comic book, "Samurai Santa." Lee only drew the cover of the first issue; but it was enough to land him a gig at Marvel Comics in 1987.
From that point, his rise was meteoric. In 1991, Lee illustrated the top-selling single issue of a comic book in history, 1991's "X-Men" No. 1. Since then, he has worked in some capacity on pretty much every one of the top titles in comics, including long-running titles such as "Superman," "Batman," "Captain America," and "Fantastic Four," as well as newer hits like "WildC.A.T.s" and "The Authority."
Lee drew the best-selling comic books of 2003, 2004 and 2005 for DC Comics, and his work has been credited, in particular, for reviving the "Superman" series after years of declining popularity.
Lee also co-founded Image Comics, a company that, in the early 1990s, transformed the way comic book companies and retailers do business.
Lee returned to the DC fold in 1998; but he remains a maverick with a golden touch.
With Lee scheduled for a visit to Missoula this week, we figured we'd ask him: How does someone become a superhero among superhero comics artists?
Missoulian: I'm guessing you started drawing comics when you were young.
Lee: I don't think anyone works in comics without having been a big comic nerd in their lives. When my family moved to the United States I ate up cartoons, partly to learn English. I remember watching old Superman black-and-white cartoons on TV and just being so into them. In school, teachers would get upset because I was drawing all the time. I guess I always wanted to work in comics, but it wasn't a well-known career path.
My parents moved (to St. Louis, from South Korea) to chase the American dream. My father was a doctor, and I was expected to follow in my father's footsteps. I went to a private high school, did the whole Ivy League thing at Princeton; but after I graduated, I realized I needed to live with my decisions. And I wanted to try comic books.
So I sat down and started drawing trial pages. I had no idea what people got paid, whether you needed to live in New York - nothing.
Missoulian: What did your parents think of that?
Lee: They were pretty unhappy. They were the first people in their family to come to the U.S., so they gave up a lot in terms of their support network to come here, and they worked hard and sacrificed to put me through school. And then I basically turned around and said, I want to draw guys with their underwear on the outside of their clothes.
They worried I'd be a starving artist, but once they realized I could make a life - I made $21,000 my first year in comics - they were very happy actually. In that sense I think they're a little more liberal than some (Korean parents).
Missoulian: What comics artists most influenced your early work?
Lee: I grew up in the Midwest, bought my comics at the 7-11, so I was really into the mainstream. My main influences were the guys who were most popular, John Byrne and Frank Miller and Neal Adams, those really were my inspirations. I remember trying to get every comic they produced and trying to structure my style around what I liked from theirs.
Missoulian: Did you literally copy their work?
Lee: A lot of aspiring comics artists start with tracing other people's work. I never did that. I would look at their work, deconstruct it stylistically and just go from what I saw.
Once I got professional work I kind of reached a point where I was unhappy with my style, I could see these influences cobbled together like a Frankenstein monster. So I decided to put away those comics and just do it from my own head.
By putting it all away, sitting down and drawing I felt like my own style was coming through finally.
Missoulian: Looking back at the succession of titles you worked on, what do you consider the most important step in your career?
Lee: I think I really achieved a fan base when I worked on "X-Men." If you have a nerd wet dream, that was it for me; I was a huge fan of "X-Men" when I was in school. I kind of identified with the characters: They were in private school, I was in private school; and they made the most scientific sense to me. Getting bit by a radioactive spider and having spider powers? That just didn't make sense to me.
Missoulian: How did you develop your own vision of Batman and Superman, and how do you feel your vision contrasted with that of artists before you?
Lee: With Batman, I saw him as rooted in this primal urge for vengeance - he wants to exact justice from every single criminal. Batman to me is all about a sense of loss, about the growing urbanization and fear of crime in the cities - a darker version of Superman protecting us in the city.
Superman is the prototypical immigrant story, coming from a strange world and adopting Earth - he's like a messiah.
So superficially they're childish characters, but the core concepts really speak to a much deeper thematic connection to all of us. These are really characters of hope and salvation, hence their appeal.
Missoulian: You have an incredibly complex style of composition. Some of your individual panels have more going on in them than many old-school comics had in an entire issue. How do you go about visualizing all of that stuff going on in a single image?
Lee: I'd say it's like two dual tracks that I ride. For every panel, I can usually see it fully realized before I start; but on other hand, there's an emotion I want to catch in the panel, which often comes out in small inspirations as I go along.
It's a process of going back and forth between capturing the composition of who's where and the negative space, and pushing the emotional buttons that people don't necessarily see but they feel, especially in the gestures.
In the gestures you get the underlying humanity. It's all about the way you make the characters act on the page, in the situation - we're the directors, telling a story in one static panel, and the really good guys can maximize the story in one panel. Little details - a pinkie that stuck out, or the cut of a tie - those little things are what add up to an emotional narrative.
Missoulian: When you founded Image Comics, DC and Marvel were hugely dominant publishers. What made you think it could work to go out on your own?
Lee: I think the fact that we were fearless was what made it work. If we'd been sane and rational, it wouldn't have happened.
We were all making decent salaries, we were the hottest artists at the time, and to give up that comfort - you don't know if you're giving up something better than what you might be able to build yourself. The fact we were naive was great. The heat we had going on with our careers, the intensity with which we approached our careers got us through.
Missoulian: From your perspective, how do you feel that Image's success changed the playing field for artists and the comics world in general?
Lee: I know we definitely impacted the viability of create-your-own projects. Nobody had sold them at the level we were selling them; we got them made into toys, for example. The deals we were putting together for artists definitely affected the way Marvel and DC compensated artists. People were doubling, tripling their income by shopping around.
As far as the products themselves, as artists we wanted the books to look as awesome as possible, so we put a high premium on the paper we used and the coloring and that kind of thing. That level of quality and attention to the whole package has become the norm today.
Missoulian: What current projects are you most excited about?
Lee: Right now I'm working with (writer) Frank Miller on "Batman and Robin," then in September I'm going back to "WildC.A.T.s" and working with (writer) Grant Morrison.
I'm really excited about that; Grant is the single most imaginative creator in comics today. He's so fantastical, and has a very loyal following.
Missoulian: How does it feel to have a new Superman movie coming out? A lot of people credit you with reviving the Man of Steel from a long slumber …
Lee: I don't know. I suspect they probably pulled together all the very best versions of Superman over the ages. There have been a lot of great ones, but the single biggest influence I've seen from the movie trailers is the Richard Donner movies (Donner directed the 1978 film "Superman," and directed parts of 1980's "Superman II") - that, to me, was the classic Superman. I was a kid when (the 1978 "Superman") came out, so when I draw him I'm trying to capture that movie, that sense of awe you had when you were 10 or 11 years old.
It's funny, that movie had a huge impact on almost every artist of my generation. It's kind of weird to think that it has come full circle, to where the artists today who were influenced by that movie are now influencing the new movie through their own work.
---
Meet famed comic artist Jim Lee and several other artists from WildStorm Studios when they visit Muse Comics on June 30 starting at 5 p.m. Muse Comics is located at 2100 Stephens #107. Anyone interested in attending a special screening of "Superman Returns" with Lee on June 30 at 7:30 p.m. can purchase tickets at Muse Comics, or by calling 543-9944.