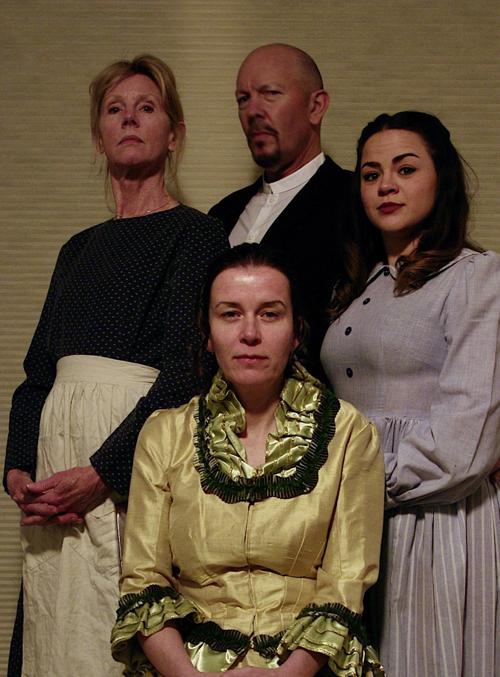 A comedic drama, written as a "sequel" to a classic Ibsen play, is coming to the Zootown Arts Community Center only a few years after its award-winning Broadway run.
Director and playwright Roger Hedden saw "A Doll's House, Part 2," in his native New York several years ago, and thought it was a perfect fit for an independent production with two longtime collaborators, Salina Chatlain and Rick Martino.
Hnath's script picks up 15 years after Nora walked out on her former life in a famous ending. While it's literally a sequel to the 1870s play with a period setting, he employs contemporary language. It's also written as such that you don't need to have seen Ibsen's original work to appreciate it.
"You get to follow her journey," Hedden said. "She's a woman who did the ultimate sort of action to get out of being stuck in a role that she felt that she had been raised to do, and was just a role. And once she gets back, she comes back with a task she has to accomplish, and finds herself getting drawn into different roles."
Chatlain, who plays Nora and also saw the work on Broadway, said that balance is intriguing since "playing those roles is kind of her only recourse to get what she wants" even though she doesn't excel at any of them.
Martino plays the husband, Torvald, and came out of "retirement" at the urging of Hedden, who called him a "fantastic" actor.
The play is funny, with "smart people facing off in debates with each other," although he hesitated to describe it as intellectual for fear of making it sound dry.
In the New Yorker, Hilton Als wrote, "Hnath's invigorating ninety-minute, intermissionless work, is an irresponsible act — a kind of naughty imposition on a classic, which, in addition to investing Ibsen's signature play with the humor that the nineteenth-century artist lacked, raises a number of questions, such as 'What constitutes an individual achievement in this age of the simulacrum, when everything owes something to something else?' "
The other parts are played by Teresa Waldorf and Haley Court, and Morgan Solonar is their stage manager. Producing the small-cast play is a much simpler endeavor with the new ZACC's performance space, the Show Room, which opened last fall.
This is will be the first straight play in the flexible performance space, which so far has hosted live music and comedy, a small-cast hip-hop musical, movie screenings and private events.
The old ZACC on the Northside had a small basement where groups could perform independent, i.e., low-budget, theater. The new space has many more amenities — such as a proper backstage and dressing rooms, for instance. While "Doll's House" will have a minimal set, the space for a backstage leaves room for cast members to exit. They plan on situating their "stage" on the floor and having several rows of raised seating, with help from Rocky Mountain Rigging. Missoula Community Theatre loaned costumes.  
For this play, the ZACC's infrastructure solved many of the problems an audience member doesn't think of — borrowing lights, finding someone to help build a set on a budget.
Stay up-to-date on what's happening
Receive the latest in local entertainment news in your inbox weekly!