Getting her photography show, "Land of Giants," ready felt something like making a movie to Tessla Hastings, with all the preparation, adrenaline and then a premiere.
The pictures, shot on film, do look like a filmmaker's photography show: an emphasis on strong unbroken colors, costumes and set-designed and choreographed images. Many were shot outdoors, but are a far cry from the nature photos that are more popular in Montana.
Her primary gig is working with the "small, tight-knit" Montana filmmaking community, she said. The photography is more of a personal project, a way of directing without setting up an entire short film, and "Giants" is her first solo show.
"Film photography is an outlet for me, where I can go out and explore my own frame of mind, and the way that I use color to embody expression and movement," Hastings said.
She said she starts with ideas about color and visual elements. "That's where my mind goes first. Story is built from there."
One photograph, "Reflections," sums up the style and the process in a single frame. Two figures are situated on a hillside (actually Mount Sentinel). They stand behind abdomen-high red circles (painted cardboard Hastings found at Home ReSource). Their faces are blocked by white circles (circular mirrors reflecting the overcast sky that limits the palette behind them).
It has the feeling she aims for — a mildly surreal and whimsical nature drawn from inspirations like directors Michel Gondry, Wes Anderson, Stanley Kubrick, Jacques Demy and Agnès Varda.
It took a day to shoot, and longer before that to come up with the concepts. Huser originally was working with mirrors in her dance pieces, which helped stir the idea.
A longtime collector of vintage cameras, Hastings prefers film over digital. She's a hands-on person, for one, and likes to work with the film instead of files on a screen.
"Another reason for film over digital is that it makes me use my instincts," she said, "allowing me to act with impulse. There are less chances to capture the moment so finding where colors and people fit in the frame becomes the art."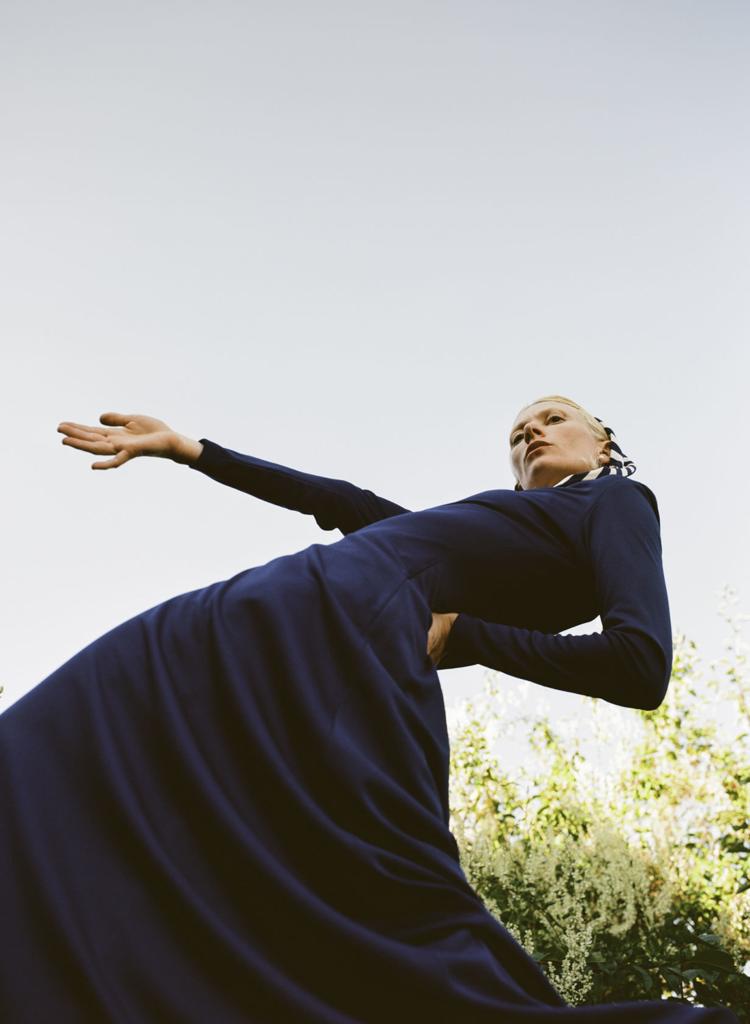 In another photo, "London Lean," actress-dancer Kelly Bouma is seen from a low angle in a billowing navy blue dress. She's leaning back, one arm akimbo and another held at angle. She was actually standing on a ladder — hence the dramatic result.
The shoots have let her work on her own directing, she said, and perhaps directing her own short or feature films that reflect her own stylized preferences rather than the predominantly realist movies that she works on here (although she loves that work).
You have free articles remaining.
Hastings enrolled at the University of Montana's media arts department with an emphasis in filmmaking. Within that group of students, she said she was able to "naturally find my rhythm" in set dressing and costumes, leading to work post-graduation on primarily narrative films — feature-length or shorts, and local and visiting, national productions.
For "Mickey and the Bear," a feature film shot in Anaconda last year, she was hired on as art director. (It premiered at South By Southwest last year, and will screen in Missoula next month at the Montana Film Festival.) As an example of her department's role, they "totally gutted this trailer" and brought in new carpet, side paneling, furniture and smaller props — ones that "give the nuance" to convince the audience that it's someone's real living space.
"You might not end up seeing a lot of it, because it'll end up getting cut from the movie, but it's really nice to have a well built-out world, so when the actors enter the room they feel that space, and they feel like it's real, and it can add to their performance."
They work with local vendors to find props and set items. Oftentimes "it's kind of like a treasure hunt trying to find the different looks they're going for" in Montana.
Montana naturally attracts Westerns and period pieces that place different demands on the set dressers, i.e. avoiding historical anachronisms. On "The Ballad of Lefty Brown," in which Bill Pullman played an aging sidekick-turned-protagonist, and for which she served as set decorator, they needed specific things for some scenes.
"The story is set in 1889, so we had to find all of these small-set decoration items, whether it be for the governor's office, or whether it be for the hotel lobby, that fit that time period as well," she said.
A few short feature films made here in Missoula that she worked on include "Lester Leaps In" and "The Foghorn Trilogy" (also screening at the MTFF). The title character in "Lester" is a mill manager who drifts into a film-like fantasy world. His apartment was actually a corner of the warehouse on South Third Street West that Hastings and company outfitted into a surreal living space. For example, the walls above his bed are speckled with end cuts from logs from a real mill, like wooden polka dots.
Mike Steinberg, who directed both of those movies, said Hastings has "an incredible eye for eclecticism," and they even changed the schedule for "Foghorn" so that she could be production and costume designer.
Film can be finicky compared to digital. For "Reflections," she only had one roll of expired film and 15 shots, compared to the hundreds of images that digital allows. She shot an 8mm movie, but lost most of it to overexposure. However, she seems relaxed about it, not unlike a potter who realizes a certain amount of work won't survive the kiln, and sees it as part of the process.
"Film has these attributes that I really love," she said. "It doesn't give you instant gratification," for one. You have to "let go of expectations" and accept imperfections with good humor, she said.
"You can't immediately see what you've created," lending a sense of anticipation. "You know you might not get everything, and you know it might not turn out how you want it to."
However, she thinks it's something to be excited about, that "there's some sort of mystery with it."