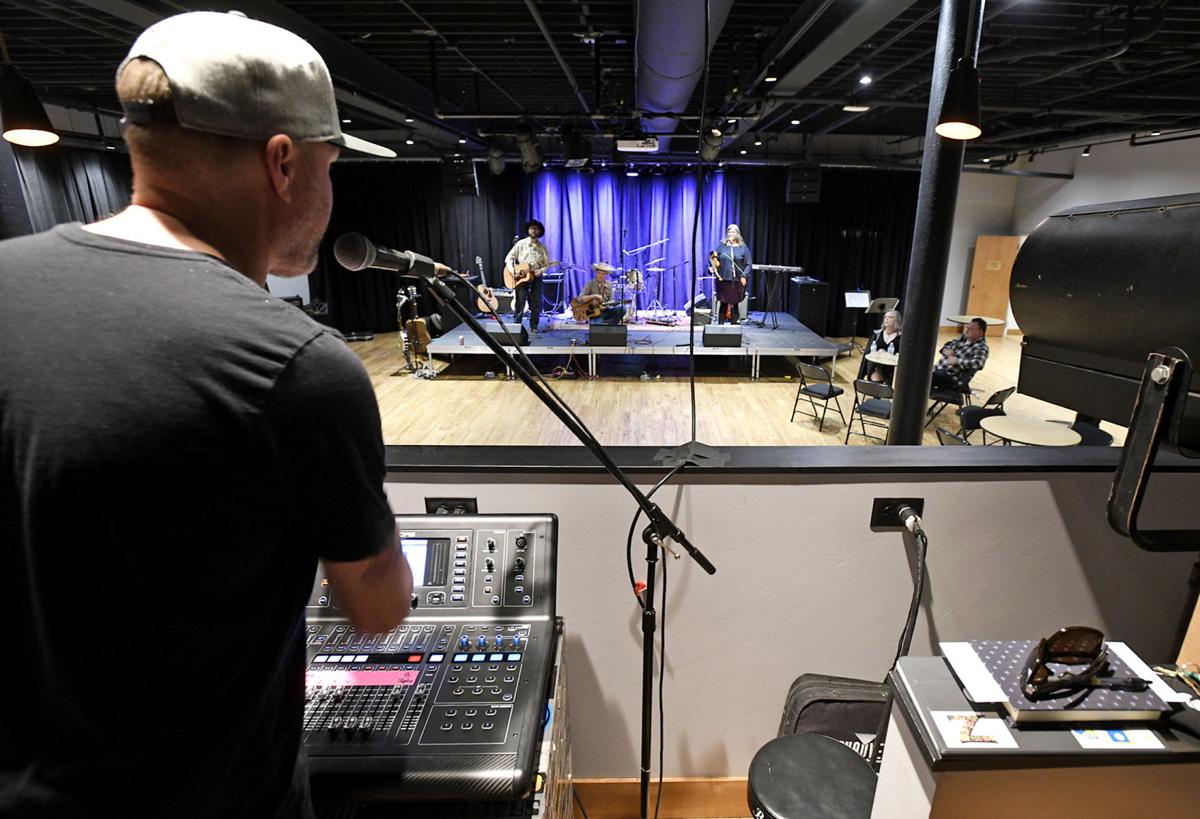 The Show Room is back, live and in person.
After more than a year, the live event space at the Zootown Arts Community Center is reopening this weekend. On Friday, two indie rock bands — New Old Future and Aggressive Pedestrian — will play, and on Saturday there will be a set from Revival Comedy. All of the above performed during the nonprofit's weekly livestreams during the pandemic.
"They both played social distance sessions, so it's awesome to have them back with a live audience," said Mikyla Veis, the nonprofit's marketing, events and community outreach coordinator. Fans should expect "more fun things in the works" as summer progresses.
The Show Room in the new ZACC building on West Main Street premiered as a community event space for live music, theater, readings and more in October 2019. They had just hosted the biggest one yet, Missoula Rock Lotto, in late February 2020 before they closed due to COVID. They began local livestreams last August and by now have put on more virtual events than in-person ones.
These initial in-person shows are seated, with the capacity limited to about 60% of the normal 200. In some cases, that means socially distanced tables for five for $50 or a $10 cover for individuals who will be seated, depending on the show.
Chris Baumann, the ZACC's event center technician, said they're trying to figure out what's comfortable for the staff, the audience and the performers during this transition back to live events.
Masks are recommended and people are encouraged to be respectful — the employees will wear them and the performers are vaccinated. People don't need to wear them while they're seated or taking a drink. They're required for kids, too, since the play area near the event space is open.
"As we're all getting used to it again, we just really hope people feel encouraged to come participate and understand, too, that we are just trying to figure it out," Baumann said.
Looking ahead, they're receiving a lot of inquiries about bookings. The first month will be focused on Fridays and Saturdays, and expanding from there.
Since they've been doing livestreams so long, they've been in contact with local groups and it will be "cool to be able to bring people back to do in-person shows," Veis said.
There's a two-weekend run of "Much Ado About Nothing," from local Literal Garbage Fire Productions.
"It's our first Shakespeare we've ever done here, and it's also the first time we will have done theater in the round in this room," Veis said.
Here are some of the upcoming events. More are booked through the end of June. Head to zootownarts.org for more information.
• Friday, June 4: New Old Future and Aggressive Pedestrian. Doors at 8 p.m., show at 8:30 p.m. $10 per person.
• Saturday, June 5: Revival Comedy. Doors at 7 p.m. Show at 7:30 p.m. 12 tables (seating up to five) are available at $50 per table. Also streaming on the ZACC's Facebook and YouTube channel.
• Friday-Sunday, June 10-12: "The Ladies Who Lead," a parody cabaret from a new local theater company MissCast Productions. Shows at 7:30 p.m. Mature content. Tables are $50 and seat five, a limited number of individual seats available at the door on June 10-11 for $10. Livestreaming on the ZACC channels.