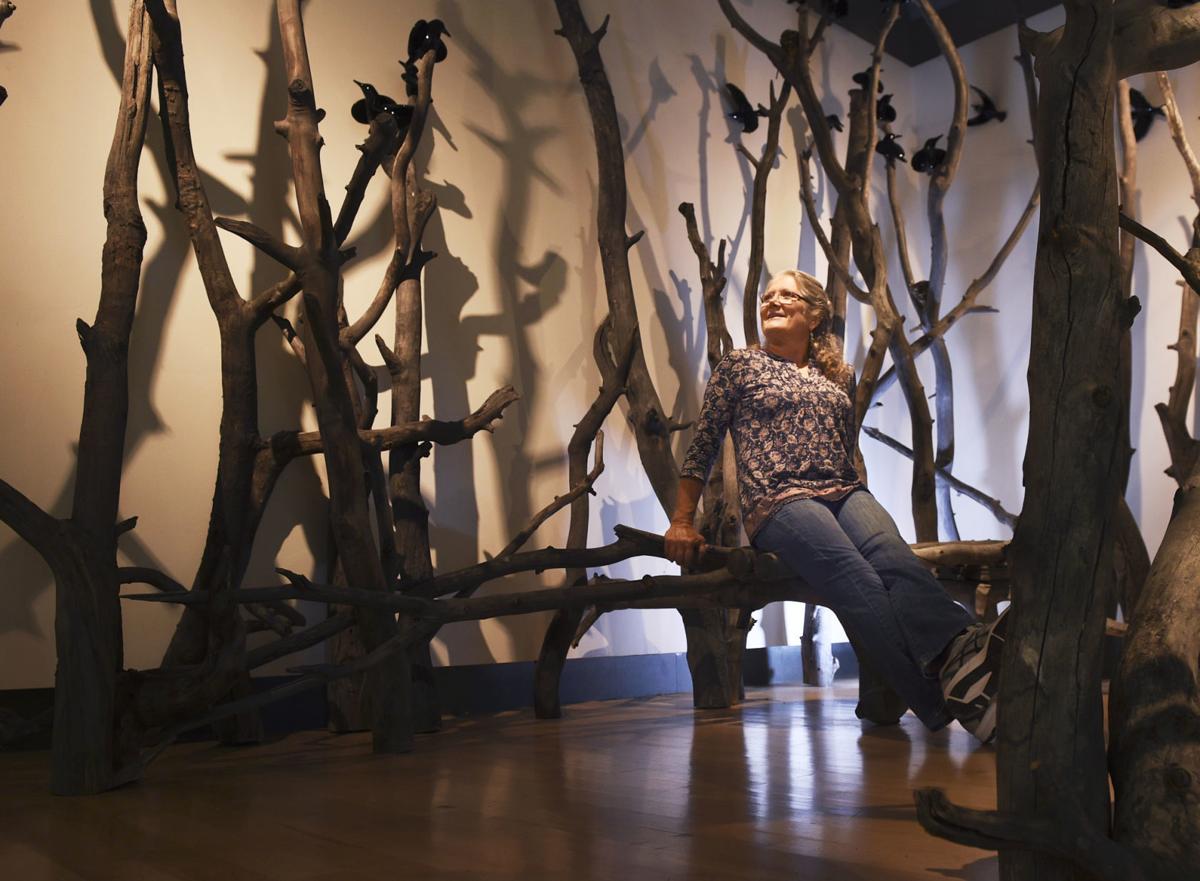 The forest Cathy Weber built fills a whole gallery, some 150 quaking aspen topped with upward of 800 black ceramic birds. You can walk through pathways and under arches, peer through tunnels and take a rest on a bench to look at the flock formations on the walls.
The seed of the installation at the Missoula Art Museum was planted some 14 years ago out of necessity, when Weber, a trained painter, was making tiles for her home in Dillon.
"I can't leave wasted space in the kiln," she said. The extra spots were just big enough for ceramic birds.
She continued crafting them, often in bright colors, while focusing on her painting. She would cringe if someone referred to her as the artist who made the birds, since she identified herself as a painter first and foremost. Yet buyers loved the birds.
"People form these amazing attachments and they get really emotional about them," she said.
After friends encouraged her to take ownership of the work that people admired, the idea to "scale up" emerged. She mounted the birds on small sticks. What if she used trees instead of sticks and took over a whole room?
The completed exhibition, "Understory/Overstory," was a risk for both Weber and the MAM. Neither she nor the staff knew exactly what the forest would look like until they built it.
Weber created small test sections at her studio and mapped a layout of the forest. She loaded up her three-quarter-ton, longbed pick-up with boxes of birds. She constructed sidewalls for her car trailer and fitted the trees inside, standing upright. "It was like a jigsaw puzzle," she said, but she could haul all the trees in one trip.
Any that were 13 feet or taller were laid on the roof of the truck, so she could pass under bridges and power lines.
Over the course of four days, she and MAM staff and friends went to work building a forest from scratch.
The trees, standing dead ones she collected from the Grasshopper Valley, are attached to each other and the wall but are otherwise free-standing yet sturdy.
"Even though she was very meticulous in coming up with a solid plan, there was a certain amount of adjustment and response to the space," said Senior Curator Brandon Reintjes.
They had considered different areas around the MAM, but Weber wanted the the long, narrow, split-level Aresty Gallery.
"What I really love about this gallery is the opportunity for change of perspective, so you're looking down into this meadow. Or up into that cluster. Or there are places where you can't see through a density of trees," she said.
While the birds that Weber typically makes are colorful, she minimized the hues in her flock to one tone: solid black. They're not a specific species, either.
"That was very intentional from my point of view. That it not be an illustration. That it be a symbol for a forest. That it be a symbol for a flock," she said.
The "symbolic" aspect means that viewers can experience it and draw their own conclusions, although she said there are undercurrents she would like them to consider.
"The human impact on the natural world is so consequential," she said. "We manage, in urban life, to create barricades to intrusions from the natural world. We try to keep out the animals and the bugs, right? But we are unsuccessful with birds. Birds are really successful emissaries from the natural world to the human world," she said.
She hid a few Easter eggs around the gallery. You might spy a bird with a patch of color. A red-winged blackbird. Another with a blue wing. There are larger corvids, the family that includes magpies, crows and ravens.
Her son, Rio Weber, an art major at the University of Montana, suggested she include a primitive bench, so she made one in the far corner.
Now that it's completed after years of generating ideas and planning, Weber beamed as she looked over the installation and made small adjustments.
"I couldn't imagine it better. In all my wildest dreams," she said earlier this week, while touring the forest, the largest piece of art she's made in her decades-long career.
It's so large, in fact, that her sister can perform in it.
Dreyer Weber lives in Los Angeles, where she works as an aerial choreographer with a resume that includes Pink (two Grammy performances,) Michael Jackson and more.
She'll visit on the weekend of First Friday to enact a small section of her 10-minute, one-person piece, "The Witch Hunt." The excerpt explores the mystical relationship their mother, a Jungian therapist and shaman, had with trees, and reaches back to their ancestors in medieval Germany, where hundreds of women were accused of being witches and burned at the stake.
Stay up-to-date on what's happening
Receive the latest in local entertainment news in your inbox weekly!