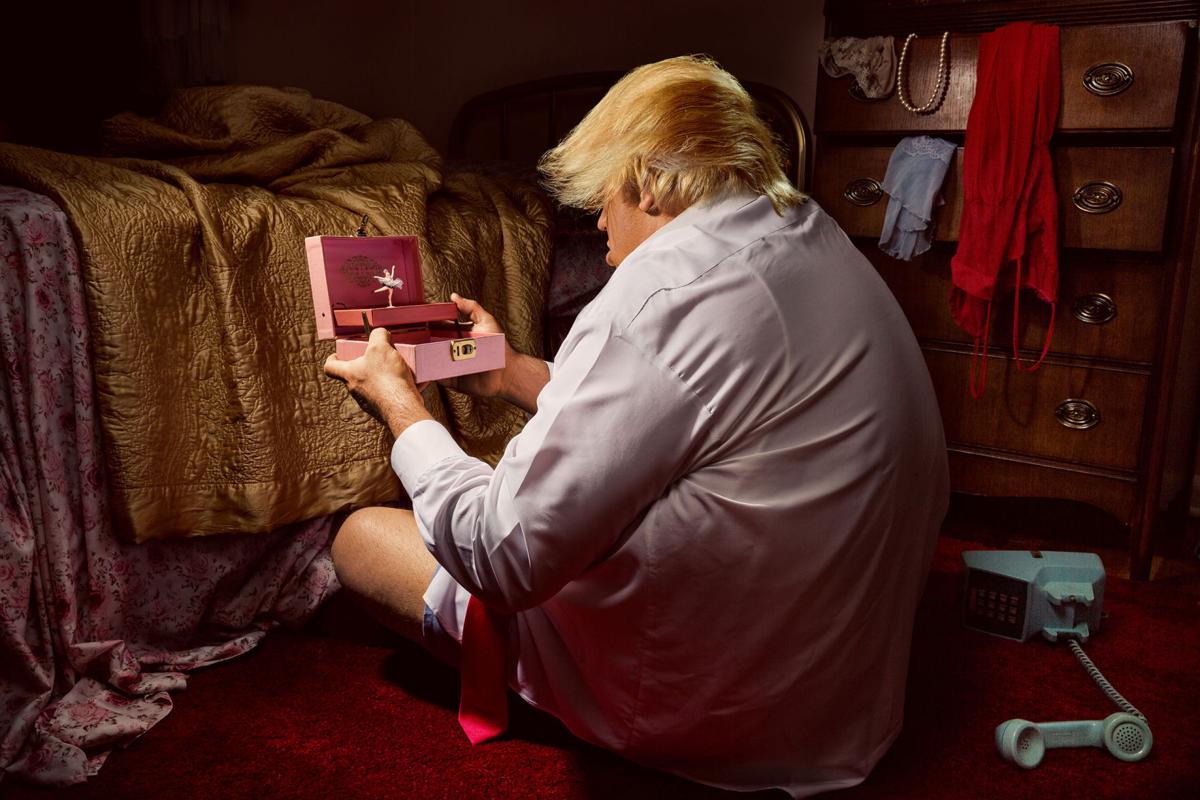 "Object, Manner, Means," a new exhibition at the Radius Gallery, showcases how local and regional artists find relevant ways to portray the human figure in their work. Here are three of the artists in the show, discussing their work.
City: Portland, Oregon. Originally from Missoula.
The political intrudes on the personal in a series by Holly Andres, a photographer whose work often feels more like stills from a film.
The narratives, with meticulously designed costumes, sets and lighting, often concern young or adolescent girls and the filter of memory.
In her nightmarish latest series, "Monster," it's a tanned, blonde male who plays the lead. In the pictures, President Donald Trump is seen ransacking a woman's bedroom, emptying the drawers and eventually fleeing the wrecked room in his boxers and an undershirt.
The concept originated early on Election Day, when polls indicated that Hillary Clinton had a lead. Andres recalls crying "because I felt like I was going to experience in my lifetime the magnitude of having a woman in the White House," she said in a phone interview.
She soon realized there was more to the reaction.
"I realized I was weeping in relief because this uninvited intruder who had been occupying my mind for the last year was going to exit the situation," she said.
The election didn't turn out the way she expected. Those lingering feels came to fruition when she was invited for the Radius show.
"I decided to use my bedroom as this personal, intimate space as a proxy for my subconscious mind, thinking about the daily onslaught of having this figure, the ever presence of Trump in my life. And that feels really new, and it feels really inescapable, and it feels as an artist impossible not to confront. So I guess it's a way that the politics of the era and the election have really impacted my process as an artist. I'm not sure if it's a new direction for me, or something that I had to make. I think it's been cathartic," she said.
Andres, who grew up in Missoula and recently had a large solo exhibition at the Missoula Art Museum, has lately branched into editorial photography and has frequently been featured in the New York Times Magazine. A group show on figurative art was an opportunity for smaller series.
"While my work is narrative-based, and generally has a protagonist and sometimes an antagonist, whether they're in the frame or not, I don't generally think of myself as a figurative artist in the same sense as a painter identifies themself figurative or landscape or still life," she said. While mulling that over, she looked back through the canon. Her pictures have a "light reference" to photographer Jeff Wall's "The Destroyed Bedroom," a 1978 life-size transparency of a wrecked woman's room. Wall was in turn referencing an 1827 Delacroix, "The Death of Sardanapalus," in which a king has his concubines killed as an opposing army draws near.
They share a dramatic sense of lighting, with shadows cast, and the clothing, books with titles like "Psychoanalysis and Feminism" and "The Woman's Eye," provide a rich sense of color, conjuring a thoughtful interior space under assault.
To play her "Trump," she recruited the employee of a longtime Portland photo print shop that had closed several years ago. They bleached his hair, added extensions, rented him a tuxedo. It was shot using Andres' bedroom as a set.
"He's not a performer and he's pretty shy and honestly, I think he did it because he feels really outraged about what's happening," she said. "I know it was a cathartic experience for him."
Outside of her gallery and editorial work, Andres has been shooting pro bono around Portland and photographing marches and rallies.
"I feel like as a photographer, that's one of the things I can contribute to resistance movement: documenting and disseminating the images out in the world," she said. We know from history that there have been a handful of really powerful images — photographic images — that have been so persuasive in mobilizing enough people to take action to end the Vietnam war, for example."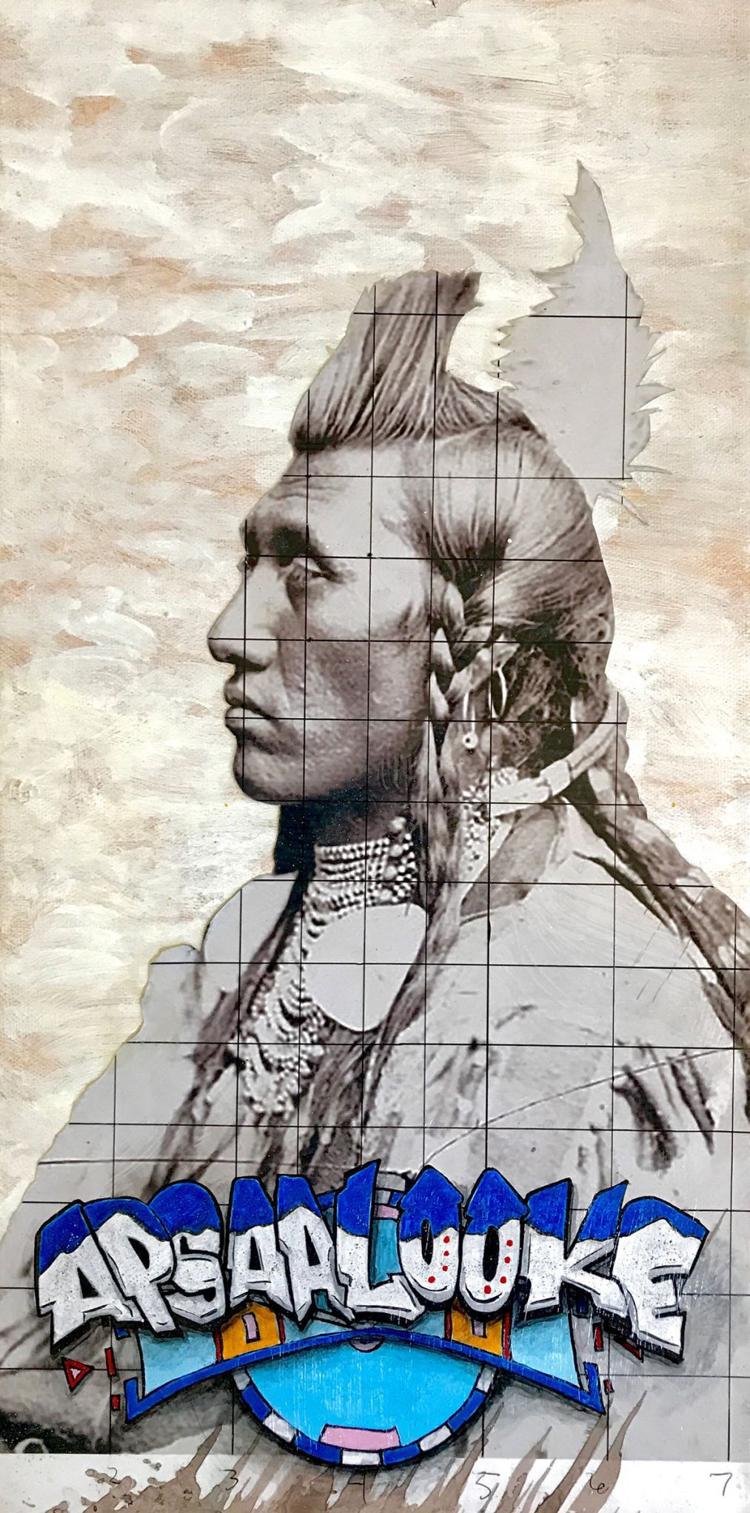 City: Bozeman, grew up on the Crow Reservation.
Ben Pease grew up near Billings on the Crow Indian Reservation and is enrolled member of the Northern Cheyenne. The human figure has been a part of his work since the very beginning. Other tribal members saw his work and "asked if I could do their namesakes, their dignitaries, their tribal history, their family history, because they saw that I was doing mine."
"From the first painting as a junior in high school, I could say anything I wanted and people would listen with open ears," he said. It "snowballed from there," he said. The 28-year-old now shows his art around the West and recently returned from about a month-long residency at the Abu Dhabi Art Hub.
You have free articles remaining.
In the Radius show, viewers can see the way he uses mixed-media, including historical photographs and digital effects, to produce his work.
"As a whole and individually, each piece speaks to its own issue and speaks in its own right," he said, but as a whole they address social, political or historical issues, or the "literal beauty of culture, especially my own culture that I was raised in."
For "Hello Patriarchy," he began with a circa 1930s photograph of a young Crow woman riding a horse. (It's his sister's husband's grandmother.)
"It's a basic representation of the literal fact that the Crows were and are a matriarchal tribe" in "every facet of the culture," he said. "The Crows say that the women are the most sacred beings."
Behind the photograph, altered with a half-tone effect, are old newspapers and 1980s mining certificates. "I use those as a cultural contrast" with the "incoming culture, the newcomers, were not a matriarchal society."
The semi-abstract, painted background includes upside-down scribbled lettering that says "Hello Patriarchy."
The color half-tone dots allude to "color, creed, race and questions surrounding those in the past."
In another picture, "Biiluuke," he used a photograph of a Crow warrior chief named Spies On His Enemy, set on a background of power and electricity supply receipts from the Bozeman area circa 1896.
He altered the photo of Spies On His Enemy for an effect of diagonal lines. "That's another question: talking about boundaries and who draws the line and why, and how far those go, speaking of questions of race and questions of individualism or community." The title is a Crow word, preserved for tribal members, to refer to themselves, amongst themselves, he said.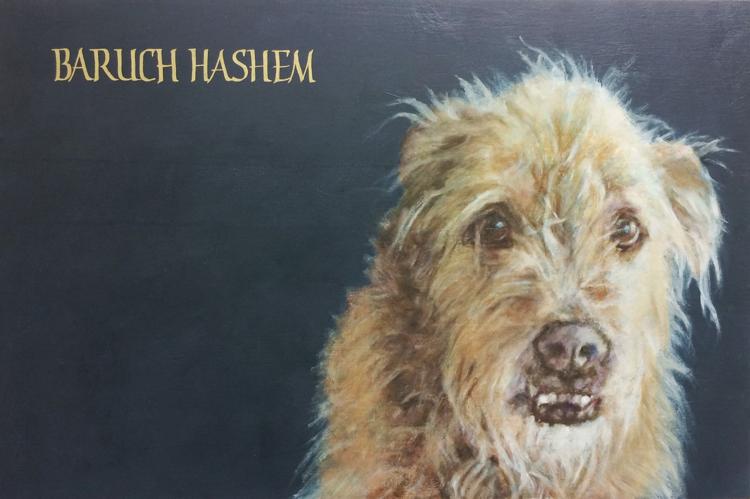 The human face doesn't feature in the new paintings at the show by Megan Moore, an oil painter with classical technique who is known for her evocative portraits.
Instead, one of her pieces contemplates the psychologist Carl Jung's thoughts on the Crucifixion. The title is taken from one of his letters to a friend who felt torn by her obligations: "The seemingly unendurable conflict reveals the rightness of your life." (It's written on the painting itself in German script by calligrapher Amity Parks.)
Moore, who isn't religious and didn't have a religious upbringing, had never been touched by images of the Crucifixion. The painting originated after she read Jung's thinking about European archetypes and their roots in the Bible.
"The Crucifixion is the symbol for the human experience of being alive — that we are actively and ongoingly torn between our shadow selves and our conscious selves — the things we are ashamed to bring into the light, and the things that make us feel like how we want to present to the world," she said.
The painting, a deep horizontal, features a detailed rendering of the torso in the right half of the painting, cropped at the chin and the lower stomach, with part of the right arm visible. Neither his face, or any blood, is seen in the picture.
The framing was symbolically important. She wants viewers to see it and not think of another being, but their own struggles. The positioning of the body, too, has meaning to her.
"The veritable Crucifixion that we live, is with the arms way open. And the chest exposed and the throat exposed. And our extreme vulnerability, and ultimately, that posture can imply not only vulnerability but extreme openness to experience," she said.
Moore's other picture in the show is a portrait of a 9-year-old dog. Moore shot pictures of it and later learned that it was at the pound, and likely would be put down.
The script, and title in Park's script, read "Baruch Hashem," a Hebrew blessing. She said it could loosely translate to "blessed be the name," and in Hebrew "the name" is a substitute for the name of god, which is forbidden from being spoken aloud.
To her, "the name" in the title refers to the "creative force," including all of the creatures around us, that dog included, who deserve to be honored no matter how lowly they may seem. 
In Moore's life, the concepts "happen in the art because that's what I'm living every day. It's a translation into physical form of what occupies me, of what occupies my heart and mind every day," she said.
To her, paintings are a more accurate medium to express those feelings or ideas. Words "don't really get to the heart, for me, of the experience as well as painting does."