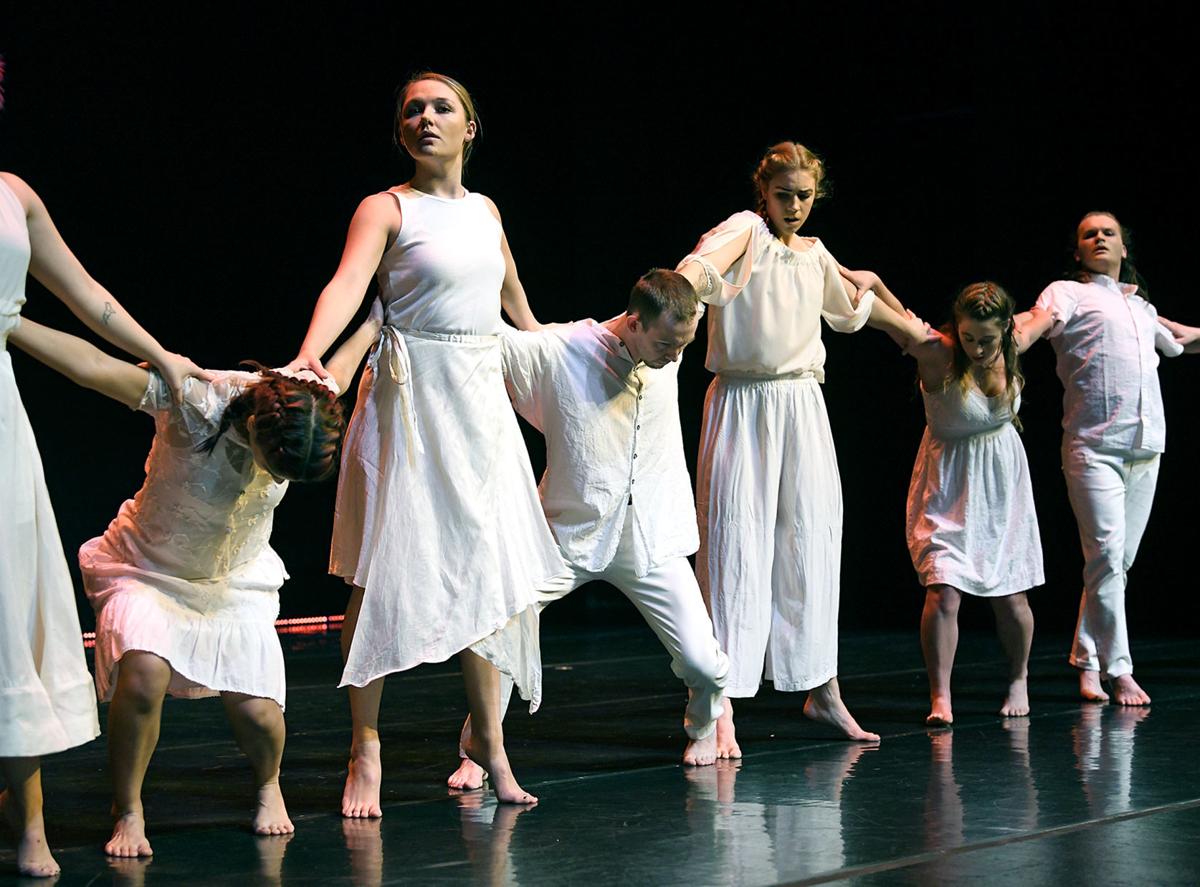 A guide to some of the arts and cultural events happening around town this week.
'The Graces' at Westside Theater
(Friday-Saturday, Dec. 6-7)
"The Graces," an original, dance-based show, features artists from Sirens dance company, the MASC Artisans and Tango Missoula. The "graces" in the title come from paintings by Michael Parkes, Shakespeare ("Romeo and Juliet") and Dante ("The Divine Comedy").
Show times are Friday, Dec. 6, at 8 p.m. and Saturday, Dec. 7, at 1 p.m. The Westside Theater is located at 1200 Shakespeare St. For tickets, go to dustytulip.com.
AudFest Film and Innovation Festival
(Friday-Sunday, Dec. 6-8)
The company, which runs online film festivals and contests, will present curated short films in genres of all types in a long list of categories: music, dance, romance, LGBTQ, women in film, comedy, environment and impact, adventure and horror, according to a news release.
There's also an "Innovation Track" spotlighting women entrepreneurs and creators. 
(Friday-Saturday Dec. 6-7)
The University of Montana School of Theatre & Dance is bringing lighting, costumes, larger casts and themes of social justice to the stage for its flagship performance Dance in Concert.
The annual show at UM's Montana Theatre is set for Dec. 5-7 and features eight unique and original works across all dance genres produced by faculty, students and guest artists, including a performance that touches on immigration and the crisis at the border.
Shows are set for Dec. 5, 6 and 7 at 7:30 p.m. and Dec. 7 at 2 p.m. Tickets are $20 for general admission, $16 for seniors, $12 for students and $10 for children under 12. For tickets, call UMArts Box Office at 406-243-4581 or visit umt.edu/umarts/theatredance/.
See the preview article here.
'Mickey and the Bear' back at the Roxy
You have free articles remaining.
The Montana Film Festival Roadshow has brought this indie film, shot in Anaconda, around the state, with a stop at the Roxy Theater on the 8th. Writer-director Annabelle Attanasio's story of a teenager struggling to pursue her future while taking care of her father, a troubled veteran, screened at the SXSW Film Festival. Former Missoulian arts reporter and current freelancer Peter Friesen said it "immediately places itself among the very best Montana-set movies ever made."
Members of the production team will be in town for this showing, including Attanasio, producer Lizzie Shapiro and co-producer Jeri Rafter. The three do a question-and-answer session after the movie.
It's at 7:30 p.m. Advance tickets are available at theroxytheater.org and seating is limited. The movie is 88 minutes, and rated R.
What was your "Tipping Point"? Find out what it was for other Missoula residents when Tell Us Something, the city's quarterly storytelling hour, heads to the Wilma for its latest installment on that theme. Eight storytellers — and no names are announced in advance — will share a true personal 10-minute story, sans notes, on the theme. 
Doors open at 6 p.m. and the show starts at 8 p.m. Tickets are $10-$12, available in advance at logjampresents.com. (Fair warning: The events are known to sell out). All ages are welcome, but be forewarned that they could involve adult themes and language.
Out of Office Holiday Party (for a cause)
Local comedians and musicians are raising money for workshops on sexual harassment and assault prevention with a "holiday party" at the Badlander.
The bands include Junior, Worst Feelings, Letter B and FUULS, and the comedians are John Howard, Becky Margolis, Sarah Aswell, August Ansley, Jordan Demander and Kyle McAfee.
Suggested dress is "bad office party," Aswell said, such as ugly sweaters. 
The money will go toward training workshops with Make Your Move to train people working in nightlife about how to respond to potential incidents and support safe spaces for audiences and performers.
Suggested donation is $10. To bid in the white elephant gift exchange, head over earlier because the bids start at 6:30 p.m. The performers kick off at 7 p.m. 
'Fatuous Twaddle' reading
An anthology, "Fatuous Twaddle," released earlier this year collects writing by a late fixture of Missoula's arts community. Jamie Kelly was a reporter and arts writer in the Missoulian's Entertainer section, perhaps best known for his humor column, Fatuous Twaddle, which alternately or simultaneously amused or incensed readers with his observations on Missoula life.
Kelly's mother pored over years of his work for this new book as a way to remember her son, who killed himself in 2014, and to remind people of his talents as a writer and fan of the Beatles, baseball and jazz. 
On Tuesday, Kelly's friends and family will read from his work starting at 7 p.m. at Shakespeare & Co., 103 S. Third St. W.