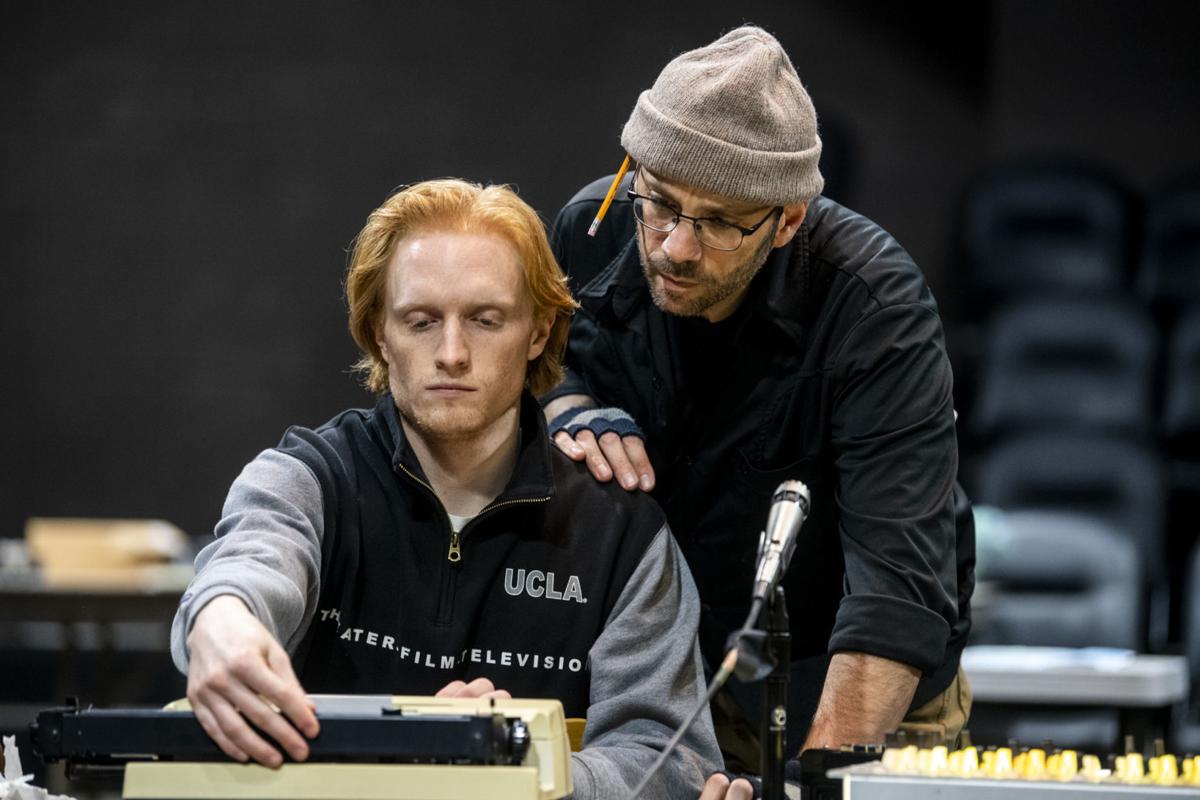 The Radius Gallery is opening its shiny, two-story digs on Higgins Avenue. The custom-designed gallery, located in the former Uptown Diner property, gives them room for four separate exhibition spaces, including one that will be given over solely to ceramics. 
The splashy opener is "The Creative Act: Works by Rudy Autio." The late ceramics icon's family is showing large-scale pots and 2D works, many of which have never been seen before. (See this week's featured article to learn more.)
The reception runs from 5-7 p.m. at 120 N. Higgins Ave., and the show is on view through Feb. 29. Hours are Tuesday-Friday, 11 a.m.-6 p.m. and Saturdays from 11-3. Go to radiusgallery.com for more information.
Montana Rep's 'War of the Worlds'
(Jan. 24-25, Feb. 2, Feb. 6, 8-9)
For its 2020 touring production, the Montana Repertory Theatre has revived and reinvented the original 1938 radio play, which Orson Welles famously used to terrify (the number is disputed) Americans. A cast of five New York and Montana professionals will portray more than 20 characters in total, creating most all of the sounds live on stage. Director Caitlin O'Connell has set the original script in the aftermath of a contemporary apocalypse, adding a layer of action and meaning to the story.
The Missoula performances all take place in the Montana Theatre in the PAR/TV Center. Tickets are $25 regular and $10 for children 12 and under. To purchase, go to montanarep.com.
Here are the Missoula dates:
Friday, Jan. 24, 7:30 p.m.
Saturday, Jan. 25, 7:30 p.m.
Saturday, Feb. 2, 2 p.m.
Thursday, Feb. 6, 7:30 p.m.
Saturday, Feb. 8, 7:30 p.m.
Sunday, Feb. 9, 2 p.m.
Chad Dundas' literary thriller
In Missoula writer Chad Dundas' new novel, "The Blaze," an Iraq War veteran who's suffering memory loss from an IED explosion returns to his hometown of Missoula, Montana, hoping to make sense of his past. After witnessing a house fire, he and his ex-girlfriend, a reporter for the paper, try to unravel the case, which may be connected to an event from their past. Billed as a literary thriller, the book has plenty of intrigue and Easter eggs for local readers. Those outside of Montana are impressed, too: "This one wins far more on characters and danger than on bloodshed. Keep books like this coming, Chad Dundas," Kirkus wrote in a starred review.
Head to a local reading and signing at 7 p.m. at Fact & Fiction, 220 N. Higgins Ave. 
MCT's presents "Leading Ladies"
You have free articles remaining.
(Thursday, Jan. 23-Monday, Feb. 3)
Missoula Community Theater is filling Montana's long, cold winter with laughter and love in its upcoming production of Ken Ludwig's comedic farce "Leading Ladies."
The play tells a story of love, triumph and finding ourselves to a backdrop of big belly laughs and fun, said director Rosie Seitz Ayers.
"Leading Ladies" follows Meg, a young woman living in York, Pennsylvania, in 1958 as she cares for her dying, wealthy aunt Florence and dreams of life outside her small town. She meets two down and out Shakespearean actors, Leo and Jack, who are masquerading as her cousins, Maxine and Stephanie, in the hopes of inheriting Meg's aunt's fortune.
"And the farce ensues," Ayers said. "In and out of doors and fish flying across stage and all that good stuff."
Hip-hop musical at the ZACC
(Friday, Jan. 24 and Saturday, Jan. 25)
A 2,000-year-old half-space god rapper, a character named Justin Beeverz, a purple-horned demon called Steve and DJ Ashton Kutcher are set to take the stage at the Zootown Arts Community Center for the production of "A Night with Rusty Cleaverz (and Friends)."
Local artist and comedian Kyle McAfee is bringing his new original hip-hop musical to the ZACC Show Room on Friday and Saturday for a show that embodies Missoula weirdness — "demon mischief and dank beats" included. Chris Sandman the Rappin' Cowboy will open.
Doors and opener at 7:30 p.m., show starts at 8. Tickets cost $10. For more information and to purchase tickets, visit zootownarts.org/.
IWFF screening and presentation at the Roxy
As part of the International Wildlife Film Festival monthly screenings leading up to the main event April 18-25, the Roxy is hosting a presentation by Mandela van Eeden, host of The Trail Less Traveled, followed by a film screening of "Anthropocene: The Human Epoch."
"Nomad: Chasing Water Into the Sahara and Atlas Mountains of Morroco," will feature van Eeden's stories and photos from her experience guiding multi-day whitewater trips on the Ahansal River in the Atlas mountains of Morocco last spring. Her talk will set the tone for the screening of "Anthropocene: The Human Epoch," which looks at humanity's massive reengineering of the planet.
Moroccan whiskey — a mint tea — will be provided by Lake Missoula Tea Company and beer from Imagine Nation Brewing Company will be on tap. Children of all ages are welcome. Proceeds support the International Wildlife Film Festival.
The presentation starts at 5:30 p.m. Tickets cost $9 for adults, $8 for students, seniors and military, and $6 for children 13 and under. For more information and to purchase tickets, visit theroxytheater.org/.