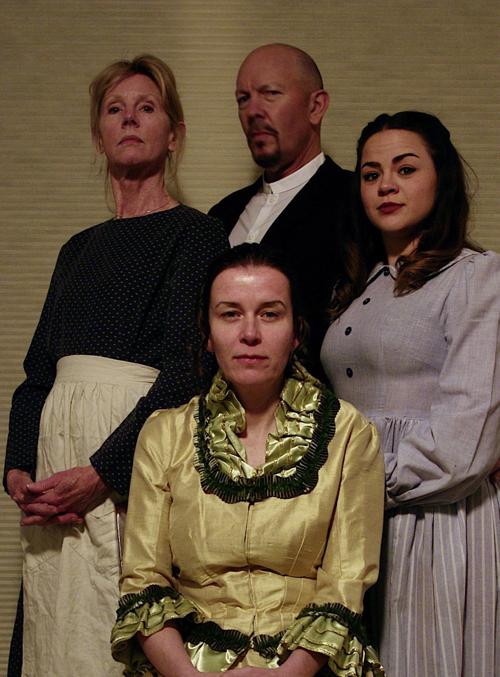 Here's a quick look at some of the arts and cultural events happening around Missoula in the coming week.
Don't be intimated by Ibsen's reputation: Award-winning playwright Hnath's "sequel" (the "part 2" in the tile is self-aware) is humorous as well as dramatic, and written in contemporary language and doesn't require any knowledge of the original. As sign of its accessibility, it opened on Broadway, and lead Laurie Metcalf was nominated for a Tony Award. 
The director is Missoula veteran Roger Hedden. The cast comprises well-known locals from the theater scene: Salina Chatlain, Rick Martino, Teresa Waldorf and Haley Court. 
The production is being staged at the ZACC Show Room, 216 W. Main St. 6:30 p.m. doors, 7 p.m. show, $20 general, $10 students (door only).
Celebrate the end of the wintriest month of the year with Winter BrewFest in Caras Park, where 35 beers will be on tap.
It runs from 2-6 p.m. Admission is free. For beers, you have to pony up $20, which gets you a 7-ounce glass and five beer tokens. If you burn through those, you can buy more at $3 for 2. 
River City Eats and Clove Cart Pizza will be serving up food. You can take the kids over to A Carousel for Missoula for free rides or to play at Dragon Hollow. For more information, go to missouladowntown.com/winter-brewfest/
In a show requested by University of Montana students for years, the School of Theatre and Dance is partnering with the School of Music for a production of the popular rock musical and coming-of-age story "Spring Awakening."
Adapted from an 1890s play in the early 2000s by Duncan Sheik and Steven Sater, the musical follows a group of small town teenagers as they grapple with hormonal urges in a repressive society. The plot explores topics of adolescence, puberty, sex, consent, academic pressures, depression and suicide to the backdrop of a contemporary rock score.
Performances will take place at UM's Masquer Theatre. General admission tickets cost $20, senior tickets cost $16, student tickets cost $12 and admission for children 12 and under costs $10. For more information and to purchase tickets, visit umt.edu/umarts/theatredance/.
Audience advisory: Recommended for mature audiences for violence and sexually explicit themes/content.
Farther ahead
MCT's 'The Spitfire Grill'
Missoula Community Theatre is shifting into spring mode with a "folksy" small-cast musical, "The Spitfire Grill."
According to the press release, "the story revolves around Percy, a young woman who has just been released from prison. She hopefully chooses the tiny town of Gilead, Wisconsin, to possibly rise above her story and her painful past. Her presence at the struggling Spitfire Grill upsets some, excites others, and takes the town on a musical journey of renewal, self-discovery, and redemption."
By MCT standards, it's a small-cast show with seven performers, three of whom have never performed with them. It's helmed by MCT artistic director Joe Martinez.
The play contains "mild adult themes and is rated PG-13," according to MCT.
Performances are March 5-15 at the MCT Center for the Performing Arts. Tickets are $25 regular or $20 for students, seniors, military members or kids. Go to mctinc.org, 406-728-1911 or the box office.
Stay up-to-date on what's happening
Receive the latest in local entertainment news in your inbox weekly!