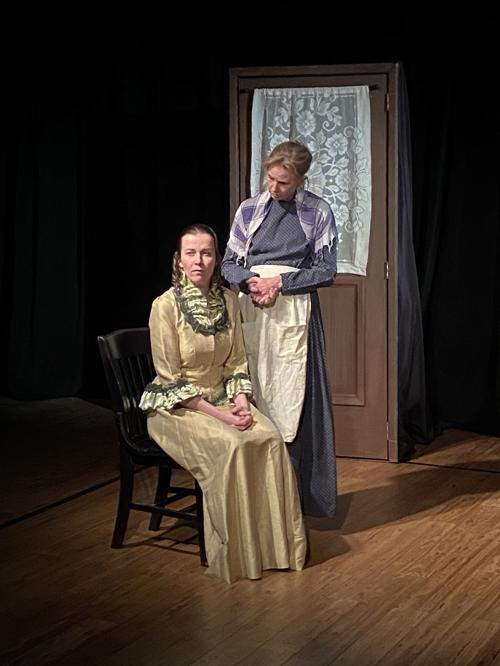 A quick guide to some of the many events coming up in the next week.
'A Doll's House, Part 2' at the ZACC
(Friday-Saturday, March 6-7)
A slice of very contemporary theater that references classic theater is continuing its run at Zootown Arts Community Center. Lucas Hnath's "A Doll's House, Part 2" is based on Henrik Ibsen's classic, in which his female protagonist, Nora, walks out on her husband and children to pursue her own life.
Don't be intimidated by Ibsen's reputation: Award-winning playwright Hnath's "sequel" (the "part 2" in the tile is self-aware) is humorous as well as dramatic, and written in contemporary language and doesn't require any knowledge of the original. As sign of its accessibility, it opened on Broadway, and lead Laurie Metcalf was nominated for a Tony Award.
The director is Missoula veteran Roger Hedden. The cast comprises well-known locals from the theater scene: Salina Chatlain, Rick Martino, Teresa Waldorf and Haley Court.
In a show that's small in cast members but big in heart, Missoula Community Theatre's upcoming production of "The Spitfire Grill" is a unique opportunity to see a musical unlike the mainstream.
The relatively unknown show opens March 5 and features a cast of only seven members and a folksy, Americana orchestration rarely heard in the world of musical theater.
The plot follows Percy, a young woman recently released from prison, as she tries to leave her past behind and start a new life in the small town of Gilead, Wisconsin. The piece is based on the 1996 film of the same name by Lee David Zlotoff, with music and book by James Valcq and lyrics and book by Fred Alley.
Tickets range from $20-25. For more information and to purchase tickets, visit mctinc.org. The show is rated PG-13 for mild adult themes.
In a show requested by University of Montana students for years, the School of Theatre and Dance is partnering with the School of Music for a production of the popular rock musical and coming-of-age story "Spring Awakening."
Adapted from an 1890s play in the early 2000s by Duncan Sheik and Steven Sater, the musical follows a group of small town teenagers as they grapple with hormonal urges in a repressive society. The plot explores topics of adolescence, puberty, sex, consent, academic pressures, depression and suicide to the backdrop of a contemporary rock score.
Performances will take place at UM's Masquer Theatre. General admission tickets cost $20, senior tickets cost $16, student tickets cost $12 and admission for children 12 and under costs $10. For more information and to purchase tickets, visit umt.edu/umarts/theatredance/.
Audience advisory: Recommended for mature audiences for violence and sexually explicit themes/content. 
Two University of Montana alums and siblings will be honored for their careers in the annual Odyssey of the Stars, a scholarship benefit for students in the College of the Arts and Media.
Barbara Blegen has performed as a pianist around the world, including with the New York Philharmonic. Judith Blegen has done the same as an opera singer (the Metropolitan Opera). 
They'll be feted with performances from UM students and faculty in all the art forms taught on campus. The event is 7:30 p.m. in the Dennison Theatre at UM. Tickets are $30, available at GrizTix.com.
Score some new vinyl, CDs, cassette tapes, VHS or other collectibles at the annual Total Record Swap.
The swap originated at the dearly departed Total Fest, an independent DIY music festival in Missoula. While the festival has run its course, ending in 2015 after 14 years, a few of the organizers revived the swap in 2017.
The format: Serious record collectors from the city, state and region, will set up and sell from their collection. Beyond those, community members have been donating used media of all kinds to the Roxy, and it all will be up for grabs.
Donations of records are accepted until March 7. Drop off any "gently used media and equipment items" at the Roxy.
It runs from 9 a.m. to 3 p.m. Admission is $5 for the 9-10 a.m. first pickers, then $2 from 10 a.m. onward.
It will be held in the Missoula Senior Center, 705 S. Higgins Ave.
Richard Fifield book release party
Missoula author Richard Fifield has followed up his acclaimed comedic novel, "The Flood Girls," with another tale set in small-town Montana.
"The Small Crimes of Tiffany Templeton" finds Fifield shifting into the young adult genre with a story of a teenager back from reform school and eager to start afresh.
At his book release party, you can hear from him, plus poets Sarah Aronson and Mark Gibbons, and live music by Don Teschner and the WaterDawgs. 
The event runs from 7-9:30 p.m. at the Show Room in the new Zootown Arts Community Center, now located on West Main Street. It's free. 
Pulitzer Prize-winning journalist Nicholas Kristof will deliver the next installment of the President's Lecture Series at the University of Montana.
Kristof, an op-ed columnist for the New York Times, will give talk titled, "Rebuilding America."
He and his wife and fellow journalist Sheryl WuDunn, released a new book, "Tightrope: Americans Reaching for Hope," in January. Kirkus Reviews described it as "an ardent and timely case for taking a multipronged approach to ending working-class America's long decline."
The two won a Pulitzer in 1990 for covering Tiananmen Square in China. Kristof won a solo Pulitzer in 2000 for his column writing.
Kristof will speak at 7:30 p.m. at the Dennison Theatre at UM. Doors open at 6:30 p.m. Admission is free.
Stay up-to-date on what's happening
Receive the latest in local entertainment news in your inbox weekly!