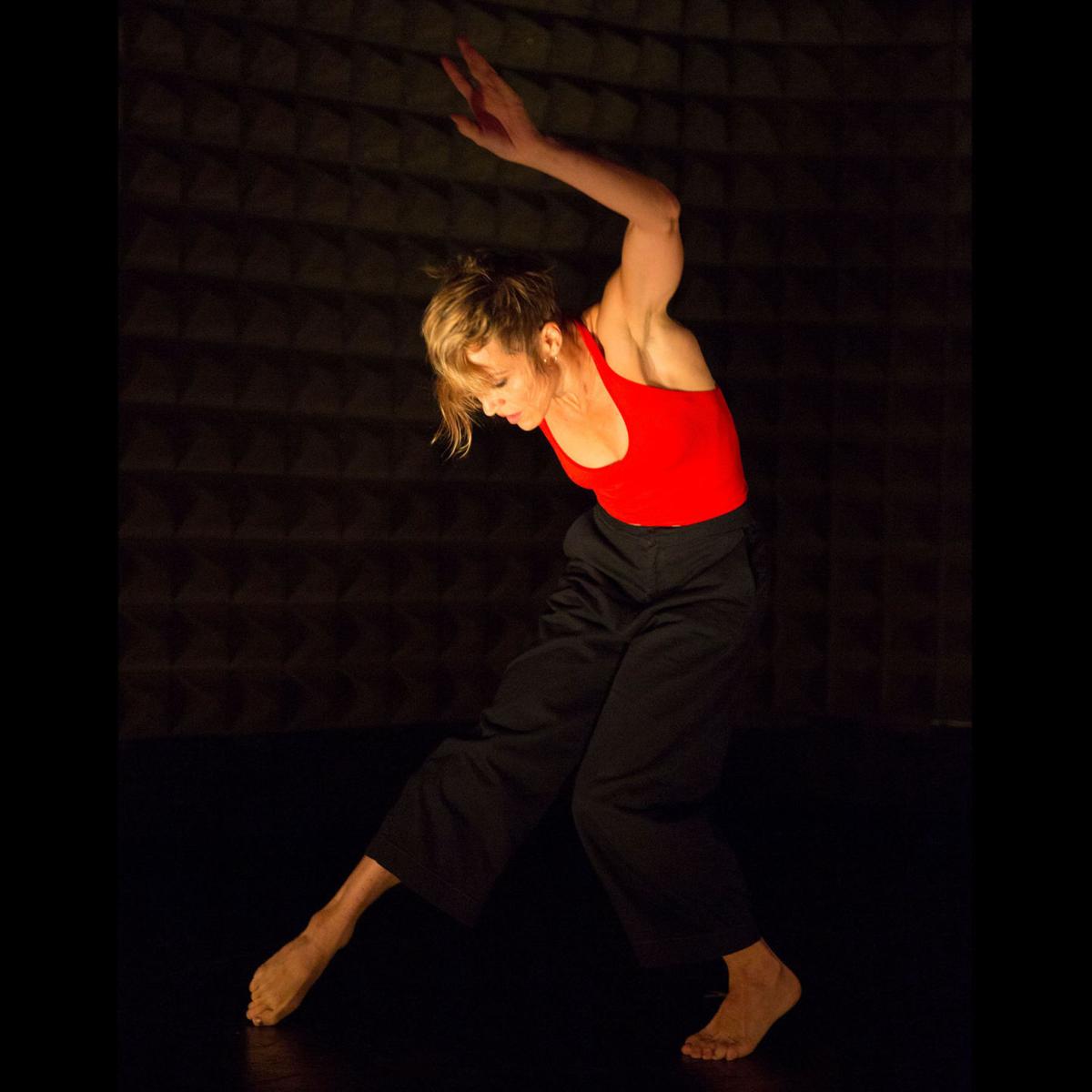 As a kid, Joy French thought of 2020 as the "big-F" future.
"How we make dance in 2021 is even way different," said French, the artistic director of Bare Bait Dance.
"CXQ," a program from their last season, was canceled two weeks before opening night due to pandemic restrictions. Despite all the curveballs, Bare Bait Dance has made its way through the 2020-2021 season. "CXQ Redux," is the revival, now in hybrid format combining film and performance shot live for camera.
The program, which will be streamable upon ticket purchase on barebaitdance.org Jan. 22-31, showcases creativity amidst limitation.
"All the choreographers are very much on the pulse of how we are creating now," French said. "Whether it lightens the mood or maybe speaks to the anxiety of the moment and reflects how we deal with that."
Choreographer Kelly Bouma dreamt up "Jane Says" this summer. Her husband and film collaborator Mike Steinberg buys and sells vinyl albums, and Bouma became fascinated digging up '80s work-out records. She decided to make an aerobics-inspired film, fitting for a time when home workouts were coming back.
She cleverly used a green screen to avoid having her five dancers wear masks, editing them together in formation. "I gave myself permission to not make sense," Bouma said, winding up with a 16-minute, bright and overwhelming "channel changing" mirage. She said underneath there's something more internally grueling, showing how poorly women were represented in the '80s, and how little has changed. It leans into humor and lightness, "to either counter the darkness or reveal it in a different way."
Mollie Wolf's "[Enter Wilderness, Location Unknown]," deals with foreboding darkness upfront. Originally created in 2019, in collaboration with her cast of dancers in Los Angeles, the piece will premiere in "CXQ." Bare Bait rehearsed the piece while Wolf was in California, learning from video and on Zoom, right up until a week-long intensive with Wolf in Missoula prior to filming at the Westside Theater.
In its creation, Wolf was grieving her childhood home lost to fire: "You don't realize how your emotions create responses to the world … your mind can become an unknown sort of wilderness," she said. The piece became about exploring the anxiety of disruption to bodily ecosystems, a feeling she said we all share navigating a "new normal" amidst an invisible eminent danger.
In the piece, five militant dancers obey a commanding voice, meant to symbolize internal trauma response. They hold their breath as they dive to put their hazmat suit pants on, like they are diving into water, covering their mouth while putting on their socks. Apocalyptic lighting designed by Abey Mosley goes from stark spotlights to reds and greens, moving with the dancers in space as they morph in and out of emergency poses. The soundtrack of demands directs them to "appear larger than you are, maintain eye contact, relax, take cover," becoming a violent purgatory. For Wolf, the psychological landscape directly impacts the body.
"The movement of the body allows for whatever emotional residue from a psychological experience to move through," she said. "Not that it creates an understanding but it allows me to move forward."
"Lights Up, Lights Out" has fourth-generation Montanan, Nicole Wolcott, sifting through the residue. She grew up in Helena and eventually made it as a successful professional dancer in Chicago and New York. But the pandemic hit and in her Brooklyn neighborhood, refrigerator trucks for the overflow of deceased COVID victims started to fill the streets. While taking commissions and teaching remotely, she figured everything she could do there she could do from Montana. So she moved to Missoula in June and started creating a solo piece, escaping the grind of the city for solitude and reflection of how this moment lives in her body.
Composed of eight scenes in 25 minutes, the solo has Wolcott moving through different avatars of herself. The sound, designed by Omar Zubair, has recordings of different women, a little girl with a playful imagination and Twyla Tharp, the pretentious but resonate, famous modern dancer.
It opens with her fumbling into space, carrying six wigs, a newspaper and a mic stand, as she sets up the show. "Its voyeuristic for the audience … I am rehearsing a piece I am creating," she said. Absurd, frustrated and unhinged, she flies through tongue-in-cheek tasks.
"I know there is something potent to my work if there is something embarrassing me up until the show," she said, "It's taking myself seriously but understanding that can be laughable."
French said the collection of dances describe what this moment has felt like: Continuing on in uncertainty, knowing nothing is perfect and nothing is permanent. French is learning new mediums, integrating with online platforms and figuring out how to use them to the company and audience's benefit, embracing challenge and celebrating creation as it comes.
"I keep on adjusting the expectations but also the product we are making," French said. "I just hope that they feel through the screen that we still truly are performing for them."
Noelle Huser is a freelance arts reporter, dancer and musician. She writes with a focus on the performing arts and the local music scene and is in her senior year at the University of Montana where she studies for her BFA in choreography and performance and BA in journalism.