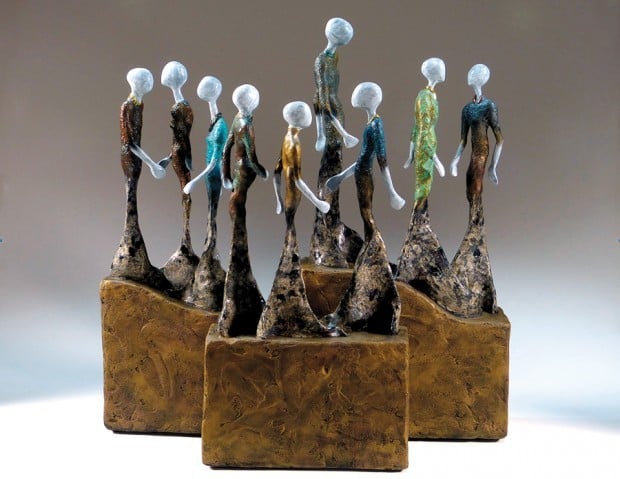 No one is going to argue that a brain aneurism is a good thing.
But Colorado artist Grahame Atkinson could, if he so chose, make a fairly compelling case.
Atkinson, a self-described "Englishman by birth, but Celt by nature," spent many years on the festival and arts-and-crafts fair circuit.
"As an artist, you have to make money," he explains. "I used to make small decorative things, small lidded containers and the like. I traveled the country. It was wearing. I'd drive for days and days, set up – sometimes nobody would even buy anything – and I'd drive for days and days to get home."
After Atkinson suffered, but survived, a brain aneurism in 2002, he decided he was finished with lidded containers and – for the most part – life on the road.
"I decided not to waste my time doing that any longer," Atkinson says. "I decided I was going to investigate what I wanted to, and make sculptures about that."
The loss to the world of lidded containers has been art's gain.
Missoula will have a chance to experience it firsthand when Atkinson exhibits some of his Celtic-influenced work at Prudential Montana's downtown Missoula offices for First Friday on Nov. 2.
Fascinated by Celtic culture since he was a child in England, and drawn to the concept of the "Earth mother" – a "spiritual figure who is both from the Earth and of the Earth, both creation and creator" – Atkinson has produced multiple series of sculptures concentrated on the female form.
After the aneurism, Atkinson drew an intricate piece called "The Earth Mother." In it, the Morrigan – a powerful triple goddess of Irish mythology – looks down on a pregnant woman surrounded by rivers, trees, red poppies and more.
"That drawing has sustained me since – well, I can't remember how long now," Atkinson says. "Whatever else I do, I keep returning to the Earth mother. She embodies the Earth, she gives birth to everything we have, she is the embodiment of everything we have. The Earth mother is the genesis of everything."
That drawing has inspired many Atkinson sculptures, almost all of the female form, often in pregnancy but not always, some highly detailed, others striking for their clean lines and featureless faces.
The women in his work, Atkinson says, represent both past and present, but "are always looking forward, into the future."
Atkinson has completed more than a dozen sculptures for his "Earth Mother" series, in which "ancient images meld with the pregnant hope of new beginnings."
He's also taken her into the world of pit-fired, terra cotta pieces, into the world of mixed media, and done bronzes too, although Atkinson says he isn't fond of the latter.
"My work is too personal," he says. "When it gets to the point where you give a bronze away to be cast, I can't. It's like starting a model and giving it to someone else to finish. I need my hands on it to the very end. Then I can pass it on to someone else."
Atkinson's "Magdalene Series," which incorporates both barbed wire and lamb's wool, investigates the conflicts represented by one of the Bible's best-known females, Mary Magdalene.
Most of Atkinson's sculptures are under two feet tall, and some less than a foot.
"Some people say it'd be wonderful if they could be bigger, but I don't have the facility to do that," Atkinson says. "If you're working with raku, if it's too big you can't lift it from the kiln to put in the fire. To be honest, I think my pieces are large. They are – I hate to say imposing – but I think they have a large presence."
He has sculpted one piece that is six feet tall and stands on a three-foot-high steel base, and done some three-feet-high Celtic crosses, but most are in the foot to foot-and-a-half range.
The man who is bringing the sculptor to Missoula, Dan Ermatinger, is the owner of a dozen Atkinson pieces, a broker-owner with Prudential Montana Real Estate – and Atkinson's brother-in-law.
The real estate company regularly rotates artists in to use its downtown office space for First Fridays, and Ermatinger is excited to be able to use November's event to introduce his brother-in-law to Missoulians.
"I really appreciate, No. 1, his work," Ermatinger says, "but also the thought, the history, the thinking and the mythology behind his pieces. It's really an interpretation of Celtic history."
To that end, Prudential Montana will also be host to a "conversation with the artist" on Monday, Nov. 5, at 6:30 p.m. While some of Atkinson's work will remain up throughout November, much of it will return to Colorado when he does later that week, so those interested in seeing it would be wise to plan on stopping in for either the First Friday event, or Atkinson's Monday talk (the latter for which they're requesting RSVPs to at 721-4141).
Born in the small town of Bacup, Lancashire, Atkinson says he was the child who spent his time on the school playground drawing pictures.
His interest in Celtic culture may extend before that.
"I can't remember when I haven't admired what the Celts did, especially during Medieval times," Atkinson says. "I always wonder, 'How in the heck did they do that?' If we tried to reproduce what they did using the methodology they had, it would take us forever. They had to have the patience of Job to do what they did."
Atkinson studied at Loughborough College of Art and earned his Art Teaching Diploma from Leicester University. He taught for 16 years in Britain, and in 1987 was accepted as a Fulbright teacher and sent to teach high school in Pendleton, S.C.
That isn't what brought him permanently to the United States, however.
He met his wife, Val, who is from Colorado, in London. She was just beginning a year in England as a Fulbright teacher while Atkinson was returning home from his year in South Carolina.
They met at a social event for Fulbright teachers. Atkinson moved with her to Colorado in 1990.
For a dozen years, Atkinson says he would squeeze in a sculpture every four to five months, but mostly spent his time at home making the small decorative items, or on the road selling them at festivals or fairs.
The 2002 brain aneurism changed everything – his outlook, his art, his life.
And lidded containers have given way to the female figures who give life, always looking to the future, but grounded in an ancient Celtic past.