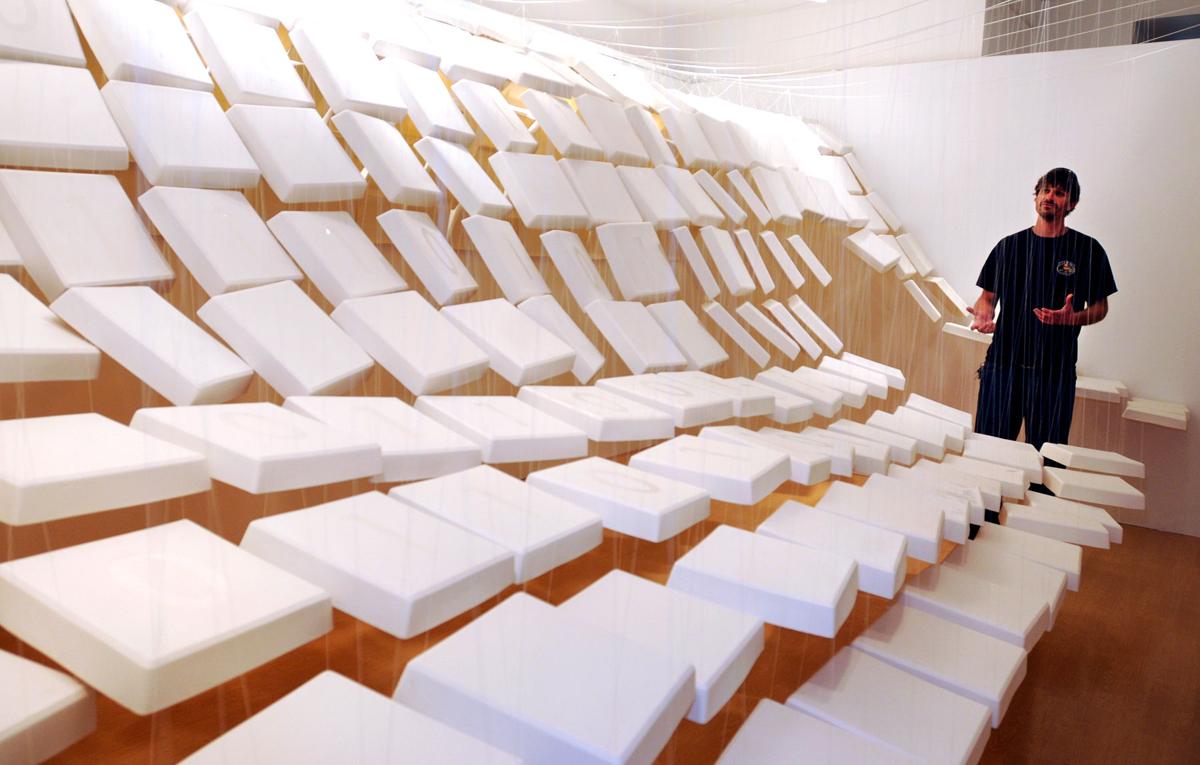 Standing in a U-shaped hollow in a ceramic tide of tiles, artist Dave Tarullo noted that it would be a "pretty sizable wave." Even for a 6-foot-plus surfer, facing it would be both exciting and nerve-wracking.
The "wave" comprises more than 260 oversized porcelain computer keys in a single undulating layer, 19 rows wide and sometimes 15 tiles deep, that crests near the University Center Gallery wall and descends into a trough at viewers' feet.
The off-white, nearly translucent pieces are suspended by upholstery thread, one thread per corner, creating the impression of an Apple keyboard-turned-tsunami. Some keys bear stenciled binary ones and zeroes, that, for non-programmers, spell "you," "me" and "us."
Tarullo's installation, up through October in the gallery, is called "A Subtle Mark," in which he poses questions about adapting a personal touch in our communication as technology multiplies and sometimes sterilizes the volume of text-based dispatches we dash off and receive.
He doesn't rest on either side of an often-polarized debate, and is somewhat positive about the creative challenges it poses, a problem that can be approached pragmatically like an artist or a surfer.
That's why there's that U-shape in the wave, where the viewer can stand as though treading water. Or duck their heads and walk underneath into the soft beige shadows cast by the keys. He designed the exterior to be overwhelming, while the interior of the New Zealand-derived porcelain has a different "glow."
"You start to see a lot of variations that aren't nearly as present or apparent from the exterior," he said.
The space inside is "a nice, almost magical place," said Tarullo, who started surfing at age 25, and enjoys diving inside a wave.
It's as calm as the outside is overwhelming.
"A Subtle Mark" is the ceramicist's first piece of installation work.
He worked as a professional photographer and graphic designer in his hometown of Laguna Niguel, California, outside Laguna Beach, before attending Sarah Lawrence College. After graduation, he developed an interest in ceramics, and also started his own tile and ceramics business. The reputation of the ceramics program at the University of Montana drew him north, where he's pursuing his MFA and has continued working in slab-based ceramic sculptures and functional forms.
He plans to keep making that style of art, but finds installation work exciting.
He said it's more immersive and visceral for the audience than object-based work. The latter often requires an investment by the viewers and often knowledge of art history to appreciate, he said, while installation work is more about creating an experience for the viewer.
"People just get it. It's just about that feeling, and I think getting that feeling from an object is much harder," he said.
Building the installation, though, was much more time-consuming than any single object.
The concept came to him last January while surfing in Costa Rica, and the tiles were built during a month of 12- to 16-hour days back in Laguna Niguel. He owns a rectangular electric kiln there from his tile business. In it, he could fire 40 keys at a time, much more efficiently than the kilns at UM.
His original plan was to cast in the morning, go surfing and cast again in midafternoon.
It didn't pan out, because of the cracking.
First the keys cracked when he removed them from the cast, flipped them over and drilled the narrow holes in each corner.
That created microcracks, unnoticeable until they were fired.
After he'd solved that problem, they began cracking again. The casts absorbed too much moisture from twice-a-day use in the humid environment. About 100 in a row cracked as he was troubleshooting and trying to find the specific cause.
Some of those wonderfully flawed tiles are used in "A Subtle Mark," near the edges of the U-shape, which Tarullo says references the "fragility of the form."
In total, he made somewhere between 500 to 600 keys, and shipped just over 260 of them back to Montana on five pallets.
In his studio in the Ceramics Building, he found a hanging method that worked and built several test rows. The installation in the UC Gallery was a whirlwind of four days, with 20-some people helping build the three extra walls, install lights, thread the tiles and hang them.
Tarullo has also produced a full show catalog, available through Blurb.com. It features photographs of the installation process and result by Sarah Moore, an essay by Aja Sherrard and an artist biography by Ben Waterman.
Abby Sweet, one of the UC Gallery student coordinators, said "Unknowing" was its largest opening ever, with about 200 people in attendance. She said it's drawn steady traffic since, about 20 people a day not including classes that have come to hear Tarullo and fellow artist Michael Workman (see related story) discuss their installations.
Tarullo is quite forward in discussing the meaning of his work, and the way we can adapt a personal touch in communication that lacks the flourishes of a handwritten note.
"There's still the potential for this mark, that subtle mark. As we advance we can be getting closer to that ... limiting communication challenges us creatively," he said.
Stay up-to-date on what's happening
Receive the latest in local entertainment news in your inbox weekly!