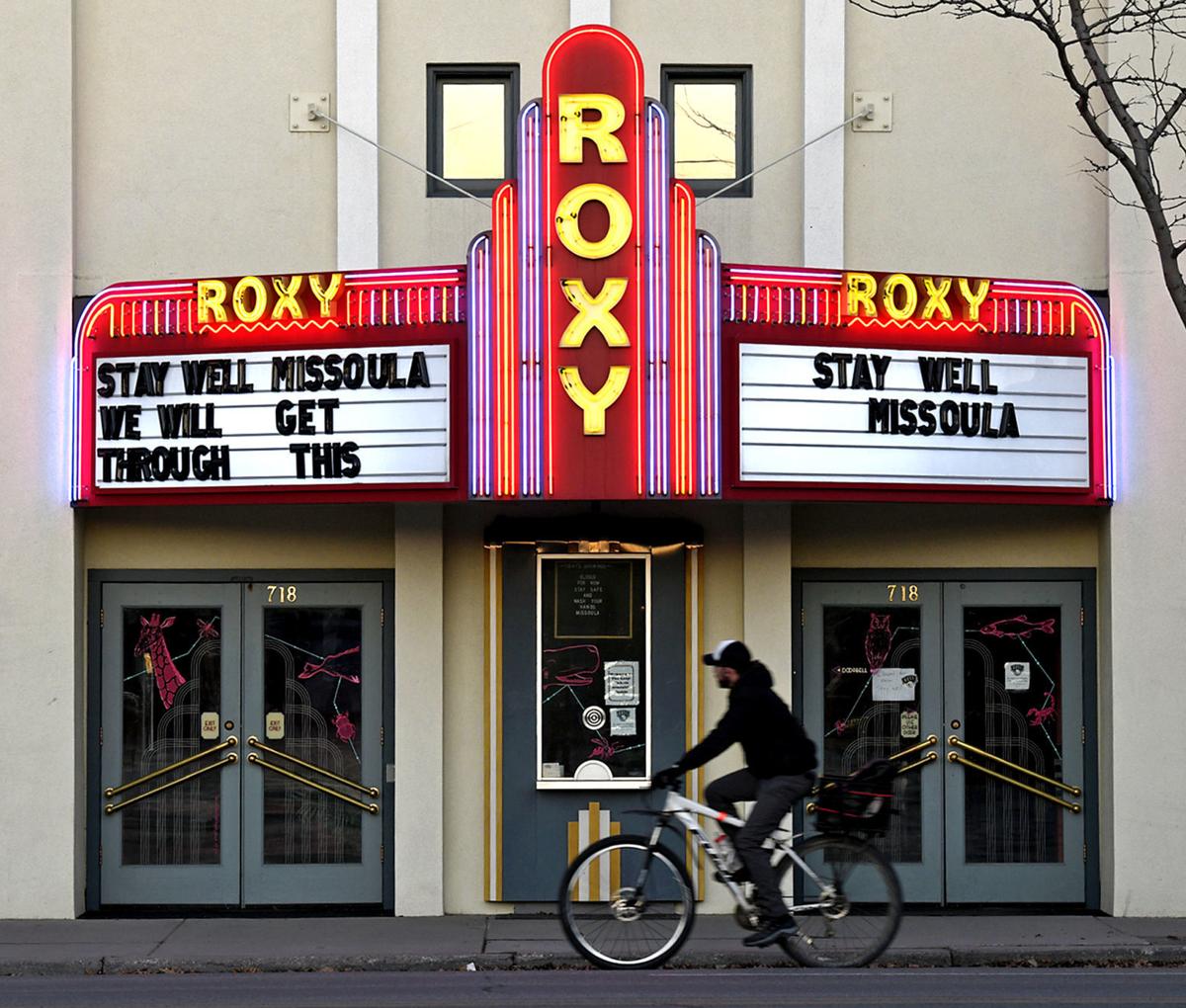 The shuttered Roxy Theater's marquee says it all: "Stay well Missoula. We will get through this."
"This" is a voluntary lockdown in the arts community, and everything is on hold, as they've wisely closed to prevent the spread of coronavirus, putting health over income.
The announcements started last Thursday: bands canceling tours, including stops at the Wilma and Top Hat. Then local groups began pulling their events. Then the University of Montana canceled everything. Then Logjam Presents announced a 30-day hold on live events. The Roxy and the Zootown Arts Community Center closed their doors for two weeks.
The White House said to avoid gatherings of 10 or more. By Monday, Missoula County ordered a close on all bars and limits on restaurant service for at least a week. The Missoula Art Museum is closed to the public through April 6 and any public events will be called off through May 2.
The arts events complex in Missoula is functionally shuttered.
Missoulians love events. A running tally once included 30 different festivals in the area, covering everything from big-tent ones like the Big Sky Documentary Film Festival to niche interests like DIY psych rock and horse films.
The weekly arts section will look different this week. Instead of live music, we're recommending albums by local bands and talking with musicians about experiments in live streaming. Instead of reviews of brand-new indie films at the Roxy, we have a list of Montana-made movies you can watch at home. 
It will continue to look different until normalcy resumes, whenever that is. We'll be talking to individual artists about their work, and talking with people about how art is helping them cope during a time when the government is pleading with residents to isolate themselves.
There are ways to support the arts without going out. Online, you can buy art directly from individual artists, as they cope with the realization that upcoming markets and gallery shows could be called off.
BandCamp pages make it easier than ever to hear local music from home and buy songs or an album. Bands and recording engineers are experimenting with ways to live-stream and solicit a "cover" via Venmo or PayPal.
Two of the most beloved organizations that closed, the Roxy and the ZACC, are nonprofits that will feel a significant hit from a two-week closure, let alone a longer disruption. They asked that people consider tickets for canceled events as a refund, and donations or memberships can ease the pain. 
The ZACC is looking at ways to move its annual fundraiser, the Mini Show, to an online format. This year is a crucial one, as it needs to reach its goal of paying off its new building on West Main Street, a two-story complex for DIY art that's a symbol of the community's support for art across all age brackets and styles, not just the blank.
The 38th International Wildlife Film Festival in April is doing the same. Fact & Fiction bookstore and Shakespeare & Co. were offering online ordering and home delivery, even if they couldn't host readings. 
Buy local, even if you can't leave your house, and the culture we're so proud of will survive what's ahead.
• Bars: All bars in Missoula County are closed until Tuesday, March 24.
• The Clay Studio of Missoula: Closed for two weeks starting March 15. The annual Potsketch fundraiser is postponed. Check theclaystudioofmissoula.org.
• Ear Candy: Closed until Tuesday, March 24, minimum.
• Fact & Fiction: Hours are now 10 a.m.-2 p.m. except Sundays, noon to 4p.m. All public readings and signings are postponed. Online ordering and curbside delivery are available via factandfictionbooks.com.
• Free Cycles: The nonprofit community bike shop, which also hosts concerts and DIY arts events, is closed until further notice. Go to freecycles.org to learn more.
• International Wildlife Film Festival: The event, scheduled for April 18-25, is going to an online-only streaming format. Go to wildlifefilms.org.
• Missoula Art Museum: Closed to the public until April 6. Check missoulaartmuseum.org to read about their current exhibitions.
• Missoula Symphony Orchestra: Weighing decision on April concerts, as they are technically a "job interview" for the last candidate for music director.
• Radius Gallery: Open by appointment only. All current exhibitions are viewable online at radiusgallery.com.
• Rockin' Rudy's: Offering free shipping on CDs, DVDs and vinyl for Montana. Call 406-542-0077 or email music@rockinrudys.com. Pick-up orders encouraged.
• Roxy Theater: Closed until April 1. Check theroxytheater.org to learn about memberships.
• Shakespeare & Co.: Open as of March 15. Free delivery available. Call 406-549-9010 or go to shakespeareandco.com.
• String Orchestra of the Rockies: April 26 concert is canceled. 
• Logjam Presents: All concerts and public events at the Wilma and Top Hat have been postponed for 30 days starting March 14. A GoFundMe has been started to supplement losses in employee income. Go to "Logjam + Top Hat Supplemental Income Fund" for more information.
• Tell Us Something's March storytelling event has been moved to June 9.
• University of Montana: All public arts events are canceled until in-person classes resume.
• Zootown Arts Community Center: Closed for two weeks as of March 16. The annual Mini Show benefit is moving online. Go to zootownarts.org to learn more.
Concerned about COVID-19?
Sign up now to get the most recent coronavirus headlines and other important local and national news sent to your email inbox daily.