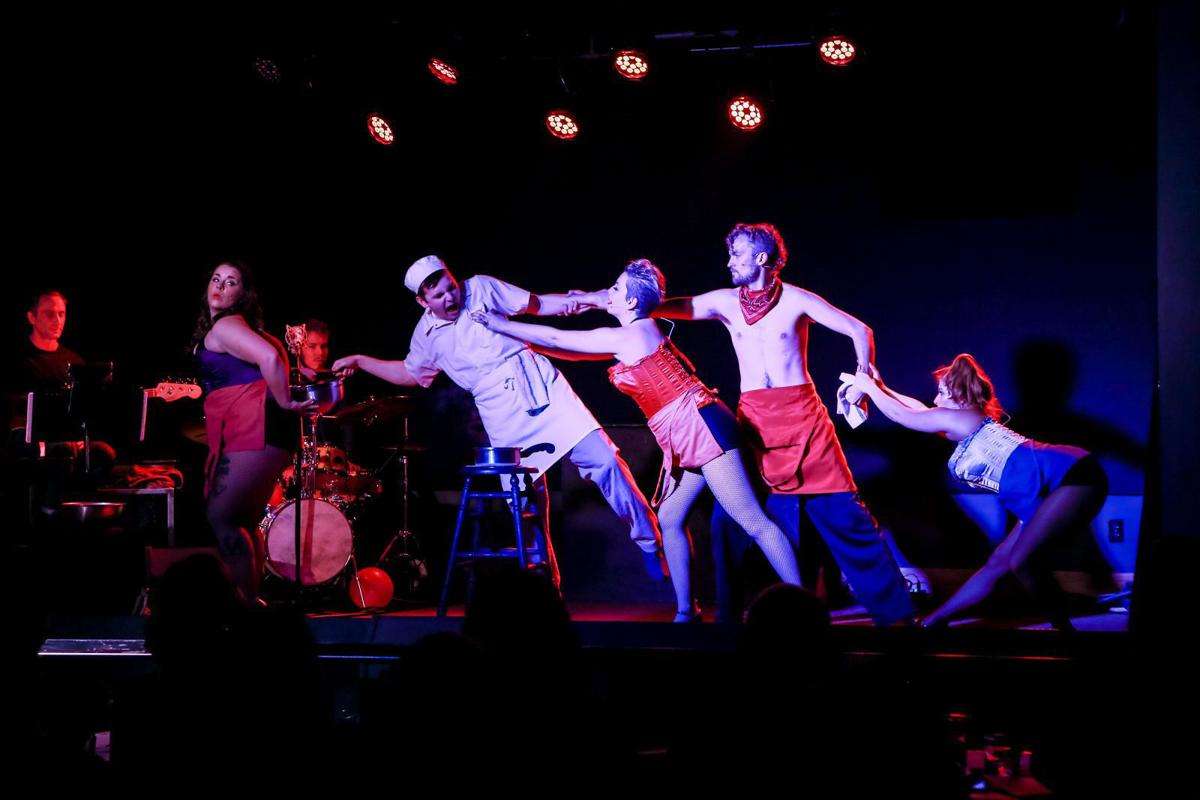 Rosie Seitz Ayers says "The Dirty Sexy Chocolate Show" is an evening of decadence and hilarity.
The cabaret-comedy show was dreamed up by Jeremy Sher, a transplant to Missoula who sought to combine his 20-year career as a pastry chef with his background acting in regional theater in Chicago, Seattle and New York.
Each year, he's rewritten parts of the script and made refinements. This year, he handed the reins to director Heather Adams, a prolific dancer/choreographer and the owner of the Downtown Dance Collective. She's been working with comedian/theater-maker Rosie Seitz Ayers, who most recently directed "The Rocky Horror Show Live."
Ayers, who saw the show in previous runs, said that "every smart fella knows that every once in awhile, you need a couple of ladies to change things around."
The evening flows between '70s soul and funk with "a sweet Northern jazz on the top," she said.
A nervous sous chef known as Chef Preppy Pants (Sean Kirkpatrick) struggles to impress his boss, Chefy Pants (Reid Reimers) in a dreamlike, cooking-show format as he tries to make a sachertorte.
Kirkpatrick doesn't speak the entire show, relying on physical comedy. "They are much a modern clowning" duo, she said.
Lynn Solomon stars as Dr. Buena Buena, a "Dr. Ruth meets Oprah" type, she said. Kirsten Paisley, Tabatha Bettin, Christopher Morucci and Hugh Butterfield serve as dancers. Tahj Kjelland will make a return appearance for a rap interlude and Lee Rizzo of blues combo Mudslide Charley will add jazz vocals.
The show features the backing of a five-piece band on classic covers and originals inspired by Curtis Mayfield and Isaac Hayes and others. Plus, you can expect doses of audience participation that make every show a little different.
Sher is working with Bravo Catering on the dessert, which the audience gets to try. "It's really amazing to watch his two worlds combine," Ayers said.
The two previous runs at the Top Hat sold out. Sher won a Montana Innovation Award for the show, and used the funds to take it on the road, including stops in the Flathead and Seattle.
The show hits the Top Hat three times between Saturday and Valentine's Day:
Saturday, Feb. 11: 5:30 p.m. doors, 7 p.m. show.
Saturday, Feb. 11: 9:45 p.m. doors, 10:30 p.m. show
Tuesday, Feb. 14: 6 p.m. doors, 7:30 p.m show.
Tickets are $25-$180 depending on seating option, available at tophatlounge.com or the box office.
Stay up-to-date on what's happening
Receive the latest in local entertainment news in your inbox weekly!