Doug Baldwin was a serious artist who didn't want his art to be serious.
"I just have a good time," he said. "I really think that if someone sees my work and they smile, it's successful."
The ceramic artist, who died last Monday at age 79, liked to have a very specific kind of fun. For almost 55 years, all of his sculptures featured little anthropomorphic ducks, expressive figurines in red terra cotta. He planted them in scenarios, more often than not humorous ones.
These birds went to art school. They constructed kilns to fire pots. Sometimes the kiln would blow up, leaving wreckage surrounded by ducks, their wings raised in exasperation. Sometimes they'd succeed and celebrate.
"You couldn't deny his seriousness in his playfulness," said his friend and former colleague, Ron Lang. The reaction to his work was often amazement.
"Can you imagine all the time that went into making all those little figurines?" he said, marveling at the hours required to "realize these big visions."
The Missoula County High School graduate taught at the Maryland Institute College of Art for 34 years. After retiring in 2004, he returned to the Garden City. He didn't retire from ceramics, though, and clocked in regularly at the Clay Studio of Missoula.
"He was here and devoted and working every day," said Shalene Valenzuela, the executive director, who called him "a key part of the institution," who got to know all of the artists who came through.
His daughter, Tracey Baldwin, said he made himself a home here, whether among the many artists he loved talking with or weekly get-togethers at the YMCA to work out.
Baldwin graduated from Missoula County High School and went on to study art at the University of Montana, earning a bachelor's and a master's degree.
"He was thinking about graduating in art in printmaking," said Doug Grimm, his close friend since high school, and a fellow ceramic artist. "I told him that ceramics was a lot more fun, and he finally took my suggestion and started working with clay with Rudy Autio."
Autio had a reputation for his expressive and boundary-pushing ceramics that stretched far beyond the borders of Montana, but that didn't register for his students. Perhaps it was because Autio was so humble, a quality that Baldwin admired.
"He was famous, but we didn't know it," he said in a 2017 interview.
Baldwin's path toward the work he makes was determined early on.
"He couldn't figure out how to throw a pot to save him, so he decided to make sculpture out of clay," Grimm said.
After graduating from UM, he won a scholarship to study at the Brooklyn Museum Art School for a year, after which he taught at the University of Wisconsin for three years.
Then he was hired on as a ceramics instructor at the Maryland Institute College of Art in Baltimore, where he taught for more than three decades. Tracey said he helped build the program from its small scale in the early days.
So where did the ducks come from?
Grimm and Baldwin took a trip to a factory outside Baltimore that specialized in ceramic molds.
Baldwin didn't much want to go. "I really had to drag him along," Grimm said.
There were about 10,000 different molds, and their guide happened to show them a mold for a figure, known as "The Blue Boy," by the artist Thomas Gainsborough. She showed them the molding process to make a "Blue Boy" and then they tried a duck.
"He looked at the duck and 'Blue Boy' and he cut the head off the duck, and he cut the head off 'Blue Boy,' and he put the duck head on 'Blue Boy,' " Grimm said.
There wasn't a philosophical reason for it, other than the fact that he thought it was funny.
"From that time on he was hooked on ducks," Grimm said.
His unusual subject and style gained him notice. He had more than 20 solo exhibitions and even more group exhibitions.
In September 1974, his work was featured on the cover of Ceramics Monthly, the major national clay magazine. Yes, they were ducks: 11 of them, illustrating different techniques.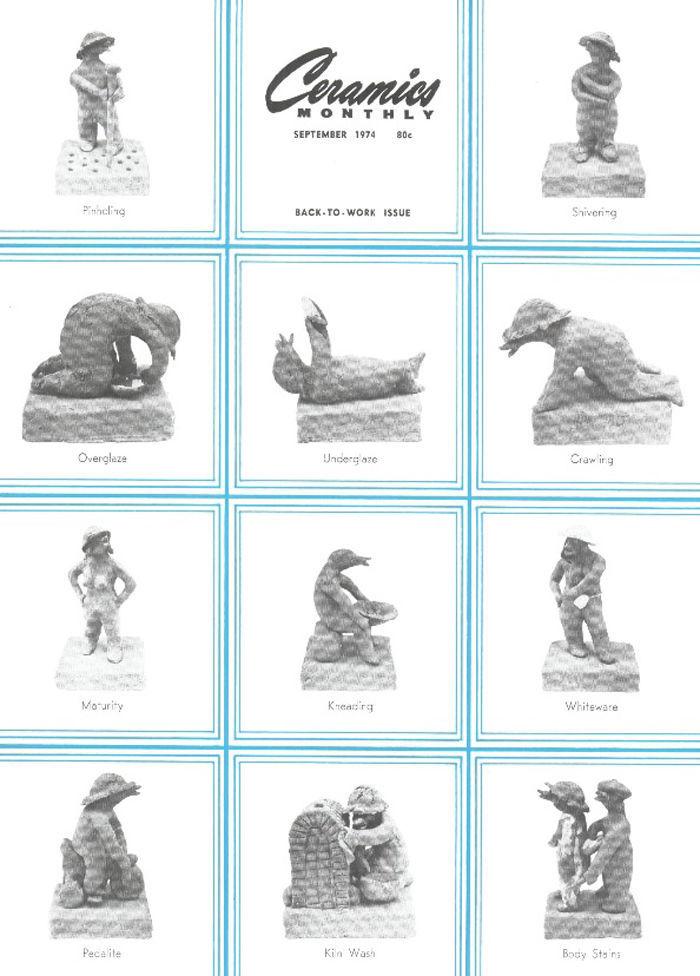 Tracey said her father, along with his humor, was gifted with a exploratory bent.
"I always thought of him as an adventurous spirit," she said. He traveled frequently to promote exchanges and research work, visiting Poland, Russia, Scotland, England, Estonia and Latvia.
When she was in the sixth grade, he was awarded a $10,000 grant from the National Endowment for the Arts. He moved the family to live in San Miguel de Allende, Mexico, for a year. Every morning he took the bus to nearby Dolores Hidalgo, where he'd met a factory owner who let him make his art in there.
Specifically, he was researching historical sites, and began making those stadiums and coliseums, yet another venue for his duck characters.
Lang was hired as the chair of the ceramics department in Baltimore in 1979 after Baldwin stepped down to be a faculty member. At the school, he said Baldwin had helped create "a safe place for students to really open up and at the same time, relax," which in turn "fostered their creativity."
Baldwin was a "very student-oriented teacher who didn't do things by the book. He was not a taskmaster. He basically wanted students to develop a love for their art, to develop their own personal voice." It was the approach Autio took, where he taught them the basics and got them working, rather than overwhelming them with technical information at the outset.
"Students invariably loved Doug Baldwin," he said.
Baldwin and the department became famous for escapades, often staged to greet artists.
When Ken Little, a sculptor from Texas, came to visit the school, they picked him up at the airport in an old pick-up truck. The back was filled with straw and hay with an old rocking chair, Lang said. They took a back road on the way to the school, where they came across a student lying in the lane with an arrow "stuck" in their chest. Bands of students ran out of the woods and shot the pick-up with rubber-tipped arrows. When they arrived at the school, a series of rowhouses out back had been decorated like old-time saloons.
Other escapades were even more complicated. "That was the simplest one to explain to you," Lang said.
Baldwin was aware that people might not believe the stories, so he shot lots of photos and the school accumulated a slideshow to show to new students.
He said Baldwin, with whom he talked once a month or so, was happy out in Montana, close to grandchildren and working all the time.
Lang did say that Baldwin sometimes worried his humor might not register out West.
He made artistic jokes at how seriously we take ourselves, and how seriously artists take themselves, Lang pointed out. With those kiln sculptures, he was poking light fun at the technical seriousness of wood firing, while his own art was the opposite in a way, Lang said. He probably only needed a handful of tools.
When Baldwin said he wasn't sure he was understood in Montana, Lang tried to give him some perspective.
"I'm not sure we understood you back here in Baltimore," he said with a laugh.
One time Baldwin grew tired of paying for a storage unit that held boxes of his work, shipped back to him from shows that he'd piled in with a plethora of ceramics he'd accumulated over the years. Baldwin asked Grimm for a ride to the unit, where they filled the vehicle.
The destination Baldwin had in mind was the landfill.
Grimm drove him there, despite his reticence about other options. They could sell the art, or donate it to a charity.
Once arrived, they tossed the boxes down the slope of trash to the bottom, where eventually the vases and Baldwin's ducks would be crushed by a tractor and buried into the dirt. Grimm doesn't really know why.
Perhaps Baldwin found some humor in the act, as though the entire scene could be one of his dioramas. Ducks, his surrogates for human foibles, worrying over broken vases and pots. Or maybe Baldwin didn't need anything more from these discarded sculptures because he'd already gotten what he wanted: a laugh.