How do you capture a horse?
It's a question humans had to work out before they could take advantage of the animal's strength and speed, to haul people and goods around the American west.
Artists, meanwhile, are still taking cracks at the problem.
That's the inspiration behind the Montana Museum of Arts and Culture's summer exhibit "Horse," focused on all things horse, among all eras, mediums and styles.
"We wanted to throw a really broad net and see what we came up with," MMAC Curator Jeremy Canwell said. "We came up with works in textile ... pen and ink, painting, ceramics, photography and in scale anywhere from inches ... to a life-size fiberglass horse."
The show starts with Eadweard Muybridge's famous 19th-century photographs of a horse in motion, the first example of someone capturing the objective reality of the horse, Canwell said, versus their perception.
Many pieces from the show will show that contrast, like a George Gogas painting — "Brownie at 20" — from 1978, that's a photorealistic recreation of his wife Lynn's favorite horse.
Other pieces — like Stephanie Frostad's painted fiberglass horse statue — are more interpretive. She painted a landscape covering the animal, which echoes a horse's 360-degree vision, Canwell said.
The MMAC's collection is largely North American-focused, Canwell said, which means much of the horse art is focused on the West and nostalgic ideas of horses and their relationships with humans.
There is some modernity as well to a horse. Sheila Miles' "Runaway Dream" fills the canvas with large blocks of color; a white horse, a red blanket and a green background, the horse at an angle coming down the canvas. It looks more surreal the more you look at it, the color blocks losing shape and meaning.
"The horse becomes sort of just an icon," Canwell said, "then you see it used in every form."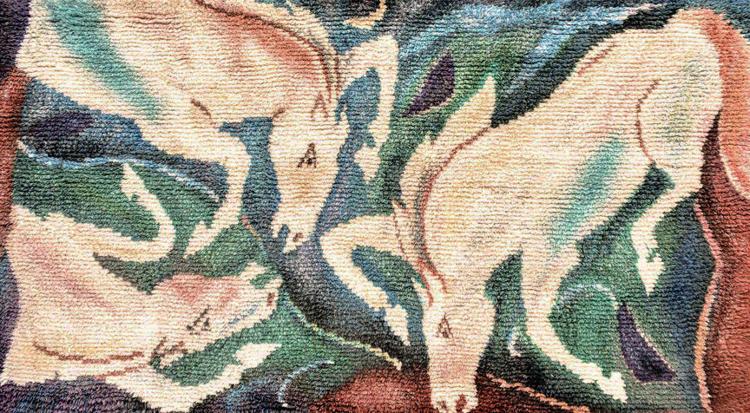 Canwell plans to add quotes from an essay by former UM Western History chair Dan Flores to match the work, questioning how people's thoughts about horses match reality.
Capturing that emotional connection, that makes horses so important to humans even a century after their practical use has passed, is what intrigues Canwell about the show. From painting a family favorite animal to deconstructing a horse into a surreal blur of color, there's many ways artists have found to capture a horse.
The second MMAC summer exhibit captures a different contrast. "Denizens: Wildlife on the Western Frontier," curated by Lee Silliman, is a collection of 60-some engravings and prints from the late 19th century of western wildlife, often used as factual illustrations in books and magazines that are actually quite embellished.
"There's a lot of mythology around wildlife as well," Canwell said.
Some examples: "The Combat" by Karl Bodmer shows two deer in a clearing, antlers locked, with a bevy of does looking on from the trees.
"A Prairie Fire" by Julian Rix dramatically captures a herd of pronghorn antelope running from fast-approaching flames. It was printed in Harper's Weekly.
Canwell pointed out the "pronghorns" actually might not be, their antlers incorrectly drawn even though the bodies looked right.
The engravings reflect the national interest in the American West, at a time when overdramatizating was expected.
Another shows a bison stands forlornly in the empty prairie, alone in the frame except for a bison skull on the ground in front of it, dealing with very human emotions, Canwell quipped.
A wolverine, with exaggerated features, eats a deer in another. It's almost as large as the deer it's perched upon.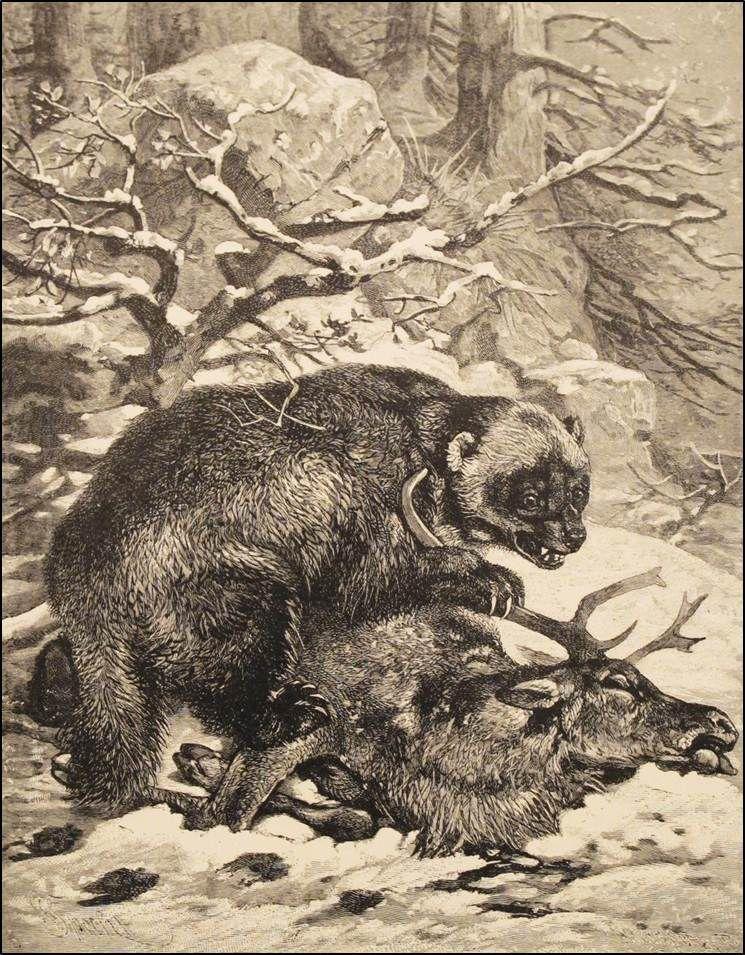 Canwell worked with Libby Beckman, the curator of UM's Philip L. Wright Zoological Museum, to get some mounts of the animals portrayed, so viewers could see the contrast between interpretation and reality themselves.
"This used to be a wolverine," he said about the mounted animal on the floor next to the engravings. But even the mounts use some imagination. The wolverine has its front paws up on a stump, its snout upturned like a dog looking for attention.
"That's as much sculpture as anything," Canwell said.
So even the true-to-life mounted animals used to contrast the exaggerated prints are themselves tweaked to fit human perception, rather than reality — "that's the slippage that this show embodies."
Along with the wolverine, Beckman loaned MMAC a bison head, a bighorn ram skull, a grizzly skull and a stuffed osprey, all to compare and contrast with the many engravings.
"We created this (perception) through our appetites, both literal and metaphorical," Canwell said. "Yet we don't really know how we got here."