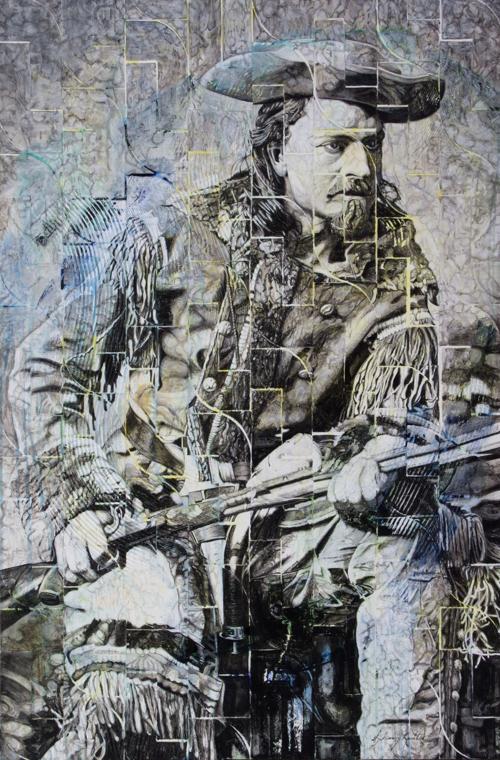 The first weekend of May is always one of the busiest of year, as students are wrapping up the semester and warm weather pushes foot traffic around downtown. Here's a look at some of the First Friday openings this month. For full gallery listings, turn to Page E4.
At Radius Gallery, local painter Barb Schwarz Karst is sharing work from a series of photorealistic grid paintings she's been developing over the past year.
She draws on historic photographs of the American West, such as portraits of Chief Joseph and "Buffalo Bill" Cody, and transfers them through unconventional grids with subtle accents of color interspersed among the black-and-white source material. The lifelong Montanan is aiming for an "unromanticized" examination of Western history.
Last August, the Chief Joseph portrait won an award from the National Society of Painters in Casein and Acrylic, located in New York City.
The Radius is located at 114 E. Main St. It's open on First Friday from 5 p.m till "late." The artist will give a talk and a Q&A at 5. The work will be up through Saturday, May 20. For more information, go to radiusgallery.com.
The Missoula Art Museum's official reception for the sprawling "Nexus: The Rudy and Lela Autio Collection" exhibition is Friday from 5 to 8 p.m.
The exhibition draws on the late couple's personal collection, which can serve as a short-hand history of modernism in the area. It touches on the origins of the Archie Bray Foundation in Helena, through to the beginnings of the ceramics department at the University of Montana, and the many artists they taught, supported or befriended. Many of the artists featured will be in attendance for the gathering. Curator Brandon Reintjes will give an overview and a talk at 7 p.m.
In addition to the Autio works, the MAM has a new exhibition up: "Ghost Images" by Chris Pappan. Pappan attended the Institute of American Indian Arts in Santa Fe, followed by a move to Chicago for the Art Institute of Chicago, where he now lives.
Pappan identifies as "Osage, Kaw, Cheyenne River Sioux, and mixed European heritage." Many of his pieces are labeled as "21st century ledger drawings." "Ghost Images" is up through Aug. 26. The official First Friday reception with Pappan on hand is Aug. 4.
It's not technically on First Friday, but that's what makes VonCommon's art events so special.
The art collective pools resources to rent a shared studio space — always a quandary in Missoula — that can double as a place to display their work a number of times a year.
They opt to avoid competing with First Friday since moving to a space on Wyoming Street.
This weekend brings their fourth annual "prom" show, "Post-Prom: Systems & Solutions."
In a news release, they said they "challenged artists to reinvigorate a sense of urgency to embrace what makes our community great through building bridges, strengthening contact, and redefining what it means to persist and resist in 2017."
A gallery show with work from Lillian Nelson, Adelaide Every, Marlo Crocifisso, ladypajama, Elisha Harteis, Bridey O'Brien, Parker Beckley, Nora Justice, Carla Bissinger, Angelita Martinez, Candice Haster, Terah Hibbard, Melissa Madsen, Patricia Thornton, Julie Gautier-Downes, Parker Beckley, Nora Justice, Hazel Videon, Freedom Lee Drudge, Lauren Norby and more.
In addition to visual art, they've booked dance/performance artist Tricia Opstad and four music acts: Nate Biehl, Cory Fay, Aaron Jennings and Blue Dream.
The "community" aspect is filled up as well. There's a "donation-based sewing station" where you can fix up clothing items in need of small repairs. At a "Wheel of Persistence," take a spin and end up with a random act of "service and resistance." Nonprofits like the Zootown Arts Community Center and Missoula Community Radio will have information tables. Blackfoot Native Plants and Killing Frost Farms will offer "symbiotic gardening demonstrations and plant starts."
Plus, the whole thing's a potluck and you should bring food. And dress up in "post-prom formal wear," which like most VonCommon shows, you're invited to freely interpret as you desire.
VonCommon is located at 100 Johnson St. No. 7. The festivities run from 6-10 p.m. Saturday, May 6.
At the Artists' Shop, handweaver Bonnie Tarses will share new works under the title "The Eight Pillars of Joy." The longtime Arlee artist was inspired by "The Book of Joy," an inspirational volume by the Dalai Lama and Archbishop Desmond Tutu.
The show features "scarves woven with un-knitted cashmere sweaters in addition to distinctive fabrics highlighting over half a century of hand woven artistry."
The work will be on display through the end of the month at the shop, located at 127 N. Higgins Ave. The reception runs from 5 to 8 p.m. Friday, May 5.
Normal hours are 10 a.m. to 6 p.m. Monday to Friday and 10 a.m. to 5 p.m. Saturday and Sunday.