Put artists in spaces, historic or creative, and see what ideas spring forth. That's the concept behind Open AIR, a new nonprofit artist-in-residence program. After a spring pilot program, they placed artists in all media (visual art, dance, conceptual art and more) at sites in the region for several weeks.
They were free to develop their ideas using the space and resources at their home base (Moon-Randolph Homestead, the Historical Museum at Fort Missoula, HomeReSource, the Flathead Lake Biological Station, the Montana Natural History Center and a remote cabin in the Selway-Bitterroot Wilderness).
This weekend, you can see what they've been working on at the Brunswick Gallery, 223 Railroad St. The gallery is open only on Friday, Aug. 2, from 5-8 p.m. To read more about the program, head to openairmt.org.
Liquid Planet is going to move around the corner into the former Zootown Brew spot at 121 W. Broadway. To mark the occasion, building owner Geoff Sutton, whose gallery Sutton West once occupied the space, is having a pop-up show for First Friday. He'll show new works by Monte Dolack, Nancy Seiler and Brian Schweyen. You can also see pieces by Russell Chatham among the 60 originals. You can also check out $5 art posters. It runs from 5-8 p.m. on First Friday and 10 a.m. to 2 p.m. on Saturday, Aug. 3.
(Clay Studio of Missoula)
The Arizona native draws on thoughts about the landscape and hand-tooled leatherwork designs for his functional pottery in "Domestic Topography," which is on view all month at 1106 Hawthorne. See this week's cover story, or head to the First Friday opening from 5-9 p.m.
You have free articles remaining.
Photographer Rio Chantel's "Somewhere Else" captures images of the Painted Hills of Oregon.
The opening is on First Friday starting at 5 p.m. The show will be up all month.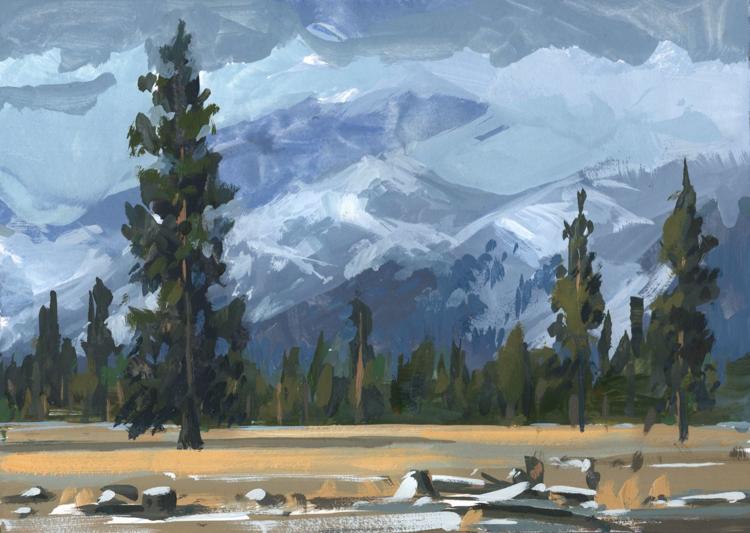 Plein air demo, plus nature in various mediums
Painter Jared Shear of Thompson Falls will give a demonstration of one of his specialties, plein air painting, as part of the Radius' exhibition, "Another Alphabet." Shear, who paints on site around western Montana, once undertook a project in which he painted Cougar Peak every day for a year.
The exhibition paired Shear with other artists who have an affinity to the natural world: ceramicists Ben Carter, who's wrapping up a residency at the Archie Bray Foundation; Mary Briggs of Eugene, Oregon; Heesoo Lee of Helena; and painter Dale Livezey of Helena.
The First Friday opening runs from 5-8 p.m. at Radius, 114 E. Main St. The show runs through Aug. 17.