An overview of this some of this month's First Friday openings.
The closing of a gallery is never a cause for celebration. The e3 Convergence Gallery will go out with a bang, though.
The nonprofit on West Main is throwing a "masquerade ball" with art collective VonCommon on First Friday as its sendoff, one more untraditional art event for a gallery that hosted many over its five-year run.
The PromCommon group exhibition naturally has a mask theme that artists were invited to explore. In the news release, they cite academic Erving Goffman, who "theorized that we present ourselves to the world using masks reflecting how we choose to interact in our relationships — specific to a particular time, place, and the circumstances we encounter as we go about our existence." Goffman cautioned that you should "choose your self-presentations carefully, for what starts out as a mask may become your face."
The participating artists include VonCommon members like Adelaide Gale Every and Ladypajama and established and emerging local artists like Courtney Blazon, Nicholas Kakavas, April Werle and many more.
The evening, which runs from 5-11 p.m., also features live music by the Organism, Rooster Sauce and more, with performance art and a bar. All ages are welcome.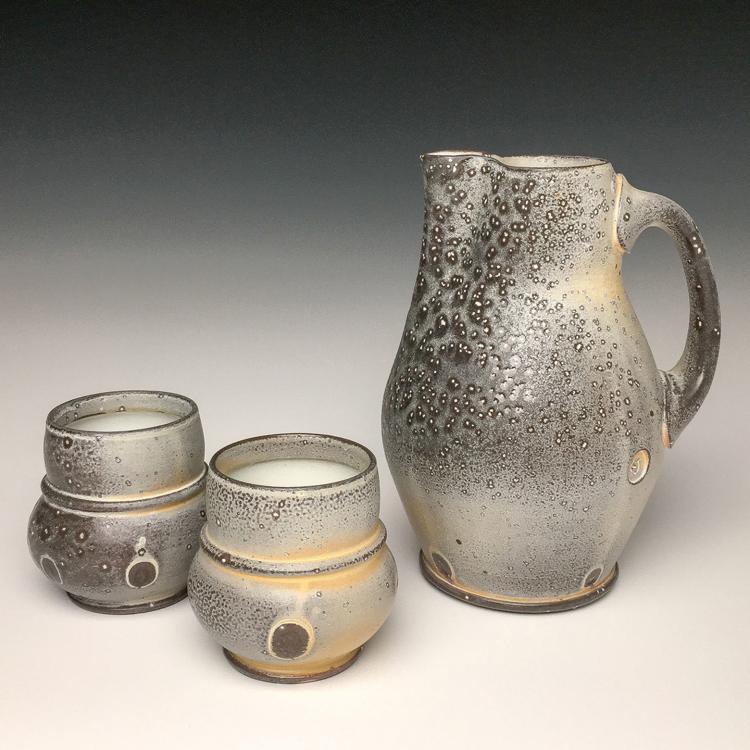 The Clay Studio of Missoula is marking its 20th anniversary since it opened in a modest garage on Ronan Street under the name "The Smoking Bowls Clay Studio."
Since then, it's grown into its current size, with classes, a gallery, resident artists who come from across the country, and kilns on site on the Westside and out in the woods.
On First Friday, they'll share "Twenty Years: A Clay Studio of Missoula Retrospective," featuring work by former and current resident artists, staff members and founders.
The First Friday opening is June 1, from 5:30-9 p.m. On Saturday, June 16, from 3-7 p.m., stop by for a 20th anniversary celebration with music by Western Union and food from Big Thai Country and Cruz Tacos. The studio is located at 1106 Hawthorne St.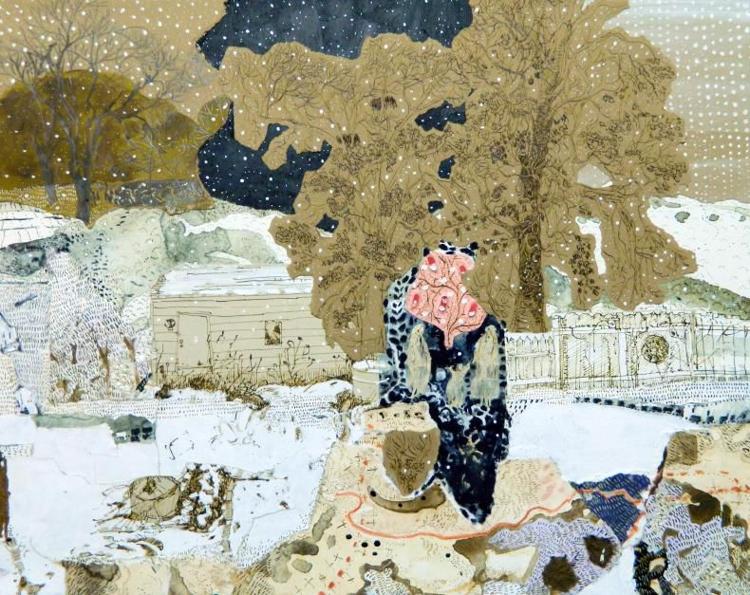 FrontierSpace, a gallery run by UM graduate students, is hosting "The Shape of My Sorrow," by Monique Belitz, an assistant professor at Doane University in Nebraska. Belitz, who's lived around the United States and in Germany, constructs landscapes with mixed media and a historical and emotional heft.
The work is on display on First Friday only, from 5-9 p.m. The gallery is located in the alley on West Pine Street between Sushi Hana and Thomas Meagher Bar.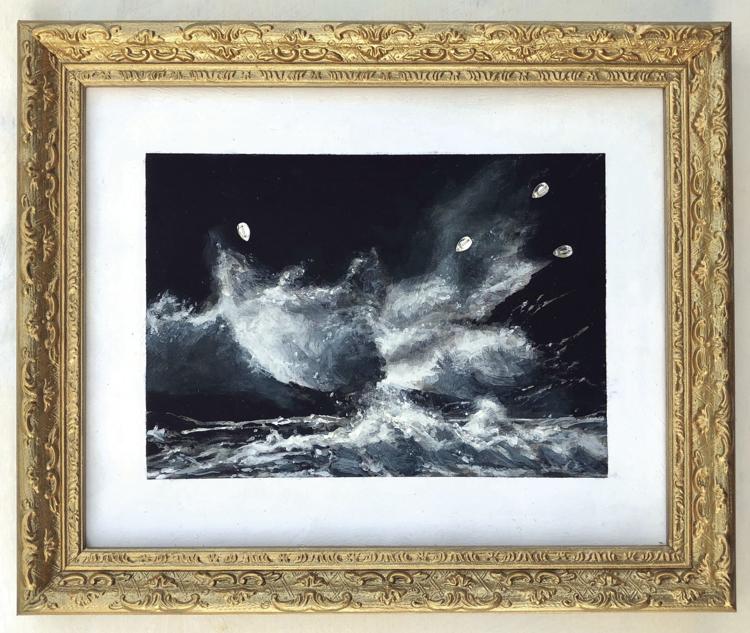 At Le Petit, Lukas and Zoe Phelan have collaborated on a show called "Secret Corners," a selection of 20 paintings. The couple, who also play in local indie rock band Fantasy Suite, divided up the labor. Zoe, who has a background in jewelry design, would make collages. Lukas, who studied at the University of Montana, would take her compositions and convert them into collage-like paintings. She added finishing touches through embroidery or beading. The final products will be shown in thrift-store frames they painted gold.
The two repeated some motifs — such as waves or bodies of water, mountains and cliffs, and farm animals — often represented in fragments of images, Lukas said. He hopes they represent experiences in nature in a vague yet beautiful personal fashion. The title, too, refers to those moments that "relate to something special, that is just yours," Lukas said.
The opening is on First Friday, June 1, from 5-9:30 p.m. at Le Petit, 129 S. Fourth St. W. Dawn Anderson and Mia Soza will DJ and provide sounds, and at 8 p.m., a new local band, Worst Feelings, will perform. The work will be on view all month.
The Missoula Art Museum's First Friday feature is the ongoing exhibition of prints by John Baldessari, the influential conceptual artist. The works in "Interference Effects" run the full span of his career, from the iconic "I Will Making Any More Boring Art" in 1971 to the present.
The reception with private collector Jordan Schnitzer runs from 5-7 p.m., on June 1.
Many of the works by the American conceptual artist John Baldessari are easy to like, or at …
The Montana Museum of Art & Culture is opening two new exhibitions: "Horse," and "Denizens: Wildlife on the Western Frontier." See related article for more information. The opening reception is Thursday, June 6, in the Paxson and Meloy galleries from 5-7 p.m. The work will be up through the beginning of October.
How do you capture a horse?
Gallery 709 at Montana Art and Framing is hosting the longtime Missoula art collective SALTMINE.
This year, the group settled on the the theme, "Elvis is in the Building."
The artists are Bev Beck Glueckert, Stephen Glueckert, Kathleen Herlihy Paoli, Peter Keefer, Cathryn Mallory, Karen Rice, Edgar Smith and Bobby Tilton. The opening runs from 5-8:30 p.m. at 709 Ronan St.