From the ground up: 20 years of the Clay Studio of Missoula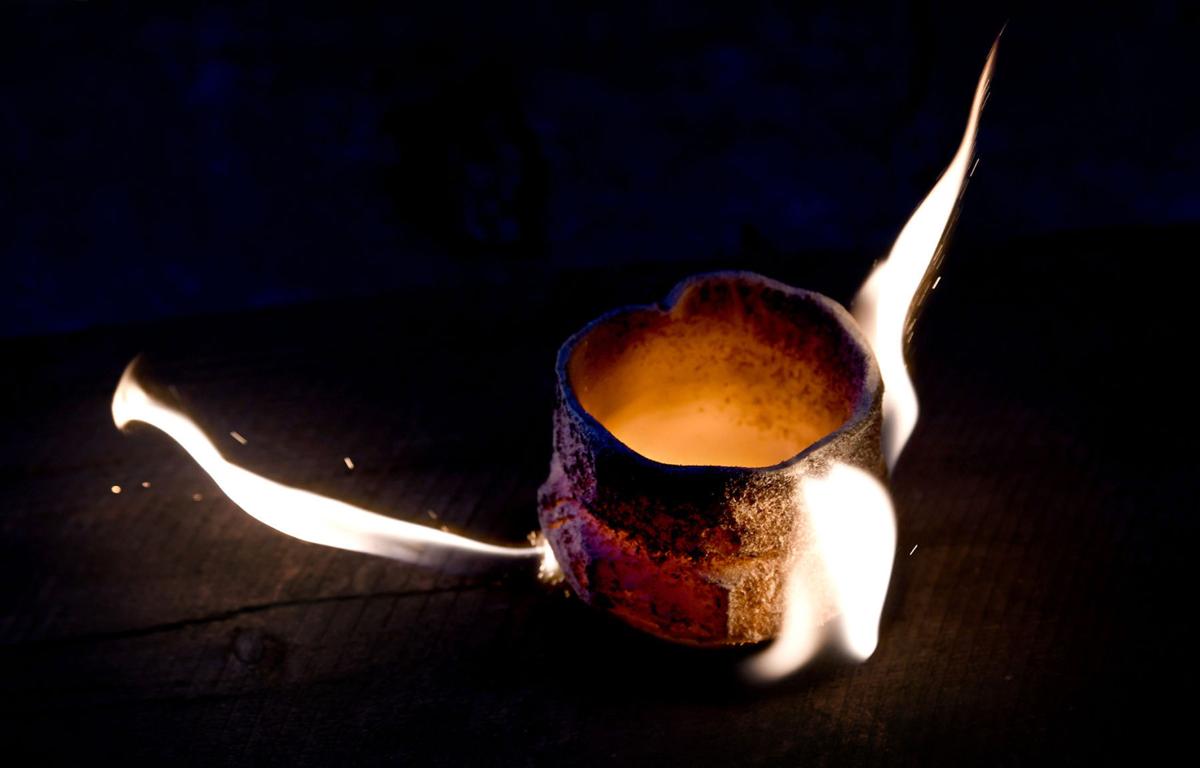 The cup glowed orange when they pulled it out of the anagama kiln, firing at around 2,200 degrees Fahrenheit.
Chris Drobnock, a resident artist at the Clay Studio of Missoula, reached in with a long pole and hooked the cup. Once it was clear through the stoke port, Casey Zablocki, a former resident, clutched it with two pieces of wood to set it down on a plank on the ground to let it cool.
Flames crackled off the small stoneware vessel and scorched the wood around it.
The 8-foot-wide kiln was still filled with work by 10 artists — abstract, sculptural and functional, ranging in size from tiny cups to giant tiles. They'd been firing it for a week and had three more days to go.
Some artists, like novelists or painters, work in solitude. Not so for ceramicists, at least with a kiln like this. It takes a team trading off six-hour shifts day and night, monitoring the temperature, cutting wood and stoking the fire. One artist, Jane Phillips, drove all the way from Utah for the firing.
The kiln, located on private property off Big Flat Road, was built by the Clay Studio. The city's nonprofit ceramics center opened 20 years ago in a rental on Ronan Street with a similar purpose to the one it serves today: a space to create with the shared resources that ceramics often requires.
The studio was founded in 1998 by two University of Montana graduates, Clare Ann Harff and Rob Taylor.
Harff had a studio at home, but she wanted to work with other artists and have a larger space.
"As we started bringing the idea out to the community, it was very well-received," she said. People told her if they had classes or space, they'd sign up — a grassroots effort in an era when fliers and word-of-mouth were the main means of starting something new.
They were soon joined by Mike Kurz, who was finishing his MFA, and Julie Wills and Matt Sleightholm.
"Ceramics is what's considered an industrial art," Kurz said, "which means that there's a lot of equipment that goes along with producing anywhere."
You can dig the raw material out of your yard, he said, yet to transform it into a piece of art, you need a lot more.
"Any individual doesn't need a kiln all by themselves. It could be a shared resource. Same with wheels, and workspace, and all the stuff that goes along with working with clay," he said.
It was originally called the Smoking Bowls Clay Studio. The name was changed relatively quickly, after a parent dropped her children off for a class and became concerned about whether she'd exposed her children to "degenerates," Kurz said.
It wasn't long after the studio opened that the founders realized there was a far higher demand than they thought. There were plenty of artists out there, but not a unified space.
In a recurring theme, they quickly ran out of space. In 1999, they moved to a former welding shop at Dickens and Phillips streets. It tripled their square footage, with an office and a sales gallery and a kiln yard.
During that period, they developed the model in place today.
"We just wanted a place to work," Harff said. "Suddenly we had interest and artists from other areas wanting to work with us, and a very supportive community for the ceramic arts."
They became a nonprofit. Jayson Lawfer, another UM BFA graduate, was the first person they could properly call a director with a salary. Lawfer pushed for a gallery, since there weren't many places around town for ceramicists to show work. He came up with Potsketch, the annual fundraiser in which artists submit small drawings. He pushed for the artist residencies, which bring new ideas and voices from around the country.
Running the studio was still a labor-intensive, team effort. Harff was there every day for the first five years. Kurz said he considered it as sign of success when new ideas arose and there were extra bodies to make them happen — a sign it was viable.
"I think we finally hit that critical mass where if we threatened to close the doors, people would start to rise up," Kurz said.
In 2007, the studio moved to its current home on Hawthorne Street. The owner bought the property to rent it to the studio, with the intention that they could own it outright in the future.
Shalene Valenzuela came to Missoula that year as the first artist-in-residence at the new building. Five years ago, she returned as the executive director and has overseen more developments.
"We have so many more people come into the space, with more ideas and more opportunities," she said, with the community and the residents driving growth and expansion.
Harff said "all the executive directors, from the beginning to Shalene, have really brought their individual skill sets and strengths to build the Clay Studio. It's something that can only be done over time."
They developed a full classroom. At their peak during winter session, there are about 85 adults registered for seven classes. They have a dedicated rooms to store and mix materials. There's also the kiln room, with two brand-new electric kilns in addition to a few others. Out in the kiln yard, artists choose their flavor: soda, raku or gas-fired electric. Crista Ann Ames, a recent resident, led the construction of a large car kiln for sculptural work.
Two years ago, they raised money on Kickstarter to expand their gallery, where they have monthly exhibitions and a sales gallery, including a current show with founders, community members and residents past and present.
The growth in the last two years has been a "little overwhelming," Valenzuela said, to the degree that they're refocusing on core infrastructure.
"The primary things that keep the place running are the classes and the community rentals and the residency program, and their huge support in keeping both of those going," she said.
Monday was the last day of a 10-week open instructed class. Students of all ages and skill levels filtered in around 1 in the afternoon and begin working on projects of their own devising. One student sat down at a wheel and began carving a decorative line into the surface of a pot. Some were building by hand or working with molds.
A few of the students have been taking classes here for years. Mo Gary first became involved when the wood kiln was built about a decade ago. She has her own studio at home, but still signs up for classes, since the place reminds her of "old Missoula," she said. "Whoever was here … became my community."
At another table, Cheryl Tande was making molds for flower containers. She used to wood-fire, one of the reasons why she and her husband David provided space on their property for the studio's kiln. Now she prefers less physically demanding types of ceramics.
She's been involved since almost the beginning. She was one of the many locals who was happy to find a space to work outside of her home studio.
"It is such an exchange of ideas, no matter what your level of expertise is, and everyone is always so willing to help," she said.
"Clay people are just the best as far as I'm concerned," she said.
While the students worked, their instructor and resident artist Ben Jordan circulated around the room, offering advice as needed.
Jordan is entering his second year and final year as a resident, one of five long-term resident artists at the studio. Many come from out of state, drawn by Montana's reputation in the field.
They get paid to teach classes, and get their own studio space. They can participate in workshops with well-known visiting artists. They gain experience setting up and taking down gallery shows and working on fundraisers. One slot is specifically for a wood-fire resident, who leads a class in that specialty and oversees the kiln.
The studio might receive up to three dozen applications for one general resident position, Valenzuela said. So many are qualified that you could choose someone at random, she said, but the studio has to balance the needs and styles to narrow it down.
Jordan, who came here from another residency in Virginia, said being affiliated with the studio is good exposure. He was featured as an "emerging artist" in Ceramics Monthly in May. His fellow resident, Kirk Jackson, got the same treatment the year before.
Some artists use residencies as a bridge between undergraduate and graduate school, he said. An artist can carve out a "chunk of time to make a body of work without too much monetary stress involved."
On some weekends, Harff will head to the Saturday farmers markets and see five or six former residents selling their work — the studio brought them to Montana and they found a way to stay.
It's a good feeling, she said, but it also hints at the economic impact. "Many people are making their livelihoods out of that studio," she said.
Adjacent to the classroom, three artists who rent space are at work at a community table. Valenzuela said they come in to work every day, like clockwork.
Doug Baldwin, who moved back to Missoula after teaching for almost 35 years at the Maryland Institute of Art, was sculpting the small terra cotta duck figurines that he's known for.
Across the table sat Susan Carlson, who has a home studio for painting, not ceramics. She started taking classes here about 10 years and renting space three years ago. Her pots, with sculpted flowers, blend painting and ceramics, with the bonus that she's not working alone at the house.
Next to her, Valerie Yardley was sculpting a large pot. She joined three years ago. "It's very welcoming," she said, and "you form good friendships, but you're doing something. We're all doing our art, and that's very different than doing it on your own."
Wood-firing can't happen without a community, Kurz said. People spend a lifetime studying it; it can take six months building enough work to fill it. It can require two weeks of firing and another two weeks for it to cool down.
It's a spectacle, too, he said, that gets newcomers excited about ceramics, "a big box of fire that most people are awestruck by."
The push for a kiln was led by Ryan Mitchell, a resident at the studio from 2007-08.
It wouldn't have been possible without Tande and her husband donating space on their property off Big Flat Road. The studio couldn't fire a kiln at its property in city limits even if it wanted, due to air-quality regulations.
While Mitchell was an MFA at the University of Montana, he managed the school's kiln at Lubrecht Experimental Forest. He'd noticed that people in the community seemed happy to participate in the firings and saw a demand for more.
"This kiln is innovative in design, mostly out of necessity," he wrote in an email from China, where he works at the Jingdezhen Ceramic Institute, an education center, as international curator and coordinator. "We weren't sure how it would work in the end. But I had fired enough in my life by that time to develop a good sense and theory."
A board member wrangled a donation of bricks from the former Smurfit-Stone Container Corp. pulp mill. After "lots of experimental stacks and lots of fails," he came upon the 8-foot-wide arch form and a stack that doesn't generate too much smoke.
"It's a big kiln," Mitchell wrote. "It forces artists to rely on a support network and community to complete firings, and it pushes artists and students to make more work than they normally would otherwise. This helps keep to studio energetic and the community bound together."
Out at the kiln, Drobnock, Phillips and Zablocki were trying to boost the temperature. It had taken longer than they'd hoped to get the kiln up to their target. The weather was uncooperative, with hail and rain that had visible, immediate effects on the atmosphere inside the kiln.
When they weren't tossing split logs through the port holes, they were swatting at the clouds of mosquitoes, and troubleshooting ways to boost the temperature. There are many variables to test by trial and error, and every firing is different. Weather, the type of wood, the placement of the pots and myriad other factors can affect how it fires and how the work will appear in the end. Drobnock said it's best suited for adrenaline junkies with a high tolerance for suspense — depending on an artist's preferences regarding cracks and ashy surfaces, the success rate can be as low as 20 percent.
Dronbock said he often thinks about the number of cups, designed and made to be disposable, that people might use and discard in a week, month or year.
This particular way of making containers and vessels, meanwhile, goes back thousands of years.
"As people take classes and they learn about how these things are made, they have greater respect for what goes into these objects and also the value that they actually hold," Drobnock said.
A well-made ceramic cup is, after all, a long-term investment. If you "take care of it, it could last millennia," he said.