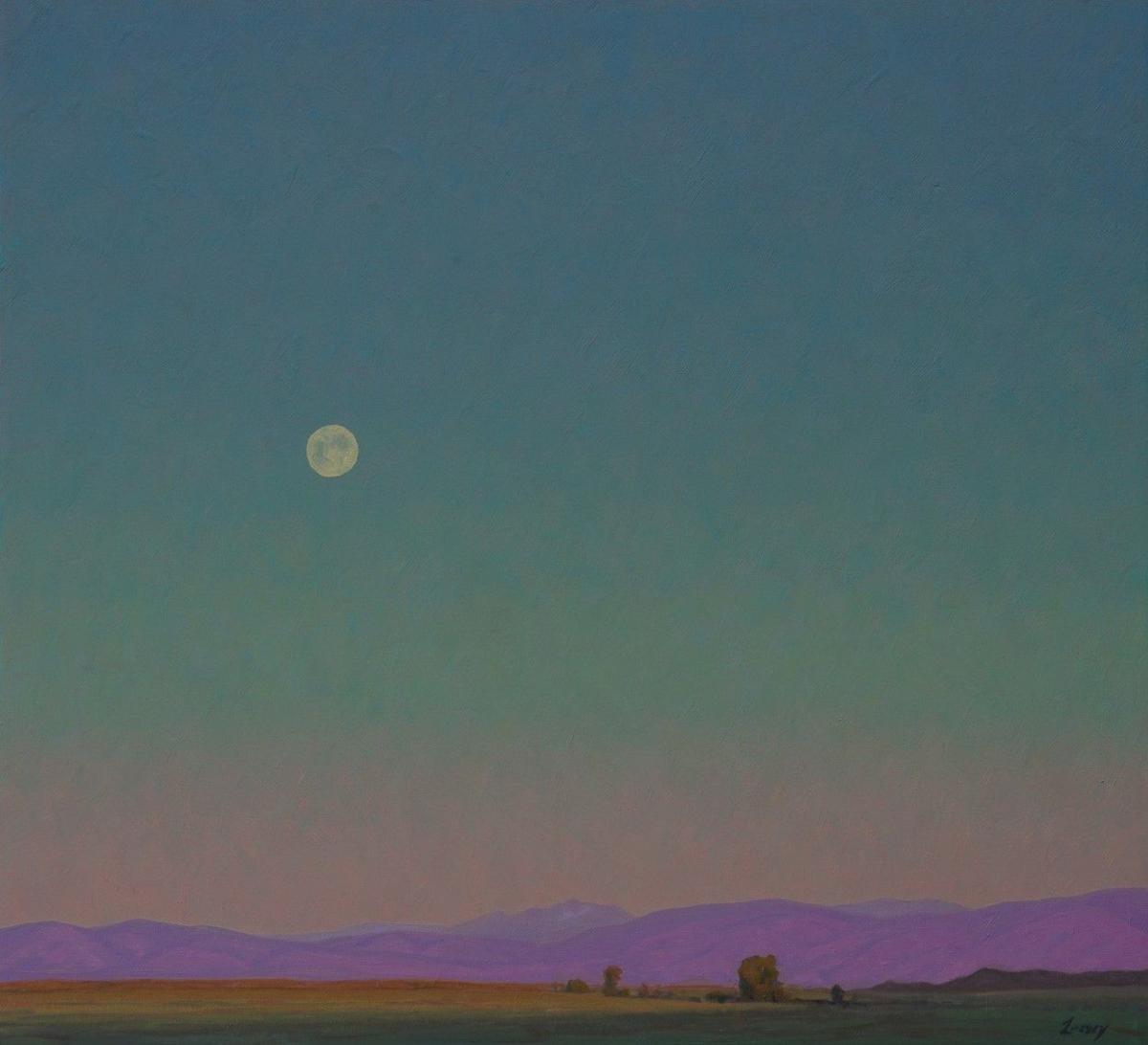 In the late '80s, when Houghton Mifflin was preparing a new edition of A.B. Guthrie Jr.'s novel, "The Big Sky," they turned to Helena painter Dale Livezey for their cover.
The landscape in oil, typical of Livezey's work, features a narrow slice of hills and mountains that's dominated by a skyline that carefully gradates from blue to pink to orange.
In his early 20s, the Ohio native had an epiphany about the way he wanted to paint his surroundings. "I hate to use the word 'abstract,' but more reduced, emphasized aspects of landscape," he said.
What you won't find in Livezey's works are people, houses, or much any sign of humankind.
"Some people find the fact that there's no human presence slightly uncomfortable, but for me taking all human context out, it connects you to the land," he said.
He's not religious, but finds a sense of spiritual connection to the environment when it's empty.
He also has a preference for dusk, in the brief transition from work to family life, when the light shifts quickly.
Removing humans also deprives them of any potential narrative.
"To me, it connects to abstract art that way. People can live with it. I'm not telling anybody anything, other than, 'go out there and connect,' " he said.
He mostly works from reference photographs but is quick to say that the light in his paintings doesn't resemble the photos.
"I'm always experimenting with new colors," he said. It's a time-consuming aspect of his work.
"I can spend three-quarters of a day just mixing the colors," he said.
Pointing to a scene of lake and distant mountains past sunset, he explained the numbers behind a smooth gradation.
"That's 20 colors there," he said. In about 6 vertical inches, it transitions from orange to pink to violet.
Although his work isn't abstract, he's a fan of Mark Rothko's color field paintings, in which careful selection of a reduced palette becomes a defining feature.
Livezey, 58, grew up in rural Ohio and began painting when was 12 years old, eventually going to the store himself to get a set of oil paints after he'd outgrown paint-by-numbers kits. (A teacher had encouraged his parents to buy him pastels, a much simpler medium, but he bought his own oils anyway.)
The connection to the West was made via a classic family vacation through the West, with four kids and a pop-up trailer through national parks.
He describes them as "magical experiences" with the West that maintained a pull on him.
"I got here as soon as I could in '78," he said, finding a job in Helena through a cousin.
He's stayed in Helena since, except for a four-and-a-half year stint in which he spent about a year and half each at the sprawling N Bar Ranch in Grass Range, then outside Augusta, and then Choteau.
Scenes from the Simms area figure heavily in his work at the Radius Gallery. All of them depict dusk, except for one very large painting of the sun coming east over the Front Range. He kept the light in the background and the shadow in the foreground, to enhance the drama.
"I've done that many, many times because it's this beckoning, pulling you in. You want to go into that and live in that world," he said.