Bikers, toddlers, grandparents, young mothers. Construction workers, punks, skateboarders, middle schoolers, athletes, artists. Couples, loners, big dogs, small dogs, bicyclists, tricyclists, unicyclists. Babies, jump ropers, skippers, dancers, bossy older siblings, dads with kids for the weekend, dads without kids for the weekend, dads with kids every weekend. Republicans, Democrats, Libertarians and you and me and Rebecca Weston, all in line at Dairy Queen.
What are you going to order?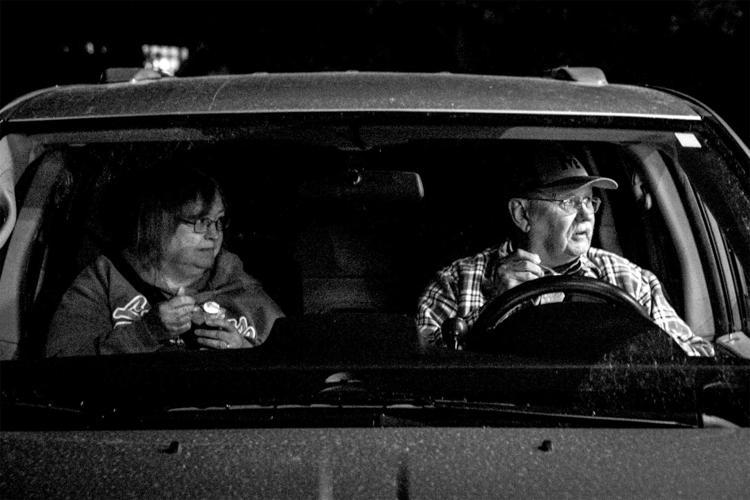 A sundae, with chocolate and sprinkles? Dilly Bar? A milkshake or a Blizzard? Long-handled red plastic spoons poking out of every cup regardless.
During the afternoons, retirees, out for a cup of coffee or a hot dog or a daily sweet treat. After school, packs of high schoolers skateboarding in for milkshakes.
Later: groups of kids who spent their afternoon loitering in the parking lot fade away as the sun sets, leaving room for — on weeknights — families and dogs; on weekends, teenage couples.
The rhythms of a single Dairy Queen on South Higgins Avenue could fill a book, which at one time was Missoula photographer Rebecca Weston's goal. But for now, a photo essay, depicting the melted chocolate-vanilla-candy-coated swirl of a day at DQ.
"There's a kind of persistence to the Dairy Queen idea," Weston said. "It's affordable, it's fast, it's a melting pot."
Weston, a photographer since 2014, found herself visiting the Southside ice cream store, with its two walk-up windows and bright red roof, largely unchanged in its nearly 60-year existence, to find subjects to photograph.
"I care about watching ordinary people doing ordinary things in their ordinary lives," Weston said.
And she found a treasure trove in the soft neon glow of the Dairy Queen.
With owner Art Mandell's permission, Weston took to photographing customers and employees for a few hours a week over several months, chronicling the life of a neighborhood ice cream store and the people who frequent it. Admittedly, Weston said, a little Norman Rockwell. But affecting nonetheless.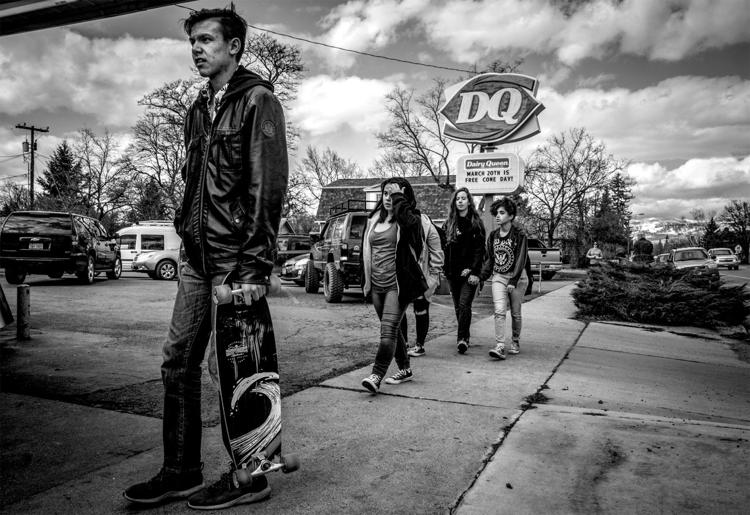 "It made me think a lot about the history of Dairy Queens and this Dairy Queen, which is a cultural center," she said. "In the best sense of the word, it's a place where people gathered."
Part of that is due to Mandell himself, Weston said. He famously has created a culture between management and employees that lifts up workers and creates a familial community among his employees.
But the Dairy Queen represents something else as well: It's an ice cream shop free of class lines or excessive social presentation, Weston thought. As well, it's free of any new-age ice cream fanciness: that's a Peanut Buster Parfait, dammit, the sundae that bridges generational divides.
"You just went there and got your ice cream," she said.
Weston started going there in 2015 and 2016, after she took up photography while living in Spain for a year. In Europe, she easily found street subjects like architecture, rays of sunshine and locals, feeling like the photos presented themselves to her.
But her return to Missoula brought challenges to the hobby; not everything was new and unique.
You have free articles remaining.
"Coming back here, shooting the United States and shooting in a small town … made me feel like I had to work harder for a shot," Weston said.
But this turned her toward narrowing her focus on why she photographed, no longer documenting travels or the way the light caught that doorway in Spain.
Weston found herself drawn to more documentary-style photography that cast an eye toward social interaction.
She put up flyers at the Dairy Queen telling patrons what she was doing, and to let her know if they objected to being photographed. Just one person ever objected.
Then, she waited. For an expression of emotion, for activity, for something to happen.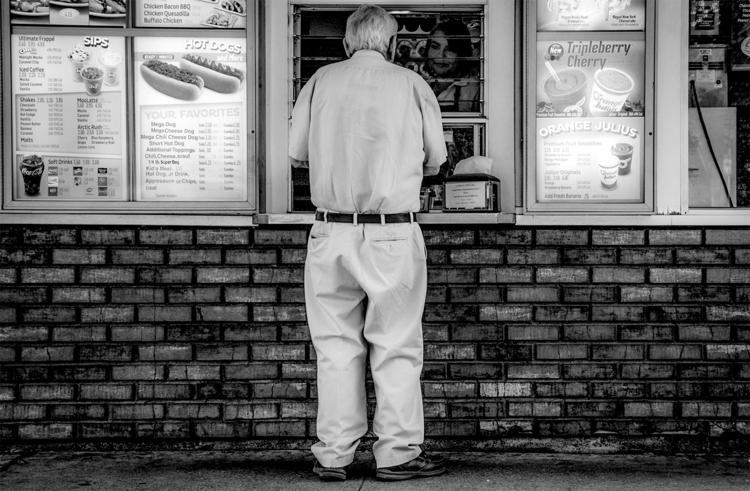 Sometimes she focused on something specific for a whole night, like shooting people from the waist down, highlighting a woman with leg tattoos and high-lace boots alongside a young mother in fuzzy slippers alongside an older man in baggy pants.
She would watch as customers walked up to the window, observing their attitude before and after they ate their ice cream, or gauging how much eye contact each gave to the worker inside the window.
"I love seeing what emerges," Weston said. "Amazingly, people forgot I was there."
Maybe not as much when she squeezed into the tight interior of the Dairy Queen, to photograph the employees, working, bantering, taking orders behind the window that at times "feels like a protection, and sometimes it feels like a barrier."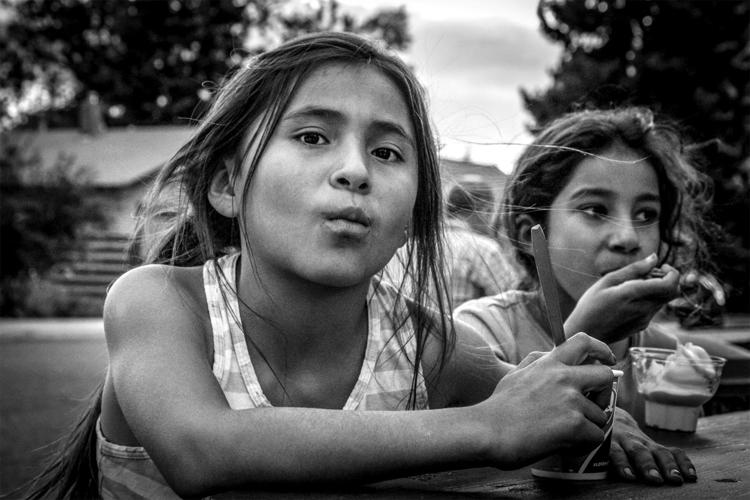 It took the 2016 election for Weston's designs on a Dairy Queen book to be put on hold. The documentation of a neighborhood ice cream shop felt "too bucolic" to Weston, unnecessary when, in her eyes, America had much bigger problems. A former activist, Weston sprang back into action organizing marches and political advocacy in Missoula. The Dairy Queen photos felt like they were from another era.
A few years on, though, and Weston has come to appreciate the photos a little more. She was invited to be the American representative in a German street photography exhibition in June 2019, and sent some of her Dairy Queen series to be shown.
And, although she's no less serious about political activism, Weston said eventually the Dairy Queen book might come through.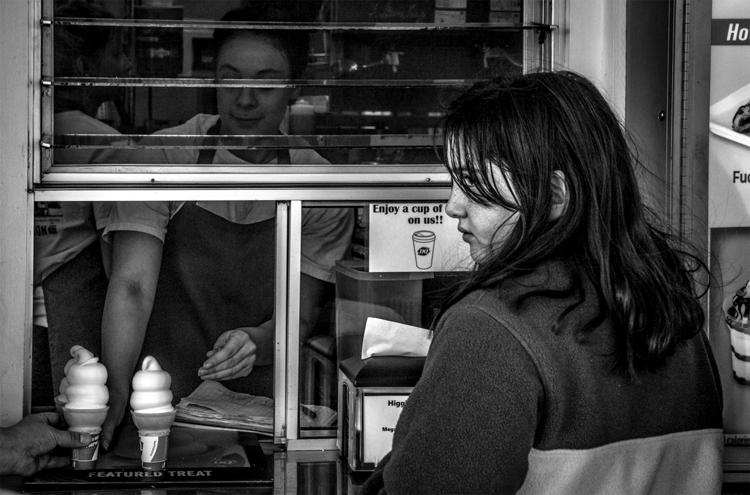 "It's my chance to reclaim, a little bit, what I felt Trump took from me," she said. "I think that there will be a time in my life when I do it." 
In the meantime, people still walk up to the window every day from Valentine's Day to Halloween.
A couple embrace in the soft-focus background as they wait for their order. A teenager stares at the menu's options, a dog optimistically sticks out its tongue at a child's Dilly Bar, just moments away from potentially melting off the stick.
"There's something kind of sweet about it, and ubiquitous," Weston said of her neighborhood ice cream shop. "I suspect they have similar roles everywhere."