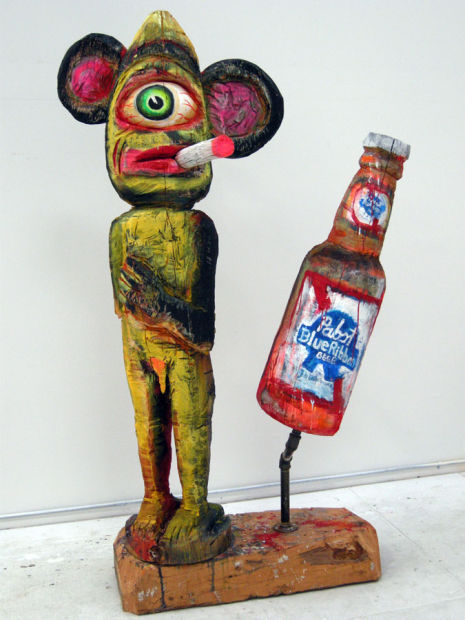 Jay Schmidt doesn't detect much subtlety in the modern world. The art in his exhibition "Warning Shots," one-ups what he dislikes in our culture: constant motion, chaos, tension and anxiety.
The Bozeman resident's paintings are overstuffed with detritus: Beer cans and whiskey. Race cars and monster trucks. Fireworks and machine guns. Slogans and parodies of slogans.
Cartoonish renderings of public figures like Barack Obama, Osama bin Laden, Michael Jackson and Pat Tillman vie for your attention with hysterical neon hues. When those colors weren't kinetic enough, he added black lights.
"We're a civilization that's like a runaway train chewing up the resources of the world. We don't really have a direction, but we're moving there fast wherever it is," Schmidt said.
The longtime art professor from Montana State University, who retired in 2007 after 24 years, said his work has grown less subtle and more political over the years.
It's also expanded to include a venerable Western form of art not frequently seen at the Missoula Art Museum: chain-saw sculpture.
He picked up the medium about 2 1/2 years ago from members of an art collective he belongs to called Paintallica. He found the cut logs to be a "blank canvas" for the style and message of his two-dimensional work.
"The paintings have an energy to them – a gutsy rawness to them. And the chain saw enabled me to get that same kind of raw form and energy into the sculptures," he said.
A number of those sculptures are looming high in the MAM's largest gallery space – there's a cartoonish rat next to an oversized can of Cold Smoke, a 10-foot-tall pink machine gun next to a Day of the Dead-like skeleton. With the flick of a switch, the skeleton's arms begin bouncing up and down courtesy of a small motor, another manifestation of that motion Schmidt sees everywhere in our culture.
In one sense, Schmidt said it's "a very traditional, conservative show." His sculptures are made the old-fashioned way – through a process of reduction.
"Nobody carves figures. It's like carving figures out of marble. It's the same process. Very few people carve like that any more," he said. Even his paintings, which can include up to nine canvasses, are done in the old-school medium of oil.
It's also somewhat of a throwback in that political subject matter. Schmidt earned his BFA in 1974 and his MFA in 1976, when going to art school was a riskier proposition.
"I always saw art as being a subversive activity outside of the mainstream, as a renegade discipline. I think now it seems more like a career decision," he said.
In addition, many modern art forms shirk current events for smooth surfaces or abstract ideas, where he tries to pack in as much human expression as possible.
"I think we have huge problems, it's certainly part of the world out there. For me, it's a way for me to address the world I see out there," he said.
Stay up-to-date on what's happening
Receive the latest in local entertainment news in your inbox weekly!