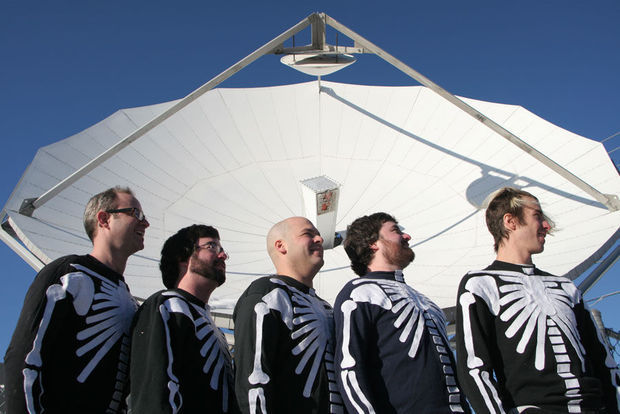 Fourteen years ago, Josh Vanek threw a one-day festival at Jay's, a now-defunct rock venue on Main Street, to showcase a few of his favorite touring and local bands.
There was Missoula space-rock band the Volumen and locals Mahamawaldi, plus out-of-town acts like Last of the Juanitas and the F— Champs. They played on a Monday, of all nights.
Next Thursday through Saturday, 44 bands will play five venues around the city for the last Total Fest.
Vanek is ending the nonprofit, volunteer underground music festival, after it became too time-consuming for him and the stable of volunteers. The timing felt right as well, and he can end it on a high note.
For the last blast, organizers went after some of the favorites from years past, including a heady dose of reunions from Missoula acts that were scene highlights from the 1990s through the oughts.
"I feel like I've luckily gotten most of them," Vanek said. "I think from a Missoula standpoint, getting Volumen and Oblio Joes and Humpy and Sasshole, and Mike and Rick pretty much lets it kind of go to bed with a nice closing."
Indeed, the list of festival bands looks like a re-creation of a listing from a faded flier from Jay's.
Volumen, with their catchy melodies and relentless energy, were ubiquitous around Missoula before they went dormant.
Guitarist and singer Doug Smith figures they haven't played in three years now, and by his estimate this will be the ninth or 10th time they've played Total Fest.
They're planning on spanning the Volumen catalog, pulling in requests from online requests, instrumentals and tunes ranging from 2001 to 2010.
"It's going to be pretty fast and rocking," Smith said. "We don't want to lose any momentum for the night."
There will be more than a few fans staying for the Thursday closer, when the late great Oblio Joes play.
Singer and guitarist John Brownell figures the group played their last show in 2007, save for a reunion concert on New Year's Eve 2009.
While they're keeping most of the set under wraps, bassist John Fleming said you can probably expect standards like "Roll On, Kentucky Moon," and "Ginger," in addition to songs that span the group's five albums.
Brownell said he's expecting many faces he hasn't seen in a long time, and he particularly wants to see Mike and Rick.
He has family coming into town for the show, including his mother, who never saw the Oblio's live before.
"I'm not sure what she's expecting. She'll probably see an aspect of her child she never knew existed," he said.
Keyboardist Ian Smith is unable to attend, so any songs dependent on his instrument are out of the question.
Fleming said he's looking forward to friends and band members who moved long ago.
Another one of his groups, Everyday Sinners, haven't played in well over a decade.
"It's going to be crazy seeing some of these people I haven't seen in literally 15 years," he said.
He figures the reunion aspect of the last festival will give a chance to highlight the city's recent music history.
"It's a good way for oldsters like ourselves to show younger kids what was happening before," he said.
Fireballs of Freedom, a legendarily loud and sleazy act now based in Portland, Oregon, are returning to their former hometown after a long stretch without a show here.
The group played the second festival, and Vanek said they're a "a huge part of why I began the whole deal."
Non-local bands make up most of the festival, and Vanek secured many he wanted for the finale.
Big Business, a blistering two-piece from Los Angeles, played the festival at least twice, last in 2011.
Two of Vanek's favorite bands will close out the lights as well, and their past appearances are some of Vanek's favorite memories of the festival.
"Hammerhead and Vaz are two of the bands I probably have listened to more than any other music in the past 25 years, and we just announced Hammerhead for the last Total Fest, that's kind of an incredible thing, when I think about it," he said.
The two share members, and the pummeling group Hammerhead re-formed only recently and don't play frequently outside Minneapolis.
Vaz, a propulsive quartet who can flip from churning noise to splintered melodies, played the festival in 2011 and 2014.
Vanek, who also releases vinyl on his label, Wantage Records, and has promoted shows around Missoula for years, prefers to be a musical omnivore. And as such, the festival has more non-heavy music that it's usually given credit for.
"It's a really solid and pretty varied lineup this year. I always kind of think that, but I think it's pretty water-tight this year," he said.
The Thursday opener is deliberately more mellow, as it takes place at the Zootown Arts Community Center's basement.
Like last year, bands will play on stages designed by local artists.
The evening has an unusual number of the acts wielding acoustic or undistorted guitars while maintaining sensibilities that often fall outside the mainstream.
It opens with Wartime Blues, Missoula's writerly indie-folk octet, and also features similarly acoustic acts.
June West, a former Missoula resident, has smart and beautiful country and rock tunes, doused with just enough reverb and accented by pedal steel. She's followed by Jonny Fritz, a sometimes funny and always insightful country songwriter from Nashville, and closes with the Oblio Joes.
Since this festival is the last, Vanek said there are caravans of former Missoulians making their way from far-flung places like Chicago and Alaska.
That's been borne out by three-day pass sales, which are moving way more quickly than usual.
"We fill a number of presales out of town, but I would say by now we're at like 400 percent. I think the word has gotten out," Vanek said.
One of those out-of-towners is Dennis Lynch, who volunteered on the festival committee for years before moving out of Missoula.
He remembers helping sift through the hundreds of submissions each year, most of whom he'd never heard of before.
"That was the beauty of it," he said. "Exposing everybody to all these different styles and different classes of music."
"To be able to get it all compacted in three days is just amazing," he said.
Brownell said the idea of the short sets of 25 or 30 minutes was a good incentive for the groups.
"The bands prepare in a way – they're forced to get rid of the bull—," he said. Not all do, he said, but most of them leave you wanting more.
Lynch let touring bands and travelers camp in his yard for so many years that he'd often come home to find unexpected tents. Once the festival was in swing, there would be 20- or 30-some people hanging out there.
At big festivals, you can spend hundreds of dollars to see music with thousands of strangers. Total Fest's $60 pass offers some intimacy – barbecues and river floats. As Smith described it, a bunch of pasty white punk rockers in all black, riding on inner tubes in the Clark Fork River.
"You can buy 'em a beer and hang out with them afterward if you want," Lynch said. "It's just a more personal level."
Next week: More coverage on the weekend's acts.