Many of the works by the American conceptual artist John Baldessari are easy to like, or at least to look at. Untangling them is more challenging.
A stereotypical Baldessari print, if there is such a thing, might comprise a found photograph with circles, in basic primary or complementary colors, covering the faces of the people pictured. Try to unravel the images, which are often quite funny, and the complexities can start to give the viewer the same sense of vertigo one might experience upon realizing that a puzzle has no solution, trying to figure it out was the point.
"I am interested in what gets us to stop and look as opposed to simply consuming images passively," Baldessari has said. "If there is anything political in my work then it is to be found in the ability of my images to question the nature of imagery itself. The more we are able to read images and understand how they work within our culture then the more empowered we will be as individuals."
That gap between the appealing surface and the conceptual depth is one reason that the Missoula Art Museum's print exhibition, "Interference Effects," starts at the beginning for the native Californian and icon of West Coast art, now 86 years old.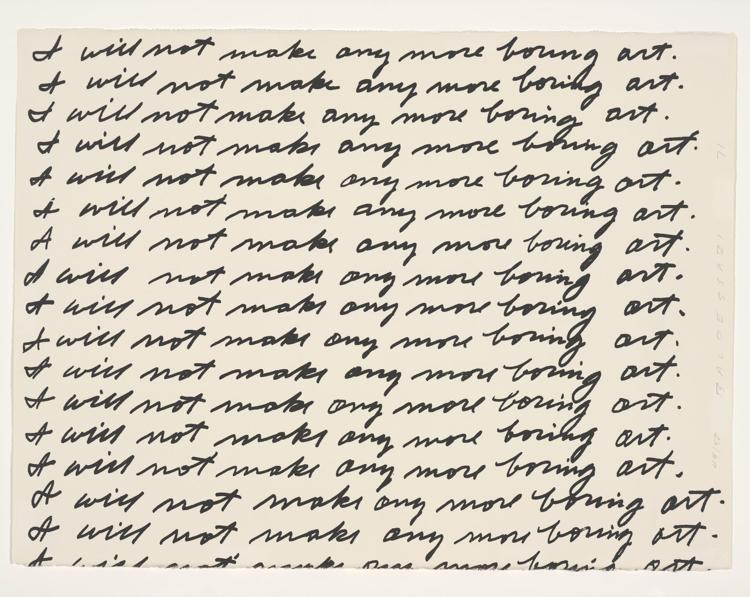 Baldessari's first print, made in 1971, is something of a mission statement. "I Will Not Making Any More Boring Art," consists of that very sentence repeated 17 times in cursive. On its own, this disciplinary technique for misbehaving kids is not exciting, but the words themselves ensure that it is not in fact, boring art.
The piece originated after Baldessari was invited to the Nova Scotia College of Art and Design. When money to travel to Halifax came up short, he sent a set of instructions for a project. The students wrote the phrase "I will not make any more boring art" a thousand times on the gallery walls, a result that Baldessari liked so much that he made it made into a print.
The artist grew up in California and has stayed in his home state. His long career as a teacher "bled over into his life and his work," said senior curator Brandon Reintjes. He says many of the pictures feel as though he's giving a lesson how pictures and visual culture work. His influence looms wide because of that classroom experience, one of the reasons the MAM thought it was appropriate to exhibit his work here.
The works are on loan from Jordan D. Schnitzer and his family foundation. The Portland, Oregon, collector heavily favors contemporary prints, which he loans to museums for art exhibitions. The MAM surveyed the 275 or so Baldessari prints and opted for a career-spanning look.
It's not possible to go back much further than "I Will Not Make Any More Boring Art," that early career mission statement. In 1970, Baldessari had an epiphany about the style of abstract expressionist painting that he'd pursued. Like a frustrated novelist, he burned his work, 13 years' worth, in a crematorium and documented the whole process.
After turning away from his previous style of painting, Baldessari turned to photography, whether found images or his own.
He often looked for source images in the dumpsters behind photography labs or in secondhand stores, according to Hunter Drohojowska-Phip's essay, written for a prior Schnitzer exhibition. He could crop or manipulate them as he liked, taking advantage of the viewers' familiarity with professional stills, Drohojowska-Phip writes.
One of Baldessari's signature tricks grew from these pictures. He wanted to remove easy points of interest from his work, which includes the faces of the people in the photos. He began covering them with circles, choosing red, yellow or blue. He chose primary colors at first as a means of eliminating artistic "choices" as a whole. A particularly famous example is a series called "Stonehenge (With Two Persons)". Two people, presumably men, in black-and-white pose in front of the monument. Their faces are covered by circles. The monument is covered with a colorful cutout. Each has two primaries and the corresponding complementary.
"He really undermines what your expectations are, no matter what your expectations are," Reintjes said. "He is always working against you and challenging you to challenge your assumptions."
Baldessari loves the contradictory possibilities of text and images, which seems especially prescient now that people are saturated with pictures, and always searching for alignment between pieces of information that might not be at all related.
He's said he's "interested in what conceptual leaps people can make from one bit of information to another and how they can fill in the space."
As an example of the ways he can be hilarious and profound in a concise way, turn to one of his word-based paintings. "Pure Beauty" consists of the all-caps title phrase "PURE BEAUTY" in hand-lettered black type on a white background — a deliberate, plain expression of a phrase meant to conjure something more memorable. It presents an idea rather than embodying it, in a fashion that is ironically easier to remember than the myriad details of painting.
A set of three prints, the racism-themed "Cliche" series from 1995, is an appropriate choice for a state in which American Indians are the largest minority group.
Reintjes said Baldessari finds cultural assumptions, such as the nonsensical association of color with skin, and challenges them. In this case, he follows them to a point where the absurdity becomes plain. "Japanese (Yellow)" has found images of figures in Japanese dress, faces blotted by circles, paired with block of large yellow printing (ink). "American Indian (Red)" follows the same logic: red theme, images pulled from movies, faces covered. The final step in the absurd sequence is "Eskimo (Blue)": centered on a still of (presumably) an Eskimo steering a sled. Why it's blue is the open question. The secondary images are even farther afield: What appears to be a man in a bear costume toting some luggage and a person (not pictured) grasping a penguin. Why is there a penguin, a species indigenous to the South Pole?
It's a strange image that draws the eye, for one.
"He has these images that look so interesting and innocent and playful, so he seduces us to look at his work," Schnitzer said.
Once you're looking, though, the interpretation is open. "What he's trying to get us to think, that's unique to each of us as individuals," he said.