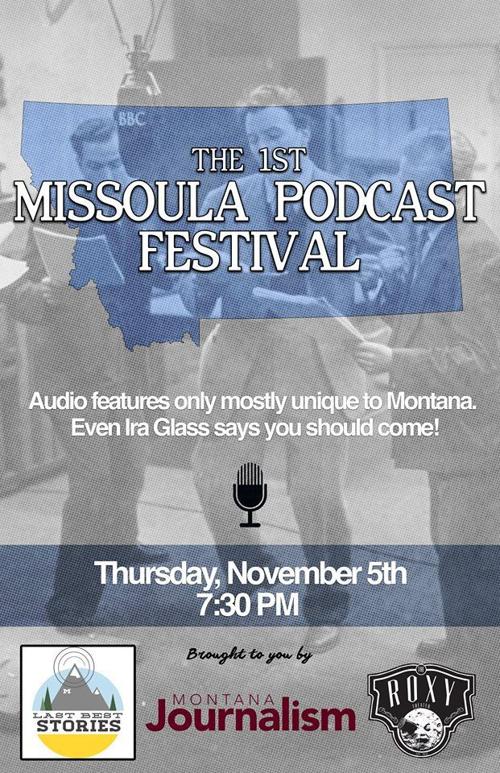 Missoula podcast fans are coming together to share their love of the audio medium with a listening party, and are inviting anyone new to the format to use it as a introduction.
The Missoula Podcast Festival will be held at the Roxy Theater on Thursday, Nov. 5 at 7:30 p.m.
In addition to organizing the new event, Jule Banville is a journalism professor at the University of Montana and the editor and host of a podcast called "Last Best Stories" that launched in July. The show features the work of some of her students as well as professional radio producers from around the state.
"I felt like my students were producing these eclectic stories that had real value but were a hard sell for a news station," Banville said.
The flexibility and freedom of the podcast format was a perfect fit sharing those stories with listeners.
In addition to previously unaired segments from "Last Best Stories," the Missoula Podcast Festival will include work from professional radio producers from across Montana, like Clay Scott's "Mountain West Voices" and a new podcast venture by Missoula's Amy Martin on environmental issues affecting the West.
Banville unaired "Last Best Stories," segments include a story from Bozeman-based producer Danielle Thomsen on an injured skier who loses the ability to walk, and his journey learning how to find ways to continue his active lifestyle.
Rather than panel sessions getting deep into the minutiae of podcasting, Banville said she sees the show as more of a listening party.
"We're all out there listening and thinking about these stories. Let's get together and have some beer and some popcorn," she said.
Banville has been producing the audio that will be a part of the show into blocks of programming, with short break periods between them for the audience to talk about what they've heard.