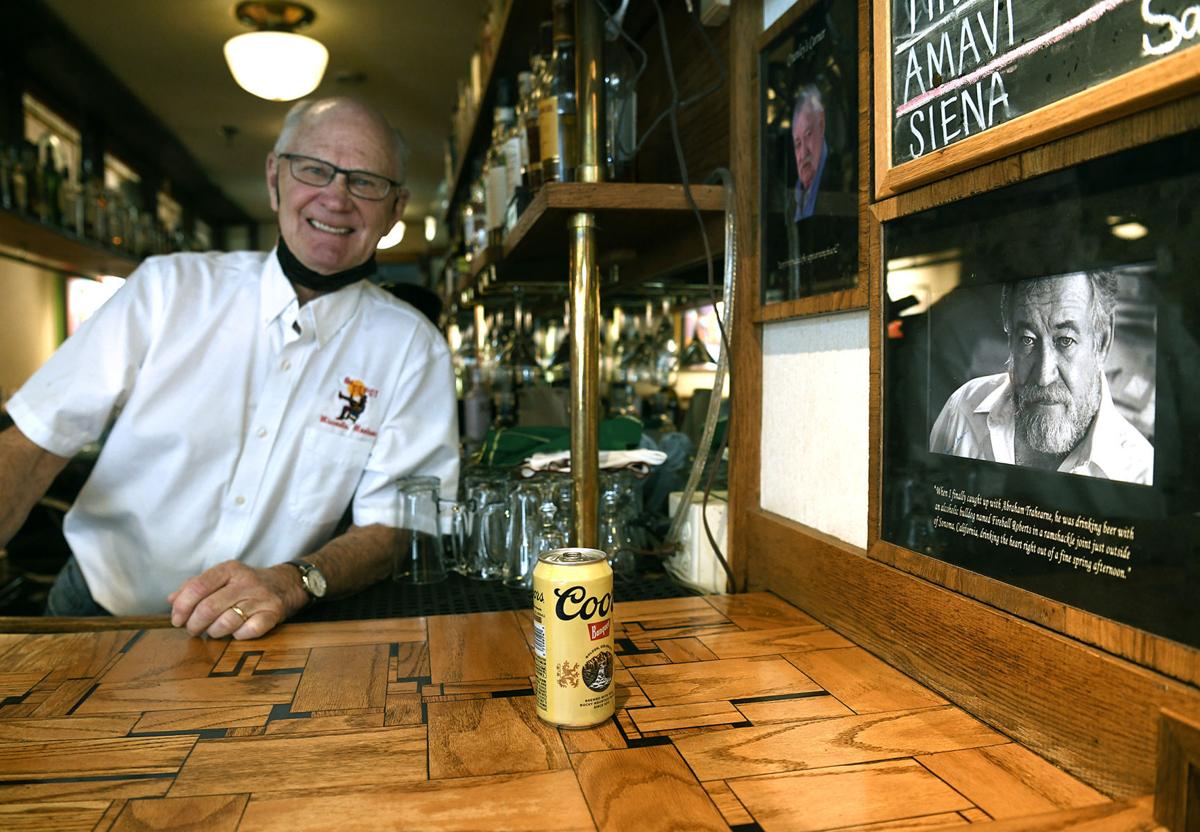 Missoula's still a writer's town, where in normal times you might notice published authors hunched over laptops in a coffee shop.
In a prior era, the literary scene placed its stamp on the bars. Some are staples of downtown Missoula, growth and pandemic aside, and others have, over the years, closed or changed hands, or exist only in the books.
One of the mainstays, The Depot, has dedicated one stool to its writer-patrons. Since his death in 2008, "Crumley's Corner" has paid tribute to James Crumley, the late detective novelist whose lifestyle and characters often mimicked his own hard-living style. With William Kittredge's passing in early December at age 88, the stool will be rechristened as "Writers' Corner."
Mike Munsey, the owner who considered both writers as friends, said it was an honor that they became regulars at his place, which now going on 48 years, takes awhile to earn the title. In contrast to any movie-scene visions of "great writers holding court," Munsey recalled them as humble, coming through for dinner and a drink.
Kittredge might get recognized, sometimes with a "thank you" for leading a fight against an attempted trademark grab of "The Last Best Place," the anthology he co-edited, by the Paws Up Ranch. Outside of those occasions, "he was just a regular guy with a big resume," Munsey said.
Crumley, on the other hand, was a character. He would show up before opening at 4:30 p.m. and help himself to a Coors beer, which the bar stocked especially for him. He wrote The Depot into his fiction and sometimes people came looking for him. Munsey recalls one day when a visitor told Crumley he'd named his dog "Fireball Roberts," after a character in Crumley's famous line about "drinking the heart right out of a fine spring afternoon" that opens "The Last Good Kiss."
"I think Crumley was happier about that than if he got a Pulitzer," Munsey said. "He was just beaming all night long — this guy named his dog after this character."
Another time, a visitor from Texas came looking for Crumley. After Munsey pointed him out, the tourist asked Crumley if he'd sign some books. First they shot tequila, per Crumley's requirement. Then they ended up having dinner and he wrote a paragraph each in the fan's stack of novels.
"This guy thought he'd died and gone to heaven," Munsey said.
Before the fans, there had to be something to draw the writers. The University of Montana's Creative Writing Program brought many of them to Missoula. What also kept some of them here was the cost of living, something both Crumley and Kittredge attested to. Kittredge once said the city offered him 'a hugely privileged life, not possible much of anywhere else for a man with my income."
Over at Charlie B's, the writers are still there. The poet Dave Thomas might be at the bar if you're there at the right time, a regular since it was Eddie's Club back in the '70s. All around you, too, are portraits of regulars shot by photographer Lee Nye, who tended bar at Eddie's and shot pictures through the mid-'70s and then again when its original spirit was revived as Charlie's.
A new book, "A Corner of Space and Time," by Jean Belangie-Nye, the late photographer's wife, and Aaron Teasdale, preserves the scene. Teasdale makes the case that in the 1960s and '70s, it was the literary bar in Montana, judging by the volume of wordsmiths in the room. As you can still see, Crumley and the poet Richard Hugo are immortalized on the walls, and on any given night before the pandemic, there might be an aspiring novelist among the Friday night crowd.
While Charlie's has remained timeless, other have changed. The Eastgate Lounge, a bar and liquor store on East Broadway, was a regular watering hole for writers back before its reincarnation as Diamond Jim's. After Crumley's death in 2008, the writer Neal McMahon recalled the startling image of the novelist walking into Eastgate covered in blood one day in 1978. Despite the assumptions based on his outsized reputation, it turns out he'd helped a teenage pedestrian who'd been wounded in a hit-and-run, waiting with him until an ambulance arrived.
The Depot was considered among the upscale places on the list. Others were blue-collar by preference — after all, writers don't make very much money, and some, like Hugo, grew up that way.
Count among the destinations Harold's Club in Milltown, always a working man's bar, which seemed to be a draw for Hugo (who also lived nearby for awhile) and the cohort of writers.
"You could love here, not the lovely goat
in plexiglass nor the elk shot
in the middle of a joke, but honest drunks
crossed swords above the bar, three men hung
in the bad painting, others riding off
on the phony green horizon."