For tattoo artist Melissa Thompson, decorating the body with make-up rather than permanent ink "blossomed into an obsession," she said. It's ephemeral, the paint washes right off, and artistic freedom is a given.
"I can design a body suit for somebody, and most people just let me go with whatever I want," she said. The stakes for a tattoo design are naturally higher, and clients understandably specific about what they want, which makes body painting a refreshing contrast.
Thompson, a professional tattoo artist for 18 years who works at Blaque Owl Tattoo, first began experimenting with body paint three years ago after seeing the reality TV show "Skin Wars."
She's done around 25 body paintings now, and likes the challenge of live events — sometimes at First Friday events, often in the window at Blaque Owl, and once at 4 Ravens for First Friday.

During the last art walk, she painted a full-body design on Sherika Fernando, a yoga instructor and studio owner.
In her tattoo work, Thompson specializes in botanical designs, with a technical, realistic touch, which lent itself to Fernando's ideas.
A light emanates from the stomach outward and transforms into blue-, green- and wine-colored peacock feathers, branching onto her arms and legs. It's based on the ideas of "purusa," or "finding your inner light of awareness, and connecting with your higher self," Fernando said. She already has a tattoo of a peacock on her hip and leg, which Thompson decided not to cover with paint.
The feathers, set against a white background, have darker tones in the center to give the illusion of depth — the special body paint allows for nice blending effects.
Purusa Yoga, a studio located in the basement of the Bluebird Building at the northeast corner of Higgins and Main, opened almost a year ago and specializes in aerial and restorative yoga. The aerial style requires the same silk fabric, hung from the ceiling, that acrobats use. The moves in the yoga form can be much simpler, though allowing people to take poses they might not be able to on their own, or to hold poses for longer.
Thompson rents a studio next door, and Fernando pitched the idea of the body painting for First Friday and modeling herself. They painted for four hours, like a self-imposed reality TV deadline, and at the end of the night, around 8 in the evening, Fernando performed a demonstration on the studio's aerial silks in both acrobatic and yoga styles.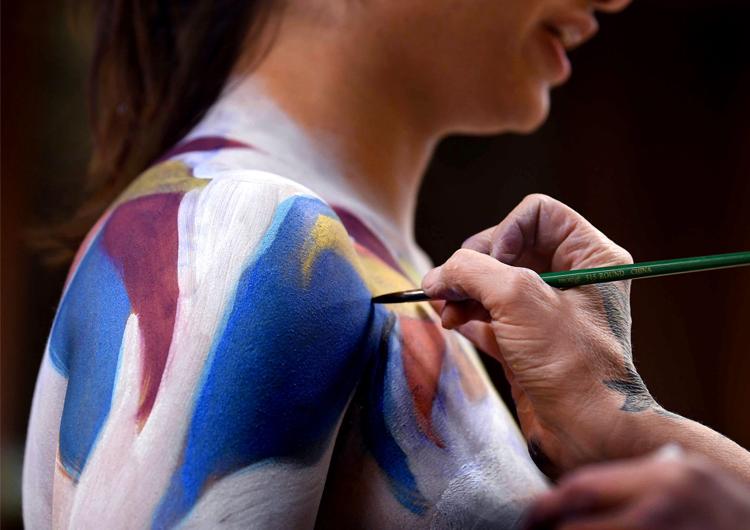 One person out for the art walk last week wandered into Purusa, bringing with him a draft of the 13-degree air.
"First Friday, you know," he replied, after the artist and model said hello. "Trying to stay warm."
"I know. I know," Fernando said, emphasizing the last "I know" with verbal italics. "A little chilly in here."
Despite the cold, a decent number of people were walking around downtown. Some who ventured into the studio needed reassurance that they could come closer to watch and ask questions — adults get more nervous than children, Thompson said.
One woman was not. She was excited enough about the idea that she asked Thompson about hiring her. Thompson gave her a price estimate of $250 and later added that she hadn't been hired by a stranger before.
Another visitor asked how long Fernando wanted to keep the paint on.
"It's my body from here on out," Fernando said.
"It's beautiful," he said.
The project required Fernando to stay standing for most of the time, and she needed to avoid fidgeting or the natural movements we normally make while, say, standing in line for airport security. At least, not moving the particular part of her body that Thompson was painting.
"In a way, though, it's comforting because the brush strokes," she said. She found them calming.
After about an hour, Fernando wanted a cup of coffee. "Are you falling asleep up there?" Thompson asked.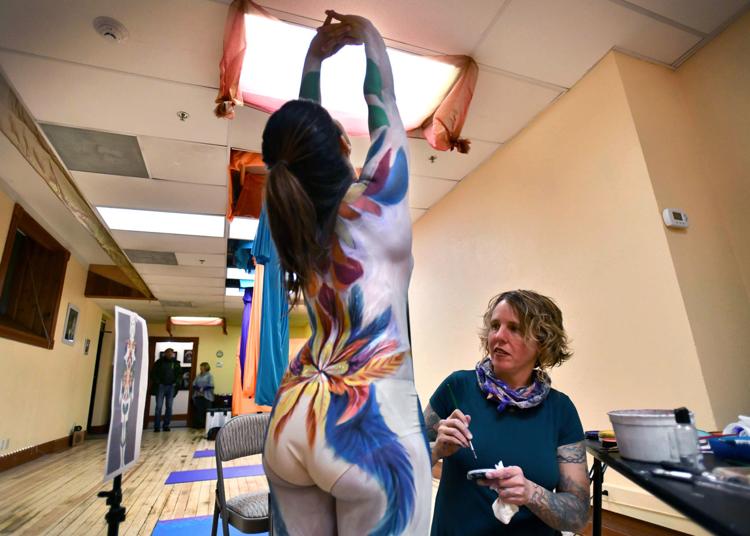 Body painting isn't especially popular as an art form, at least compared to the number of artists who paint on canvas. The annual Texas Body Paint Competition in Houston is the only big one in the United States, with 30 body painters, according to Thompson. It's competitive, though, so it's not like a conference with shop talk and collegiality.
"It would be great if everybody just came together and painted and it was like a way more casual atmosphere, you know?" she said.
They pick from a pool of models, paint them for six hours with a lunch break, and then the models wait in line to pose for photographers and judges, stretching the day out to 15 hours. Despite the commitment, she said by judging time the models are excited — there's a performance element, too. In the end, she placed in the middle of the pack.
She guesses the niche status of body painting it is due to its temporary nature.
"The only thing you get out of it is a photograph. You can't re-sell it or anything like that, and maybe that's what deters people," she said.
Nevertheless, she can enjoy painting, not selling or marketing.
"This is purely process, and then it's all I have to worry about," she said. "Once a piece is done, a lot of times I couldn't care less about it."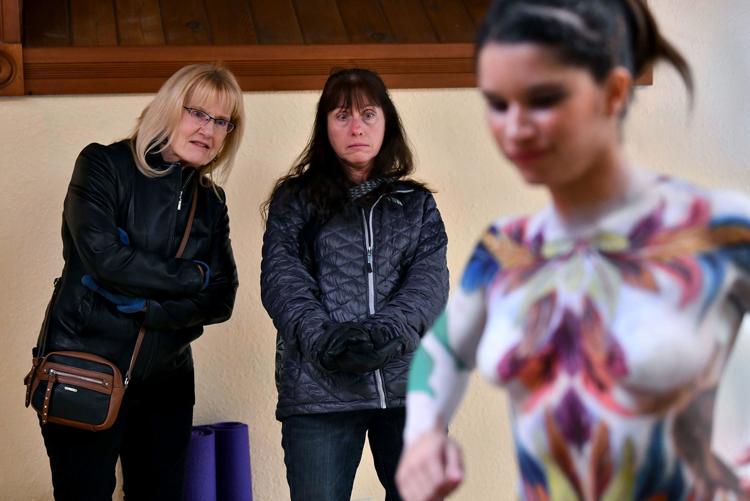 Thompson studied drawing for her bachelor's degree at the University of Montana. She also sculpts, and body painting naturally led into special effects make-up. She's watched hundreds of hours of tutorials online from the Stan Winston School, and has traveled to attend IMATS, the International Make-up Artist Trade Show, where there are demonstrations, seminars and lectures on body painting and make-up, for either fashion or special effects.
She has a particular love of Halloween, her costumes are serious, but she doesn't limit herself to Oct. 31.
"Why do have to stay with Halloween? Why couldn't you just do it all year?" she said.
She's a lifelong fan of Jim Henson, whether the toddler-friendly version ("Sesame Street," "Fraggle Rock") or his PG-rated fantasy incarnations ("The Dark Crystal," "Labyrinth"). Regardless, she loves humor, which is clear from her character designs.
To learn effects, she experiments on herself — it's time-consuming, and she can practice on herself all day without worrying about a deadline.
The projects with friends can take "anywhere between 10 and 200 hours to make," all for a day's fun and photo shoot.
A friend volunteered to help her learn to transform someone into an elder version of themselves. Afterward, they went to the James Bar, where under the moody lighting, the waitress didn't notice the make-up. When they were leaving, her husband didn't hold the door for their friend, since he's not really old, and a disapproving passer-by did.
"I was like, 'Make-up a success,'  Thompson said.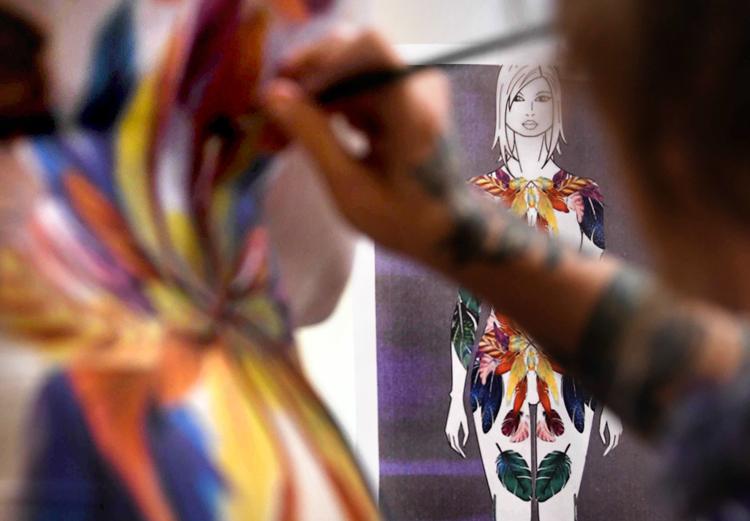 She's created animal characters, like a monkey king, for the WildWalk parade at the International Wildlife Film Festival. At a tattoo convention in Seattle, she made walrus-man, walrus-y mouth, nose, scratched and weathered tusks and all (plus a pipe).
Most of them are made from foam latex, requiring a full facial cast — eyes and mouth covered, which can be claustrophobic — and accented with make-up and dyed felt.
Her husband, Barry, served as her model for the World Body Painting Festival, held every year in Austria. Working from images of the ornate spiny lobster, she created a bright teal and orange creature that looks to have emerged from a surreal fantasy film set underwater. She recently was hired to design a mermaid costume for a film, "It Came from the Sea." They needed a combination of body painting and silicone fins that could be worn underwater for hours of shooting without falling apart.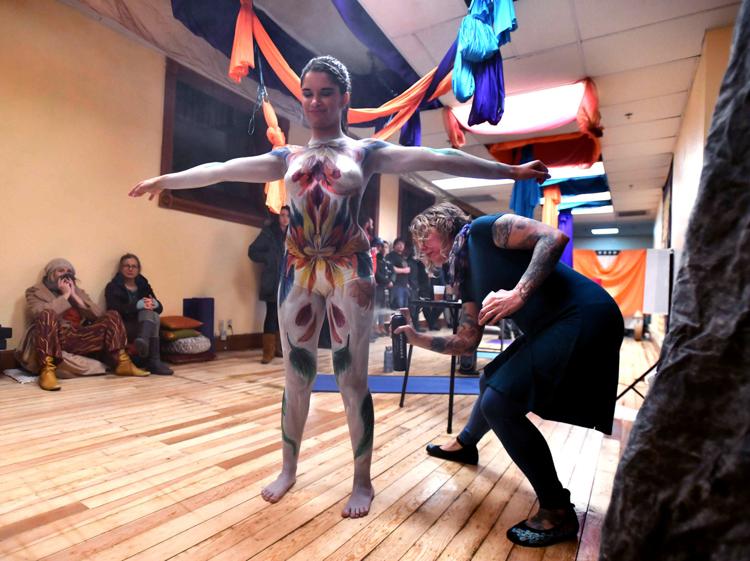 As the 8 p.m. deadline loomed, Thompson began enacting painter's triage, deciding which sections would get final touches of detail, and which would stand as looser, more gestural brushstrokes. After all, it would be be a moving canvas.
The paint dries quickly. It can stay on for days if one is interested in leaving it on. While it's professional grade, Thompson said the aerial silks would probably wear some of it off. But she's just fine with that.
"I like that it will be perfect at the beginning and then it'll just be a mess by the end," she said.
Fernando concurred. "Unraveling," she called it, as opposed to wearing off.
While many folks said they would come back at 8 p.m., one never knows if they're getting the "Missoula goodbye." However by 8 p.m., there were some 20 to 25 people, enough to line the wall of the studio.
Fernando grew up doing gymnastics and cheered in college, so aerial silks "came naturally" to her. She's more interested in practicing the skill than performing with any local troupes, and felt nervous as people filtered into the studio.
It didn't show. Once she started, she was a whirl of motion, spinning and wrapping the silk into new configurations in midair, moving from yoga pose to pose, often holding them at length, taking Thompson's bird feathers on their first and only flight.