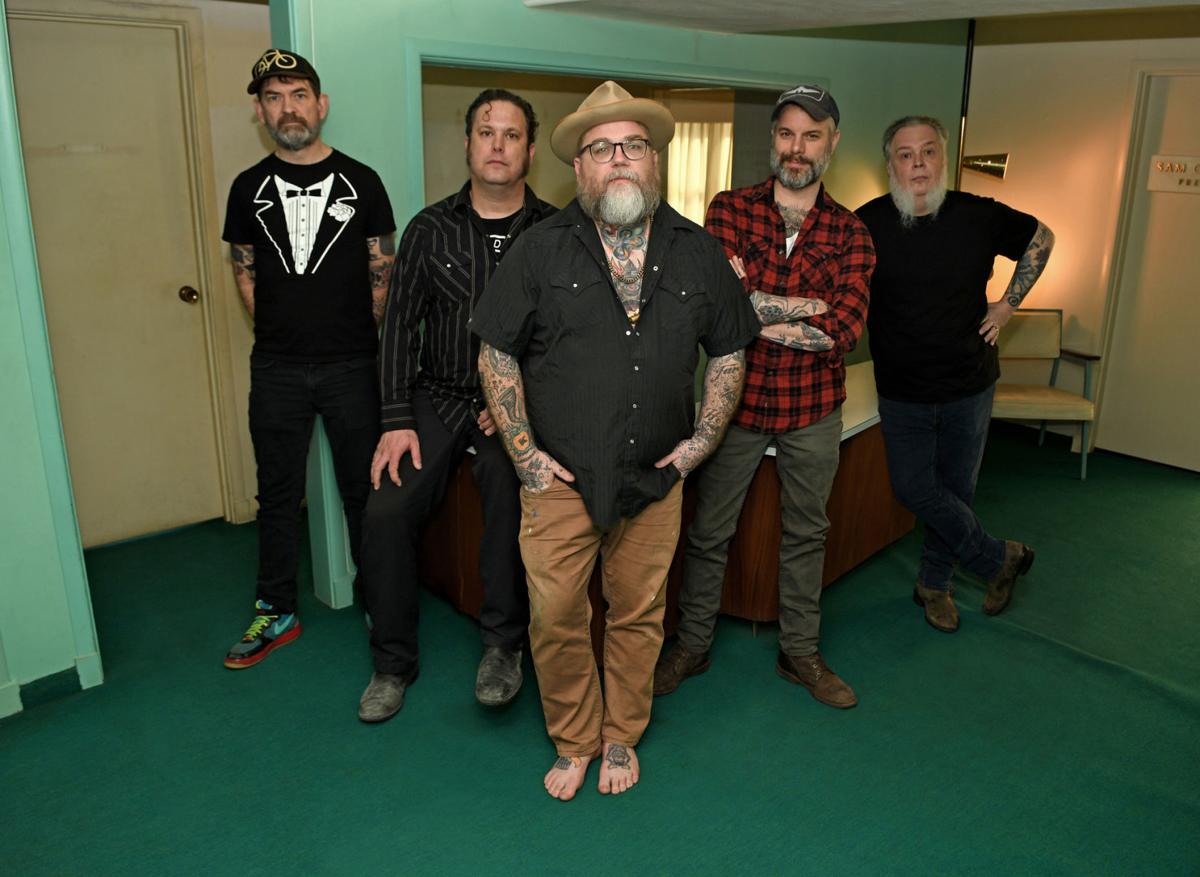 On their ninth studio album, rock/alt-country quintet Lucero decided that instead of recording stories, they needed to engage them. "Among the Ghosts" departs from the familiar Memphis style of their earlier arrangements — the blaring bluesy horns and blues-infused riffs — in search of a deeper, more intensely introspective approach rooted in the evocative nature of prose.
Gone are the boogie-woogie piano bars and the Memphis-centric sound of the past; in its place is an entertaining curiosity that is worth a close listen — for its simplicity, its wide-eyed wonder, its inspired way of choosing and combining vignettes, its unwavering pride in the inspiration of literature.
Indeed, as an alternative to choosing something that they were already capable to do, Lucero picked something that they felt like they were made to do, a departure from all previous designs. Co-produced and engineered by Grammy Award-winner Matt Ross-Spang (Jason Isbell, Margo Price, Drive-by Truckers), "Among the Ghosts" includes the original recording of "Loving," written and recorded by lead singer Ben Nichols for his brother Jeff Nichols' film of the same title, as well as "Back To The Night," a radically different spoken word interlude by actor Michael Shannon (Academy Award winner for Best Supporting Actor for his roles in "Revolutionary Road" and "Nocturnal Animal"). While Lucero's last few albums contained an overabundance of pre-production, demos, rehearsals and mixing, "Among the Ghosts" reveals the band's newest version of itself: looser, a little rougher around the edges, delving into the pantheon of classic rock 'n' roll.
"Among the Ghosts" was recorded at Sam Phillips Recording Service in Memphis, Tennessee, which allowed the band to soak up the great musical history of Memphis while discovering a fresh perspective through self-examination of their thick roots.
"Memphis has a great musical history to it," said Lucero's singer-songwriter and guitarist Ben Nichols. "You've got Elvis Presley, Jerry Lee Lewis, Johnny Cash, Howlin' Wolf, Stax (Records), and Booker T. and the M.G.s. You are constantly surrounded by the mythical past, and that's cool and inspiring. You are driving those same streets, and we got to soak it all up while recording at Sam Phillips Studio … the studio itself has a real nice sound and there was a lot of thought put into it. The building itself, and its reverb chambers, have a specific sound and were built for the best effect."
The rich atmospheric vibe of the album sharply departs from the quintet's most recent few; "Among the Ghosts" harbors a dark, cinematic quality, as if the songs were approached as individual scenes in an epic movie, radiating an open, moody quality. Indeed, the songs capture the essence of the short story writer, shunning the autobiographical nature of much of Lucero's previous labor in favor of a special form of voyeuristic storytelling. It's a reminder that music searches for us, no matter what dark place we're in or what door we're behind.
While previous works were primarily autobiographical, "Among the Ghosts" finds Nichols asserting the role of narrative storyteller, and musically, the band digs in tightly with the unadulterated rock-and-roll vibe that guided their earliest years. The album is tightly anchored by straightforward and at times melancholy and serious lyrics, ten new songs steeped in evocatively Southern-tinged descriptions.
"This is different from other Lucero records because it has a cinematic quality," said Nichols. "We were approaching them as individual scenes in an epic movie. It's more open and it has that kind of atmosphere on it. We wanted it to be more like short stories that all fit together and where each one tells its own story. Ron Rash is one of the Southern writers I admire and I tried to capture the mood of similar short story writers, and to get the general idea of the songs away from autobiography. This album is different because the catalog and the narrative are from a place other than myself; where the earlier ones have been more directly out of my own life, this is an exercise in the craft of songwriting and in that kind of short-story storytelling."
"Among the Ghosts" highlights Nichols' literary-influenced episodes drawn from several contemporary short story writers, including South Carolina-born essayist and poet Ron Rash. Nichols employs lines from authors that he has admired and inserts a few new verses, inspired from some other favorites. He borrowed, re-arranged, transferred and created verses with a craftsman's precision, juxtaposing his own spontaneous expressions with other sentences, phrases, and words inspired from a slew of origins. ("My Dearest Wife" is pulled from the opening declaration of a Civil War-era letter that caught his eye.)
"I really drew from more contemporary Southern writers like Ron Rash and Larry Brown," said Nichols. "There are a lot of ideas in the lyrics, both old and new, and there are certain lines that I liked that I placed here and there and borrowed. There are things I've carried for a long time, and I drew inspiration from short-story lines like things about being distracted by a crush, which inspired the second verse of "Everything Has Changed." "My Dearest Wife" started with a search of some old Civil War letters online and one of the lines caught my eye, and that line might even have been how the letter started."
Nichols and bandmates Brian Venable (guitar), Roy Berry (drums), John C. Stubblefield (bass), and Rick Steff (keyboards) have concocted music with a special spirit, a clear indicator that even after two decades Lucero still has many years of hard traveling and trial and research ahead.
"We wanted to go a different route than what people expected of Lucero," said Nichols. "Most of the new stuff was written spur of the moment or from a list of ideas I'd been working on that was centered around lines out of five stories I'd read. There is no telling where all that (lyrical) stuff comes from and if it and how it all floats."
Stay up-to-date on what's happening
Receive the latest in local entertainment news in your inbox weekly!