One Missoula resident walked away from the Missoula Art Museum's auction with a preview of an installation in August.
Laura Bovard, who's never before attended the Benefit Art Auction, placed the winning bid on Cathy Weber's "Birdhouse" on Saturday.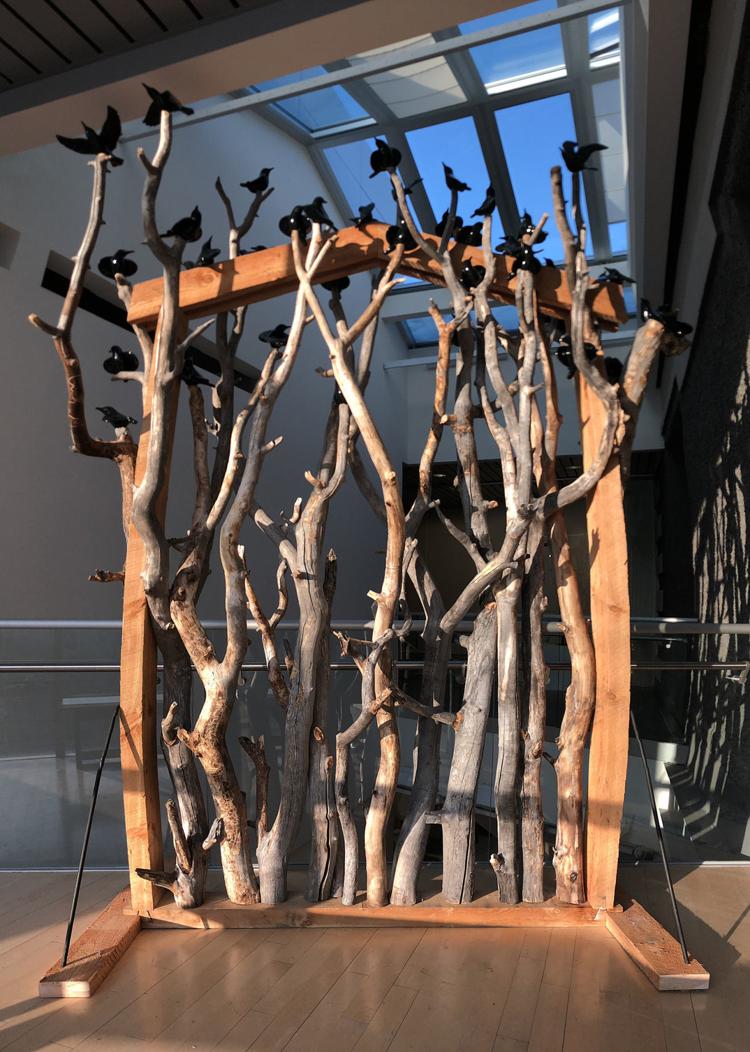 Senior Curator Brandon Reintjes said including the piece was something of an experiment. The Dillon artist typically works in paintings with metaphorical, almost magic realist paintings with meticulous arrangements of objects. In her three-dimensional work, she's made more modestly sized arrangements of ceramic birds on branches.
"Birdhouse" is not so different, although the materials certainly are. It rises 10 feet from the ground: A simple house frame that she filled with vertically arranged branches, each topped with a black ceramic bird.
Bovard said she was moved by the message included in Weber's biography, that her art is "motivated by an increasing sense of urgency to make things of beauty in response to war, injustice, greed and violence." She's contemplating exhibiting the piece outside at her house in the city center. Viewers can expect to see more of Weber's work in August, when she'll have a full-room installation at the Aresty Gallery, the MAM's split-level exhibition space.
Bovard's purchase was one of many that resulted in the auction's best haul in four years, said executive director Laura Millin. The net proceeds for the nonprofit contemporary art museum were $146,000. That includes $37,850 raised during the auction's traditional "moment of giving," when they paused bidding and asked the audience of just over 400 at the University Center Ballroom for donations.
Another pause moment drew applause for Renee Taaffe, the MAM's education curator since 1999, who's retiring.
The high final tally was driven by an enthusiastic crowd and a number of pieces by flagship Montana artists.
John Buck, a sculptor and printmaker who splits his time between Bozeman and Hawaii, donated a 5-foot-tall woodblock print, "Old Ephraim in Paris," dominated by a grizzly bear standing on its hind legs.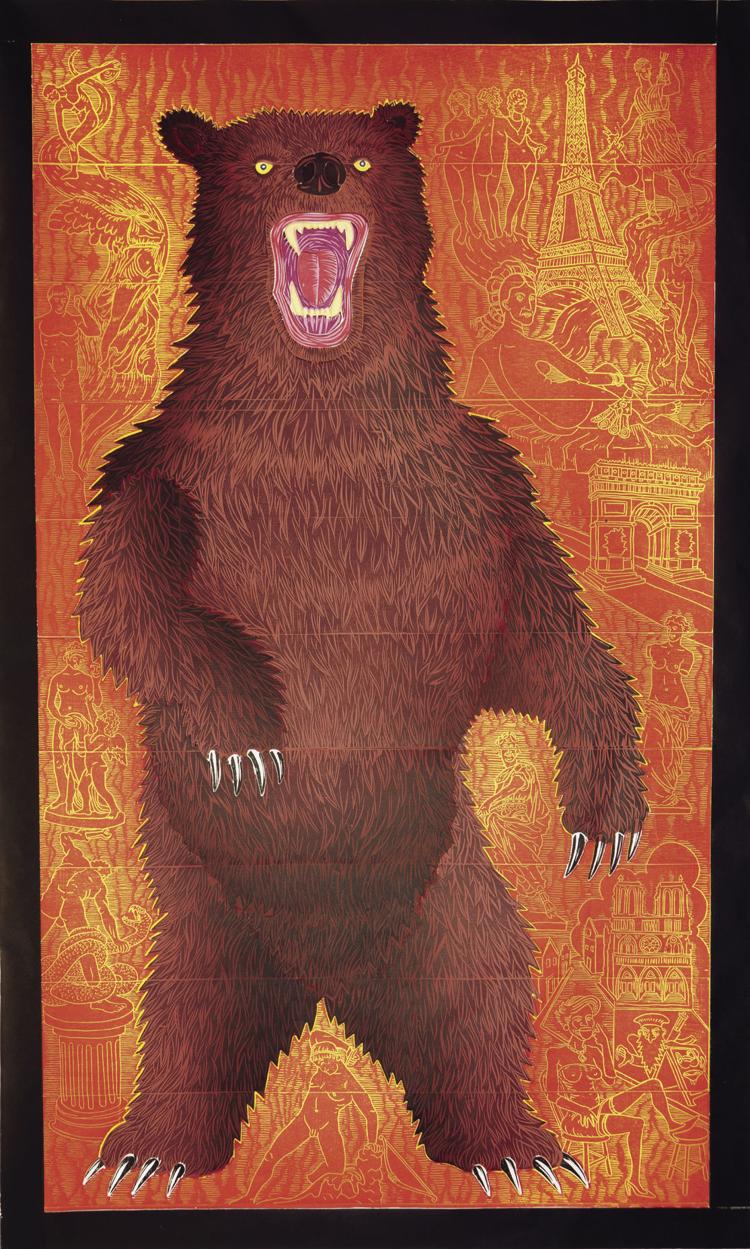 The piece, valued at $5,500, went for $10,000. Millin said it's a record auction sale for Buck print according to AskArt.net, an online sales database.
One surprise piece wasn't included in the catalog. A large exhibition in the MAM's main galleries, "In the Footsteps of My Ancestors," surveys several decades of the St. Ignatius-born artist Jaune Quick-to-See Smith's influential career. Smith, who helped curate exhibitions of art by Native women going back several decades, donated a large store of her own collection to the MAM as a foundation for its collection of indigenous art. She visited the museum late last year, after the auction deadline, and donated a print. It sold for $5,000.
Millin noted that it was one of many pieces that night with strong bidding and a strong political message.
Nancy Erickson's "Where's the Ice?" reiterates her careerlong concerns about the plight of animals, in this case, polar bears. The paintstick-on-paper drawing sold for $3,600, up from a value of $2,800.
The Autio family, whose art collection filled the main galleries at the MAM recently, donated a piece of Rudy's, "Mitzla," colorful figurative work. It sold for $5,300 at a 100 percent donation.
For the second year in a row, Missoula painter George Gogas entered a piece that needles at President Donald Trump. The latest in his long-running series "Judith Basin Encounter" that humorously merges his influences of Picasso and Russell, is called "Charlie and Pablo Were Alarmed When They Realized Donald Was Unaware of the Serious Threat." It went for $5,700.
Upstairs at the MAM's Frost Gallery, which specializes in Native contemporary art, there's an exhibition of contemporary indigenous women artists, "Our Side," curated by Wendy Red Star, a Crow artist from Billings who's now based in Portland, Oregon. Her growing clout in the national art world drew some national press for the exhibition.
Red Star's piece, "Peelatchixaaliash/Old Crow (Raven)," a print of a historical photograph marked with addendum and line accents, sold for $950, from an estimated value of $600.
Many of the artists are based in Montana. One of out-of-state artist, Kaori Takamura, cultivated artistic ties after she was commissioned to create two pieces of public art for the UM School of Journalism. Her piece, a hybrid of acrylic, silk-screen and stitching that created a textured grid of letters and numbers, "Typeface 1416," sold for $4,800.
The crowd typically thins out over the course of the night, yet the remaining bidders were enthusiastic, as borne out by the prices of the pieces that closed out the live auction.
Steven Young Lee closed out the night, at past 10, with his set of two vases with fern patterns. The resident artist director of the Archie Bray Foundation in Helena is new to the auction. His pieces, valued at $750 for a 100 percent donation, sold for $3,400.
Millin said four out of the five final pieces sold for more than their estimated value.
She said the bidding and robust sales "showed a lot of respect for the artistic community."
"We made a strong point of messaging about the strength of the artists in our community and the support for them, which the museum participates in, but so do collectors," she said.
Works were either 50 percent, 75 percent or 100 percent donations, meaning that roughly $50,000 will go back to the artists.