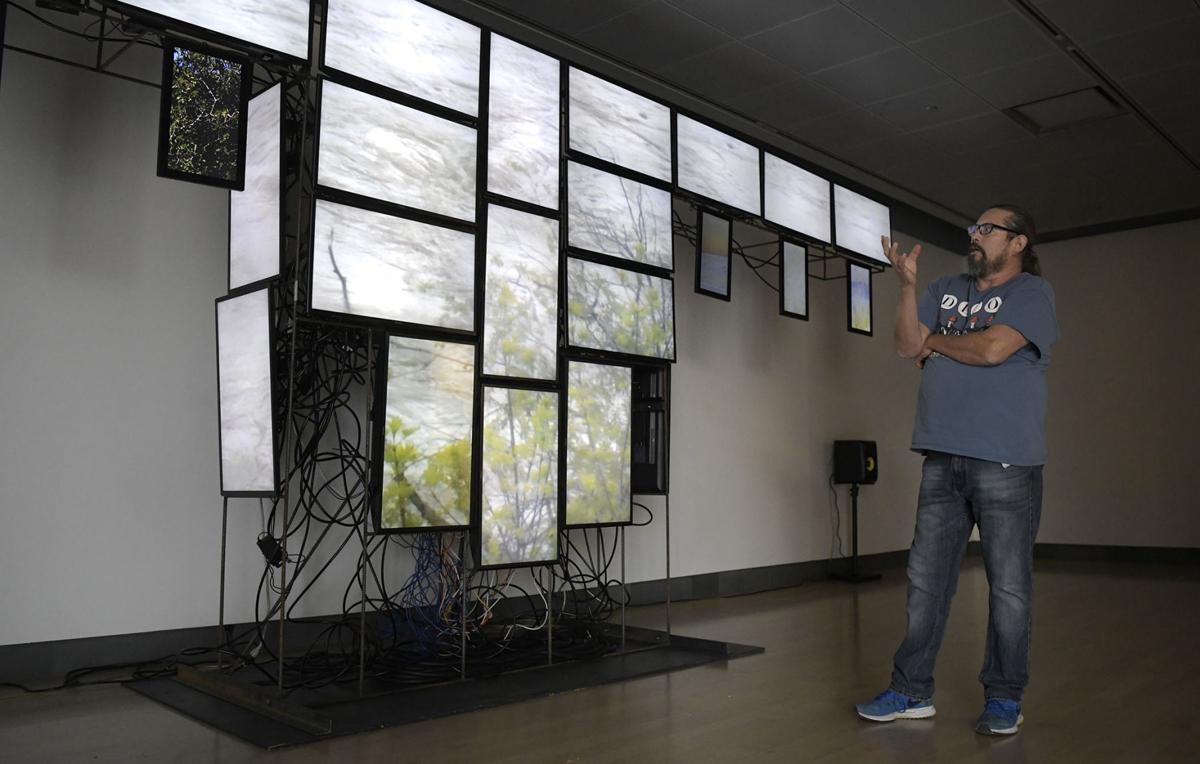 Bently Spang, a Northern Cheyenne artist, doesn't think of "performance art," with its somewhat intimidating reputation, as anything new.
He believes that his relatives from the past — the term he prefers to use for his ancestors — have been making innovative types of art of all mediums for thousands of years. When he brings a performance piece into a gallery, he's making performance art, but it's not so different from the many mediums required to participate in, say, a powwow.
And Spang's version is tied to things close to home, such as climate change. The land itself, he said, is going to persist through changes.
"The land will go ahead and it'll find a way to heal itself," he said, adding that if humans want to be around, we need to be aware that we have a relationship with the land and "it needs to be an honorable relationship."
He's invented a character, nicknamed "the Blue Guy," that he assumes for some of his performances, which have merged powwows with rave culture, and he's performed them around the country.
Spang is bringing a new performance to the Missoula Art Museum this Friday as part of the closing reception for his show, "Fire/Water," a multi-media video installation.
While he was reluctant to give away too many details in advance, it closely ties in with the themes of the work on view. The "water" piece, titled, "War Shirt No. 6/Waterways," is a wall of 27 digital monitors in the shape of a traditional war shirt. The videos include footage traveling from a spring back to the Tongue River on his reservation.
The "fire" portion has video from family property that was destroyed in the 2012 Ash Creek fire, partly on the Northern Cheyenne Reservation. Almost 250,000 acres were burned.
For the performance, Spang ties in all those themes: climate change, the effects of fires like that one on his community, the importance of water on ancestral land, and also the stereotypes and connotations that are raised when you combine the words into "firewater." Spang said the term for alcohol, "attributed to us," and suggestive that Native people can't handle alcohol, is a "tool that was seen as a way to manipulate my community."
Spang's background is in sculpture, but he works in all kinds of art. (That "War Shirt" series combines paintings, photography, sculpture and installation art, and one is in the permanent collection of the National Museum of the American Indian.)
Regarding performance, he said it's a "natural mode" for him to explore, having grown up in a family of indigenous artists. Video, meanwhile, is something he's explored since graduate school. He'll use video projections at the MAM for his performance, since he looks to add something more tangible than the digital footage alone.
His parents' home of 30 years, where they based their business, Cheyenne Trail Riders, was burned in the 2012 fire. They were safely evacuated, but the place itself "felt like a relative."
"How do we honor these places, whether it's a natural place or a manmade place that has contributed to us and nurtured us and protected us?" he wonders.
Going forward
The "Fire/Water" pieces were originally created via Mountain Time Arts, a nonprofit based in Bozeman.
After it comes down from the MAM, he'd like to exhibit the piece again, or ideally find a permanent home for it in a collection here in Montana. On Saturday, he'll be back at the MAM for a panel discussion, Indian Country Conversation: Watersheds and Ethnobotany. The subject is "watershed health, habitat for native species, contemporary art, and the importance of environmental restoration," according to the news release. Spang will speak, as well as Linwood Tall Bull, an ethnobotanist from Chief Dull Knife College in Lame Deer. (Images of his plant pressings are used in the "War Shirt" videos). They'll also talk with Monte Mills, a UM professor and co-director of the Indian Law Clinic.