When it comes to artistic innovation, Missoula outflanked the rest of the state by one measure in 2013: Seven out of 11 biannual innovation awards from the Montana Arts Council went to Garden City artists this year.
"We've never had this preponderance of Missoula artists winning these awards," said Arlynn Fishbaugh, executive director of the council.
In 2011, five out of 11 grants were distributed out to artists based in Missoula. In 2010, it was two out of five. In 2009, only one out of six awards was earned by a Missoulian.
Fishbaugh noted that the high number this year doesn't set a precedent. While complimenting the winning artists and the creative environment the city has developed, she called the high proportion of Missoulians "a fluke."
The awards are based on merit in a variety of fields, with no attention paid to geography.
Individuals in the fields of visual art, literary art and performances apply for the grants. Then a panel of experts in each field whittles down the applications and sends them to the Montana Arts Council. That 14-member panel then selects the finalists.
The winners are decided by three criteria, Fishbaugh said. Innovation in the work and the artwork; originality and dedication in their creative pursuits; and a "marked capacity for self-direction."
This year, 10 grants were given, plus one additional prize – the Jessie Wilber and Frances Senska Individual Artist Award, established by a private gift to the council from Stacy Hamm and Sage Walden.
While geography was no factor, genre was to a degree. Five awards were earmarked for visual arts because of the number of practitioners in the state, Fishbaugh said. Three were marked for literary arts and two for performing arts.
The Missoula winners this year are visual artist Theo Ellsworth; poet Mark Gibbons; choreographer Karen Kaufmann; poet Natalie Peeterse; Tarn Ream, who is a musician, dancer, choreographer, performance artist and director; author Erin Saldin; and visual artist Shalene Valenzuela, a ceramicist who received the Wilber and Frances Senska award.
The honor comes with a $3,000 cash award funded by the National Endowment for the Arts. Recipients must share their work with Montana residents through a public event over the course of the next year.
Here's the list of winners and what the council had to say about them.
Visual artist Theo Ellsworth, pen and ink
Ellsworth's multidimensional drawings bridge genres: graphic novels, cartoons, automatic drawing, woodcuts, album covers and more. His work has been included in five publications by Secret Acres press of Brooklyn, N.Y. His 2012 graphic novel, "The Understanding Monster: Book One," won the Lynd Ward Graphic Novel Honoree Prize sponsored by the Penn State University Libraries. The self-taught artist's work has been displayed in the Giant Robot gallery in Los Angeles and venues around Missoula.
Application reviewers said of his artwork: "It looks like something totally different than what we've seen before."
Gibbons has a BA in English and Psychology, as well as an MFA in creative writing from The University of Montana. His poems have appeared in numerous journals and anthologies. His first chapbook of poems, Something Inside Us, was self-published in 1995, and a second, Circling Home, won the Scattered Cairns Press chapbook competition in 1999. He has collaborated with Appalachian poet Michael Revere, and his latest collection, Forgotten Dreams, from Foothills Publishing, 2012, also features the portrait photography of Lee Nye.
Gibbons was praised by application reviewers for his "clear-eyed ability to look at himself and lay himself out there" and described as an "heir to a long tradition of male blue-collar poetry… pushing that envelope farther and farther out."
Mark has read his poetry in venues across the state in museums, book stores, book festivals and auditoriums. He has been a featured reader at the Northern Arizona Book Festival.
Choreographer Karen Kaufmann
Kaufmann is the head of the dance program at the University of Montana, where she has taught since 1990.
Describing her as a "true Renaissance woman," application reviewers praised the innovative choreography Kaufmann has developed for five large-scale works performed in hundreds of Montana schools for tens of thousands of children. The performances blend dance artistry with a curricular theme (i.e. Newton's Laws of Motion and mathematics or forest ecology and traditional Native American uses of fire). Her latest work, done through the CoMotion Dance Project she created, focuses on the use of dance to explore the science of fire in our forests.
Peeterse has an MFA from the University of Montana, and teaches online courses for several universities. Her bachelor's degree is in international studies from the School for International Training in Brattleboro, Vt.
Peeterse's poetry has appeared in numerous journals and anthologies. Her chapbook "Black Birds: Blue Horse, An Elegy" won the Gold Line Press Poetry Prize in 2011 from the University of Southern California. She is also the recipient of a fellowship from the Arizona Commission on the Arts. Her work has appeared in Blackbird, Sonora Review and Strange Machine, as well as a number of anthologies.
Application reviewers said of Peeterse's poetry that "you can feel the weight of this work. It is succinct, concise and woven together very smoothly." They were impressed by the quiet power in her work, and the confidence of it. They also noted that her work has received very strong reviews, and it is difficult to get poetry reviewed anywhere.
Tarn Ream, musician, dancer, choreographer, performance artist, director
Ream has been teaching community African dance classes throughout Montana for more than
20 years, as well as directing and choreographing for the Unity Dance and Drum performance group in Missoula – creating hundreds of performances for dance concerts. Ream also teaches for the University of Montana Dance Program, as well as for special events across the region and the nation.
Ream co-founded Unity Dance and Drum to promote education, performance and workshops in African music and dance in Montana. This art form focuses on individual and communal healing, important life transitions, honoring ancestors and celebration.
Described by application reviewers as "exciting, innovative and a great teacher active in outreach," Ream writes of the transformative power of innovation that allows music and dance to "carry ... us to new places through shifts in movement, posture, tempo, lyrics, and rhythm – allowing us to truly hear the music."
Author Erin Saldin, young-adult fiction
Saldin grew up in Idaho. She has been a Peace Corps volunteer in Togo, West Africa, and holds an MFA from the University of Virginia, where she was a Henry Hoyns Fellow in fiction. She has been awarded the Rrofihe Trophy in Fiction, and her work has been selected for the Best New American Voices in 2009. In 2010, she was awarded PEN/Northwest's Margery Davis Boyden Wilderness Residency, and spent six months living off the grid in the Klamath Mountains of Oregon. She is a lecturer in the College of Arts and Sciences and the Davidson Honors College at the University of Montana.
Saldin's short stories, reviews and essays have appeared in Five Chapters, Open City, the New York Times, the Best New American Voices and many other publications. Her debut novel for young adults, "The Girls of No Return," was published in 2012 and received three-starred reviews.
Application reviewers called Saldin's writing "striking, engaging and emotional." They said that the genre of young-adult fiction is hot right now, and Saldin brings a real literary sensibility to the genre.
Visual artist Shalene Valenzuela, ceramics
Valenzuela was born and raised in Santa Barbara, Calif. She received a bachelor's degree in art practice at the University of California, Berkeley, and an MFA in Ceramics from California College of Arts and Crafts. In 2007, she moved from her longtime home of Oakland, Calif., to participate in a long-term residency at the Clay Studio of Missoula, where she now serves as the executive director.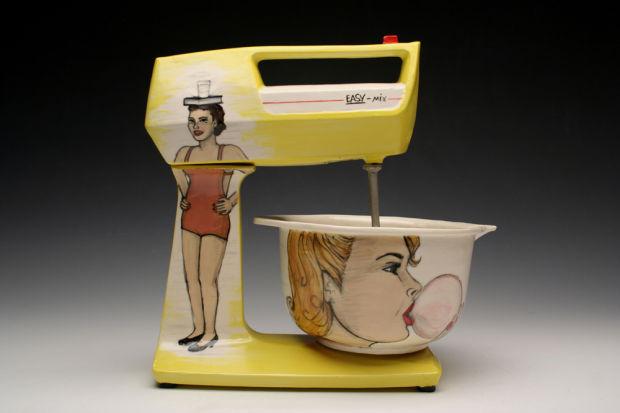 Valenzuela has participated in summer artist residencies at the Archie Bray Foundation (2006) and Watershed Center for the Ceramic Arts (2004, 2011). She has taught a variety of classes at Flathead Valley Community College, the University of Montana, Oregon College of Art and Craft, the Clay Studio, Missoula Art Museum, Richmond Art Center, ASUC Studios at UC Berkeley, and CCA Extended Education. Her work has been featured in several group and solo exhibitions nationally.
Valenzuela's ceramic sculptures of everyday vintage objects are painted with "playful and bright" narratives that "explore topics ranging from fairytales, urban mythologies, consumer culture, societal expectations, etiquette, and coming-of-age issues," application reviewers said.
Stay up-to-date on what's happening
Receive the latest in local entertainment news in your inbox weekly!